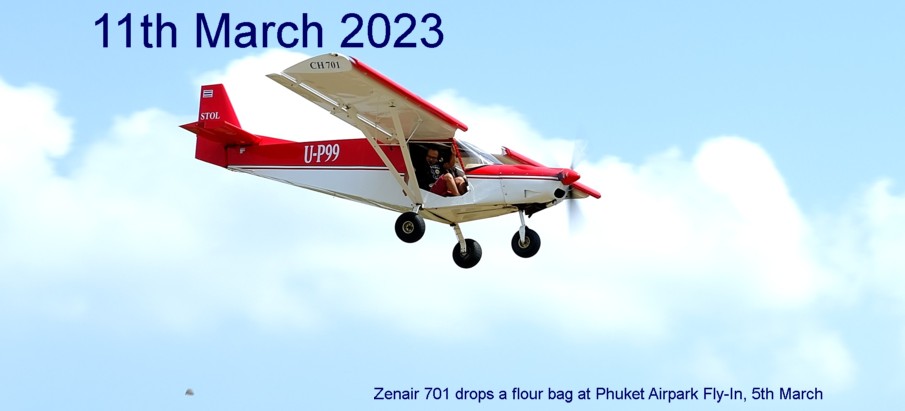 Final Thailand Report.
We flew back to England on Eva Air from Bangkok on the 8th March.
I don't know what's worse, the smoke filled air or the freezing cold... The smoke is hazardous to one's health so I suppose suffering the cold is not so bad.
Paul met us at Terminal 2, London Heathrow, and welcomed me with a snowball! Brrr, I hate the cold!
This morning I woke up at 04:00 and was out of bed before 05:00; outside the temperature was -3° Centigrade.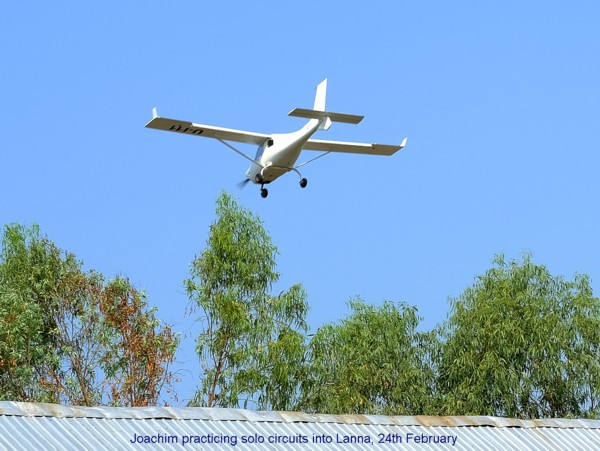 There was a 'Build' meeting at the flying club where representatives from small Thai aviation companies came to look at the new aircraft overhaul and maintenance business being set up at Nok Airfield.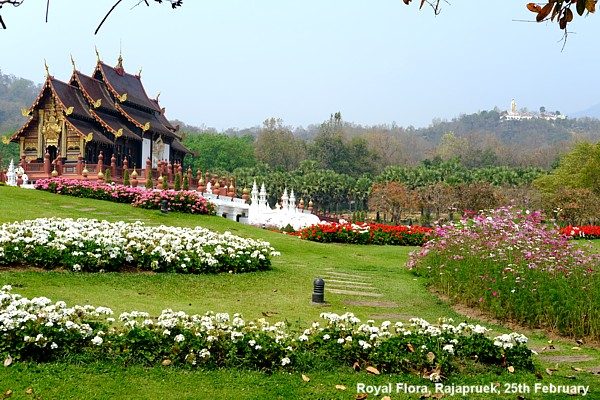 Tourism continued with a visit to the Royal Flora gardens at Rajapruek (Ratchapruek).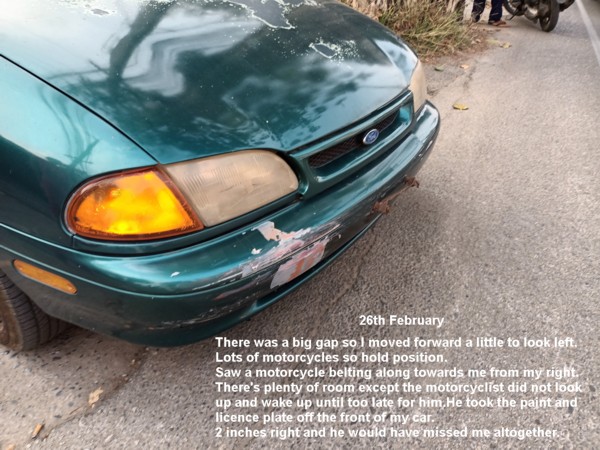 You can see the clear coat coming off the bonnet due to the Sun. Time for a repaint in any case.
I drive very carefully in Thailand and until now without accident.
But the motorcyclists here are crazy, with unlicensed Thais, and even Farangs like us riding their motorbike into collisions.
After all these years I was in two accidents in a week... The first was when a motorcyclist tried to pass me as I was turning right into the apartment building driveway.
He said he saw my indicators but thought he was faster than me, I was being careful in my turn... This is not the first time a motorcyle tried to pass when traffic was turning right.
The truck needs a paint touch up on it's right front bumper, and the car is in for a repaint in any case due to the Sun stripping the clearcoat off.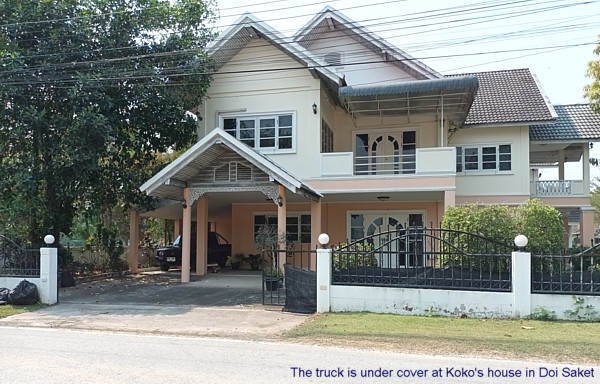 Heading south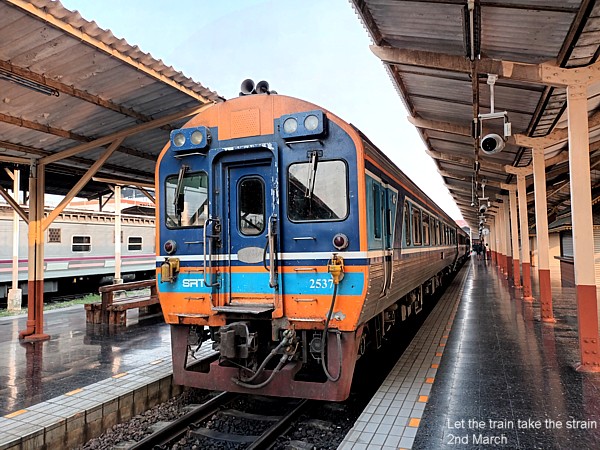 Khun Ko wanted to see the views and so we took the ten hour train ride from Chiang Mai to Don Mueang, and from there the A2 bus to Victory Monument in Bangkok.
The fare was only 633 Baht each.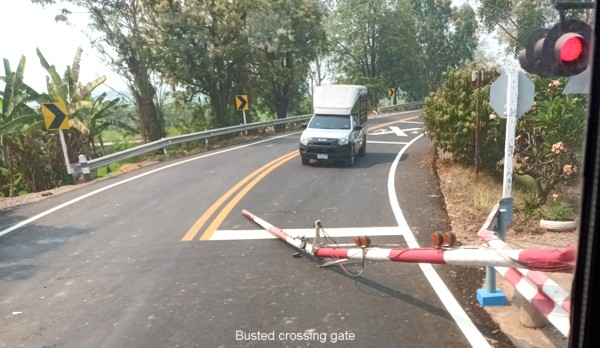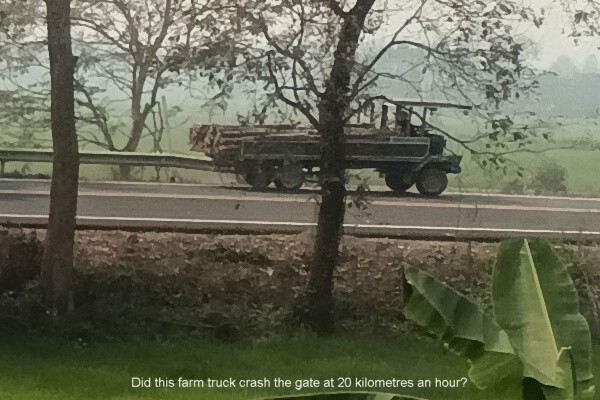 The train stopped for a short time at a road crossing...
Someone had raced through the crossing and had struck the barrier.
The ride was interesting as the train wound its way through the mountains of the north and down onto the plain to Lopburi, Ayutthaya, and onwards to Bangkok.
The smoke from the many forest and field fires was heavy up in Chiang Mai and this slowly began to clear as the train travelled south, but it was still not fully clear in Bangkok.
Food was served from time to time in astronaut style sealed silver sachets.
Khun Ko is not going to heaven... We had a bottle of fizzy Apple and Ginger Tea; Ko prised the cap off which fired off to hit the ceiling and then it bounced off the head of the saffron clad monk sitting in the row in front of us. He didn't react, but thereafter he would scratch the impact point on his bald head from time to time.
I picked up the cap off the seat next to him; remove the offending missile.
The old railway station at Don Mueang was not used, instead the train had risen onto an elevated track to stop in a new station. There is now a direct connection across the Ragsit Road and into the terminal building.
We walked to Door 6 where we caught an A2 bus (30 Baht fare each).
After arriving at the bus station by Victory Monument I faced the stairs up the the pedestrian walkway that half circles the monument roundabout. I had two heavy suitcases, it was a challenge, but one in which I succeeded.
We arrived to the helpful staff at the Victory Hotel and Residences which I have adopted as my prefered place to stay in Bangkok. 1,200 Baht per night.
Khun Ko was tired after our long journey, but I decided I wouldn't go without a Dunkel beer at the Saxophone Pub. It was heaving in there, a lot of people, but I was welcomed back as a known patron.
The next day was spent in Bangkok, and in the evening we took the A2 bus back to Don Mueang Airport... Hungry, we found the Siam Village restaurant closed, one of many Covid victims. It's a shame, they served an excellent Khao Soi Gai when I worked at this airport.
Went to the restaurant next door, ordered an ice lemon tea, and looked at the menu... Expensive.
Paid 170 Baht for my ice tea, and left to go to the Magic Restaurant near the tunnel bridge I used to traverse every day when I worked at this airport.
The whole bill for two meals was less than what I had paid for the ice lemon tea...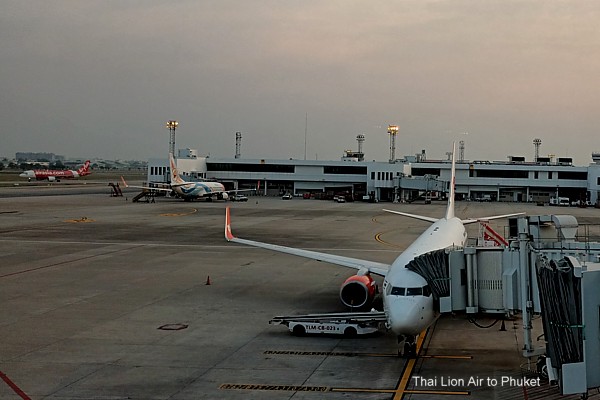 The fare was 12,200 Baht return for two people.
From Don Mueang that evening we flew on Thai Lion Air to Phuket and took the twenty minute walk to the hotel.
We took 'carry on' hand luggage as The Victory Hotel was kind to store our large cases for the weekend,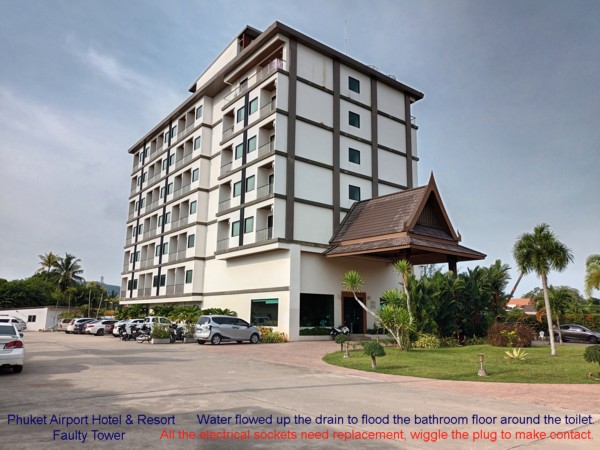 Proper title: Airport Resort & Spa (SHA Plus+)
For a while I thought we were in Torquay at a well known hotel there.
Water gushed out of the drain besides the throne in the bathroom... So the hotel's engineer knocked at the door at 23:30 that evening to fix it.
Later that morning the drain still overflowed
An dangerous problem was that every electrical socket was worn and needed replacement. We moved to another room where though the drains worked the electrical sockets were also worn out. There's a fire risk in this hotel.
Three nights here cost me £71.63p through Agoda.
Phuket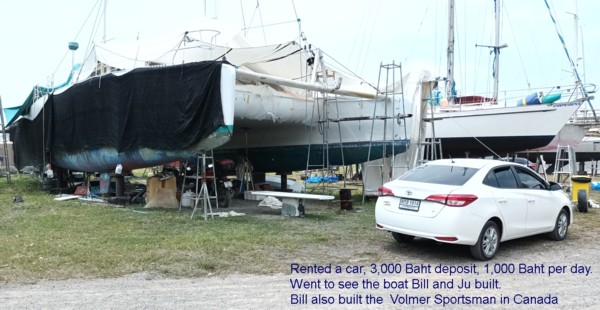 The local rental car companies were out of cars when I walked around looking for a car, but I found one eventually.
The Bangkok registered rental car was in good condition but had 148,000 kilometres on it's odometer.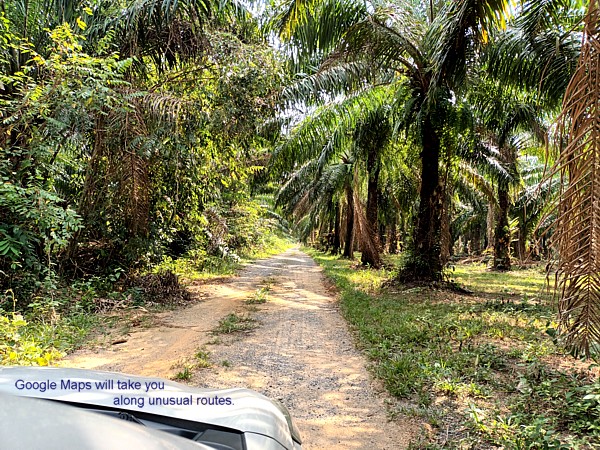 In Phuket I relied on Google Maps for navigation... Aren't we lazy these days.
Phuket Airpark


Khun Robert and Amy organised a brilliant Fly-In with a lot of free food, and some that cost, but cheap in any case.
Robert and Amy are a friendly couple who make people feel very welcome.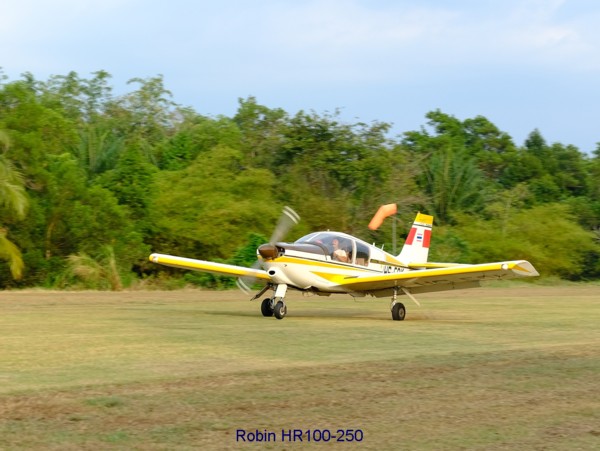 Expats bring their aeroplanes from there own countries and add variety to the Thai flying scene.
This is Khun Fay (Pudit) who now flies this Robin as well as many other aeroplanes.
I flew with him a few years ago to check him out in a Stinson 108.
The approach from the sea shore is preferred if the tailwind is light.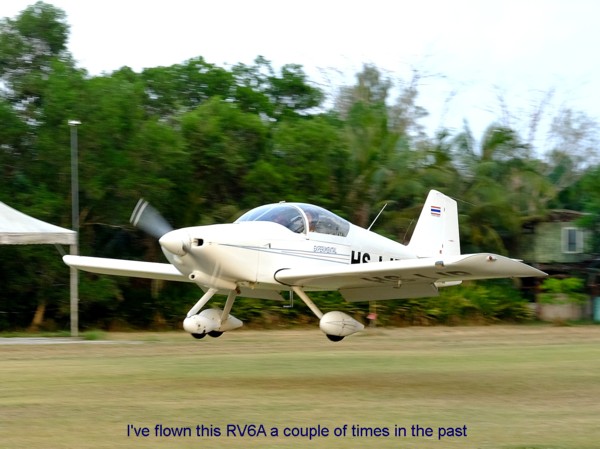 This aeroplane used to be operated from Tantawan but now forms part of Khun Roberts' fleet.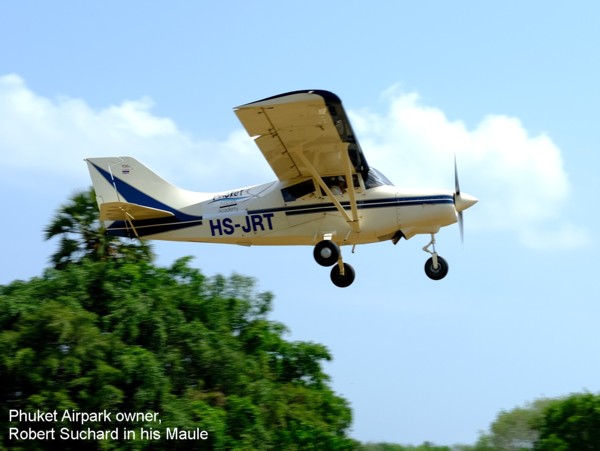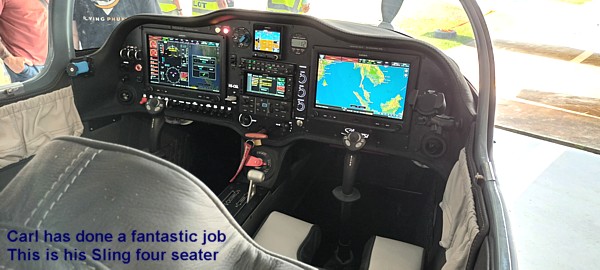 I did not get to fly anything at the Fly-In... The big problem in Thailand is a document called a Five Year Permit which, besides being yet another document to delay your permission to fly an aeroplane, lists who can fly. If the aeroplane is on a club, then members can fly it. If privately owned then only named pilots can fly it. The CAAT agreed with the respondents to a survey to get rid of this document, but the military refused to allow this.
I have a Thai Validation of my Canadian licence to allow me to fly aeroplanes of a specific flying club, but no aeroplanes were available for me to fly at the club while I was in Thailand.
Another flying club was unable to validate my licence with the CAAT... You have to have a separate validation for each and every flying club you wish to rent aeroplanes from.
These past few years it has been awkward for me to fly in England, easy in Canada, and this time impossible in Thailand. The flying I did do in Thailand was to coach other pilots, I have a desirable skill...
Disappointing, but perhaps my time flying is coming to some sort of termination?
Seeing Phuket


We drove around Phuket to see places such as Patong Beach with its Russian invasion,
but discovered many unspoilt places that were easily accessible by car.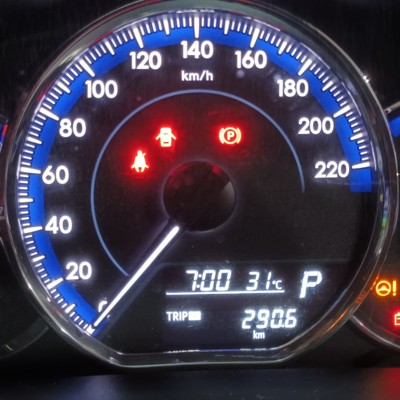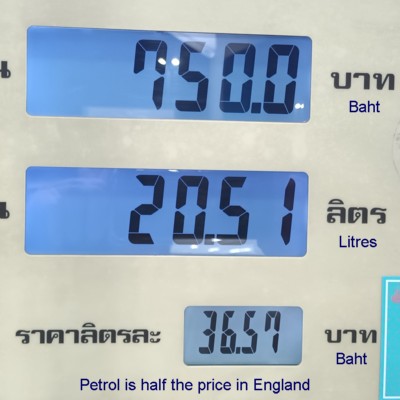 I am always interested in how efficient the car is and of course my driving.
So I set the trip, and then when I fill up before returning the car I can check the fuel use.
A car hire staff member dropped us off at the airport for our late night return to Bangkok... We caught the last but one A1 bus, and then the last Skytrain to Victory Monument... We were lucky as Khun Ko had to check her bag and so we had to wait for it to be unloaded.
The ground staff were very efficient at Don Mueang Airport (unlike Heathrow where we had to wait an hour for our bags).
The next day was Khun Ko's birthday and so we had a day out in Bangkok and then coffee with two friends from Brisbane.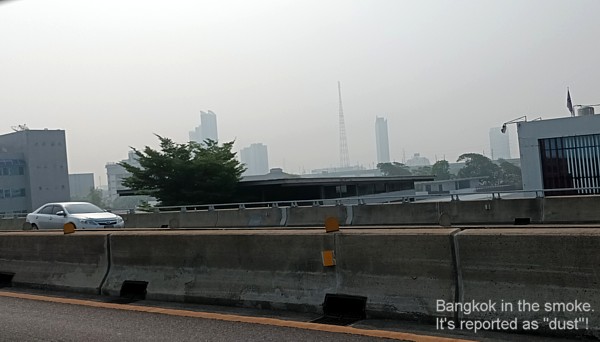 The Grab Taxi ride to Suvarnabhumi Airport was 477 Baht.
The train would have been 45 Baht each, but the bags were heavy and I didn't feel like being sweaty for the flight back.
The Eva Air Boeing 777 was full for out flight back. The navigation display had the great circle route displayed which is currently not available due to Russian aggression, and so we were stuck with a 13 hour flight staying well clear of dangerous airspace.