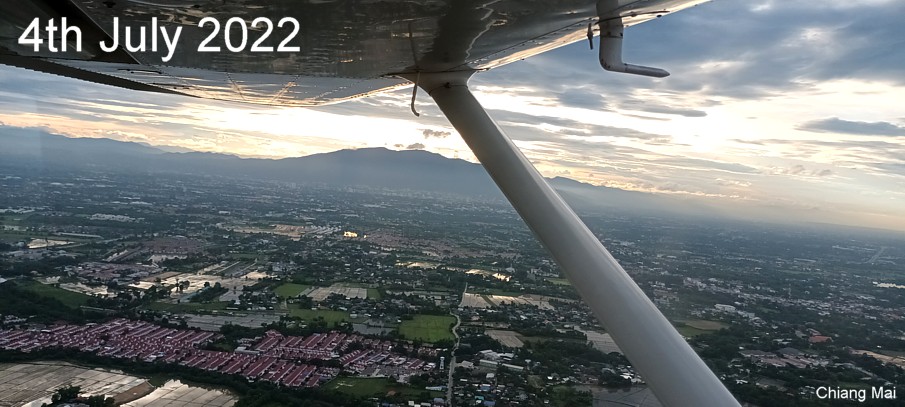 Busy June
Not a single update on this webpage for the whole of June, it's because I have been busy travelling again.
For the past two and a quarter years I have paid my rent in Nonghoi while Covid has kept me in England, though at least it allowed me a couple of trips to Vancouver
I needed to go back to Thailand to see old friends, check my apartment, and sort some more things out.
I did not manage to renew my Thai Licence Validation, there's a new online application process and I had some trouble with this. Now I need to find the time to do it from here.
This update is primarily one of my aviation activities rather than the full travel report.If anyone is interested in a full report, let me know and I will make the effort to write it up.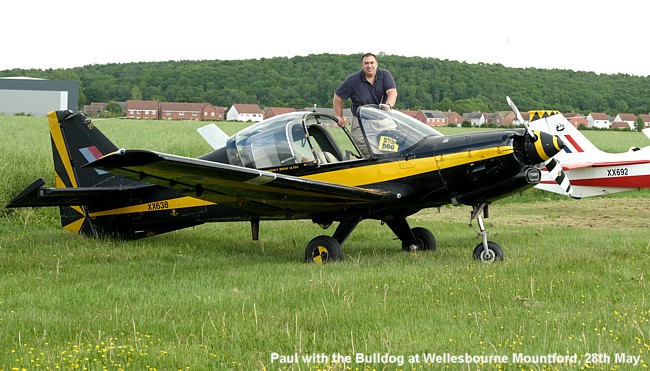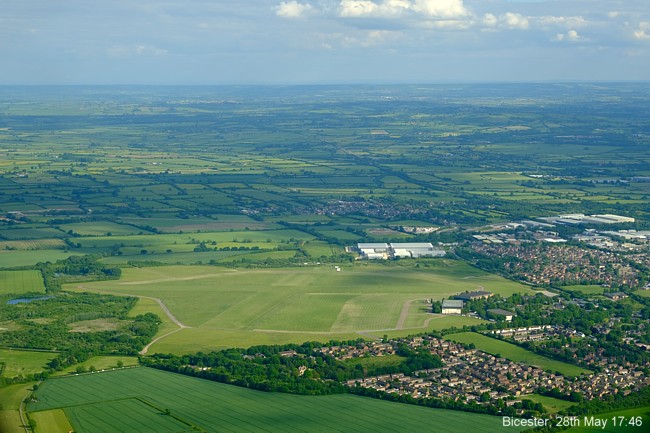 Took a ride with Paul up to Wellesbourne in the Bulldog.
It was quiet up there, we stopped for coffe and cake and a chat with a chap and his daughters.
Paul did a nice job introducing the older daughter (around 10 years old) to the aeroplane.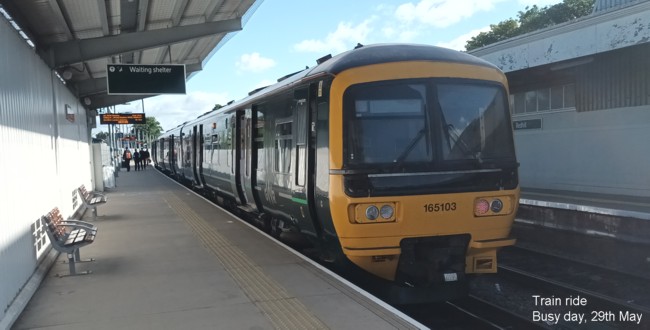 In preparation for my adsence I drove the MX-5 to Redhill to place it in a dry garage, and then took a train back to Guildford to pick up the CR-V and drive it to Popham.


'Applied for PPR online and then flew to Compton Abbas.
There were three Irish microlights, and an Irish L4 Cub at Compton Abbas, the standing on the wing Stearman was busy, and there was steady in and out traffic at this popular airfield.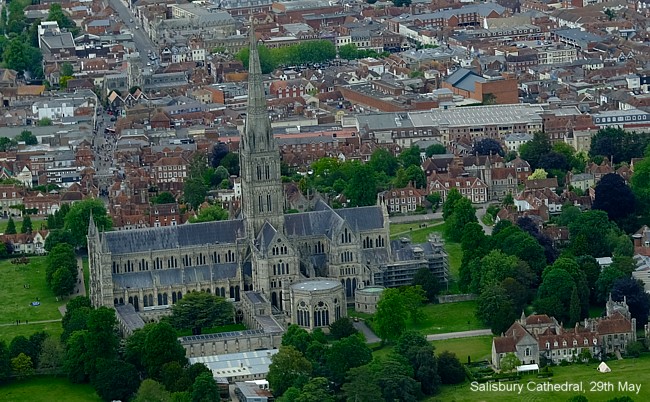 I am using my second hand Fuji X-T3 which I bought for money I can't afford.
Still getting used to it, and perhaps the image size requires more adjustment after being reduced for the web.
This is a section of an image taken from 2,000 feet in the Aircoupe.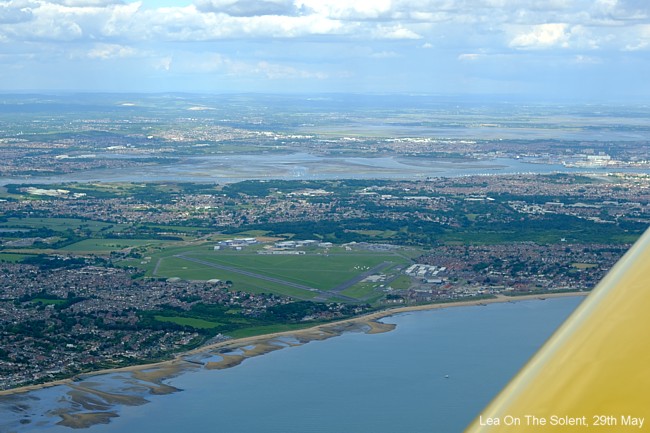 Later I did a round trip to the Isle of Wight with Perry... Played a bit with the camera's white balance.
Routed back through the Solent/Southampton zone, ATC was very good here.
There is big concern over airspace infringements here in England, and so most pilots I know avoid airspace as much as possible, and they are often afraid of the present aggravations some controllers have given them.
Me, I call the controllers and request transits through their airspace when necessary, rather than route around if it's less convenient.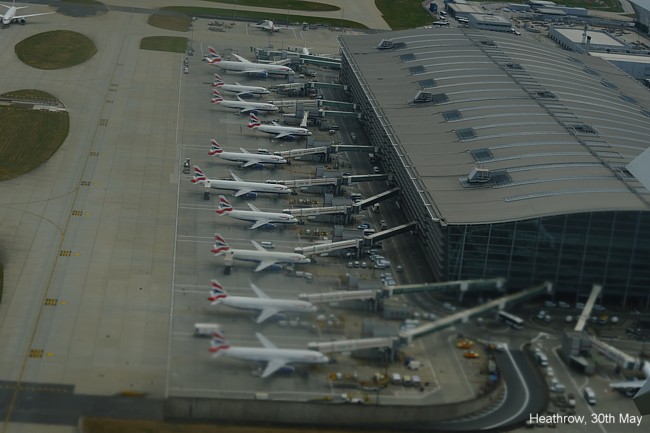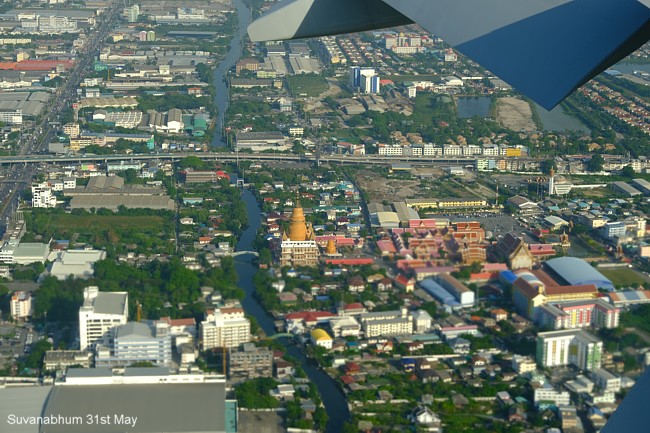 Flew Thai Airways Boeing 777 to Bangkok.
The aircon was very dry, and te onboard service was not good. My whole respiratory system dried out.
I was prepared with two bottles... Unfortunately I mistakenly put them in the overhead bin, and I sat at the window seat.
The dry air meant nobody leaving their seats for a pee for the duration of the flight.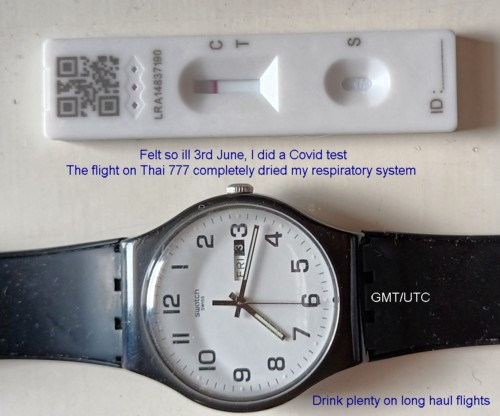 I spent two nights in Bangkok and then took a Thai Smile flight to Chiang Mai. Thai Smile's A320 aircraft are smarter than their senior partner's.
Upon arrival the flight attendants gave out paper bags with a bottle of water, and a sticky bun.
Onboard there's no food and drink so they give it to you to take home. In Thailand you are still required to wear a mask everywhere.
I was quite ill after my dry Thai flight, with a bad cough that recurred from having Covid in February, so I did a Covid test; it was negative.
Check out local aviation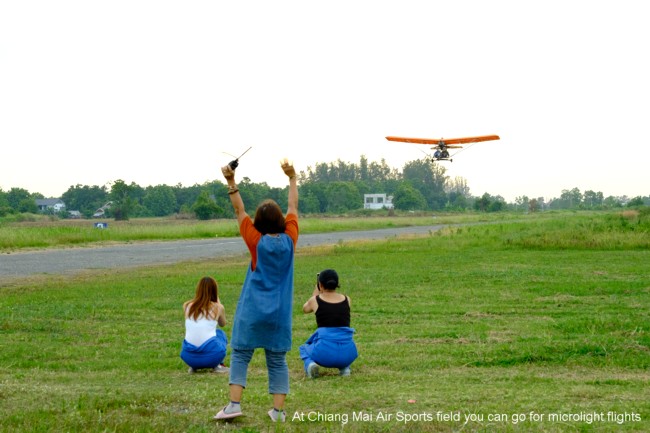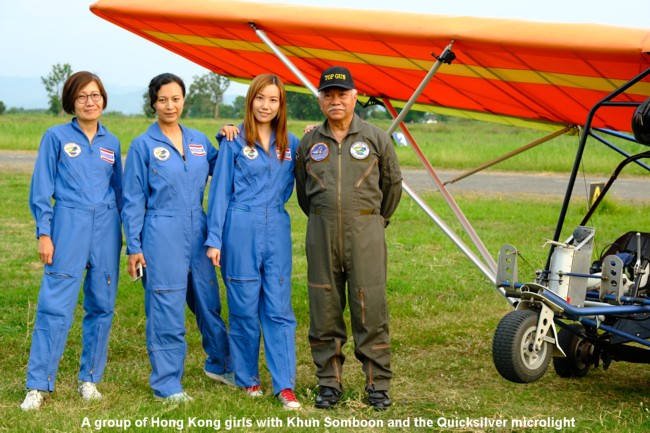 Politics and relations between foreigners here have created an atmosphere that has put off a lot of people from flying at a couple of the local airfields, but the friendly Thais carry on.
There's the new Chiang Mai Air Sports field which is near to the 1317 Mae On road which is the road you take to go to the San Kamphaeng Hot Springs.
Here they operate Quicksilver microlight aircraft to give visitors joy rides early mornings and late afternoons when the air is more stable.
The Cessna 172 (HS FTO) I used to fly is now based here too. All are welcome here where there is both a good flying atmosphere, and a very social one too.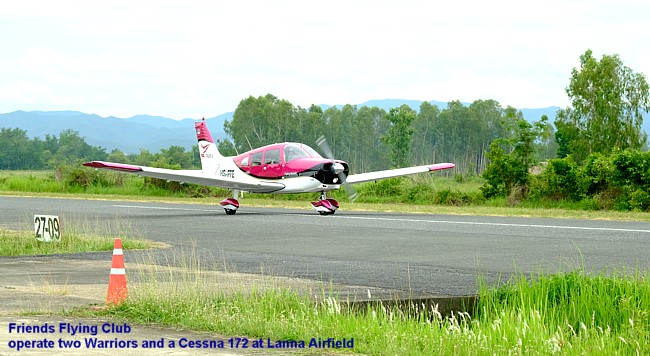 I saw a Warrior and a Cessna 172 flying too, this from Robert's Lanna Airfield.
Friends Flying Club operate here as a satellite to their Best Ocean operation.
It might be possible to rent their aircraft in the future.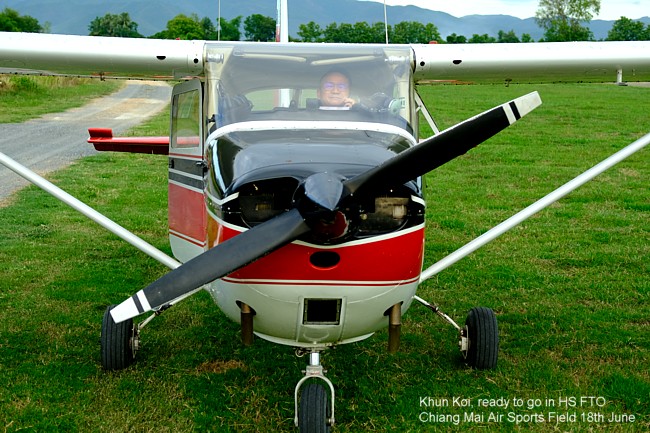 I went for a flight with Khun Koi who is President of the Nok Flying Club and who still flies the 172 from Chiang Mai Air Sports.
If I can achieve my validation I hope to be able to fly this aeroplane again.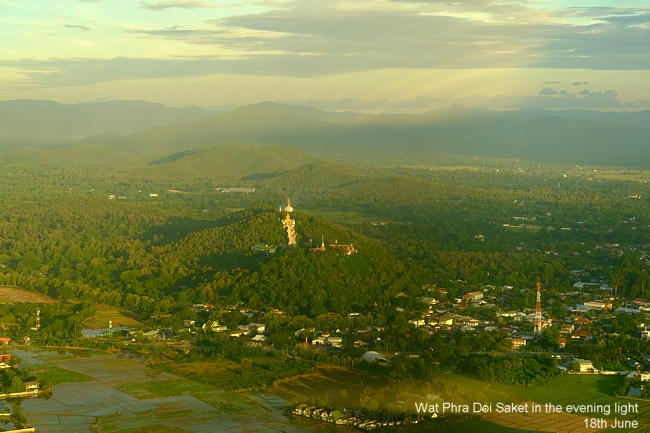 We did a late afternoon flight to Mae Kuang Dam, and then to circle a house in Doi Saket.
Khun Ko is buying a big house to which visitors will be welcome to stay when they visit Chiang Mai.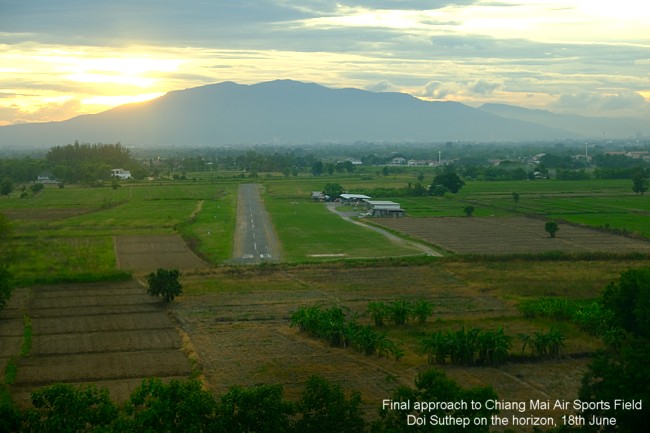 The runway is packed gravel and 750 metres long.
Khun Ko took the bus from Chiang Mai back to her village near Maha Sarakham in Isan, a twelve hour ride... Not for me!
Two days later I took a Thai Lion Air 737-900 flight to Bangkok Don Muaeng instead... For a moment, as I boarded, I thought it might be a Max! Since Lion Air operate the Max, this is a consideration for future bookings.
Khun Mao picked me up that night and dropped me off at a hotel beside a motorway to the north of Bangkok... My night's sleep was a poor one with the noise of the traffic keeping me awake for a long time. I'd feel the effects of fatigue at the wrong moment the next day.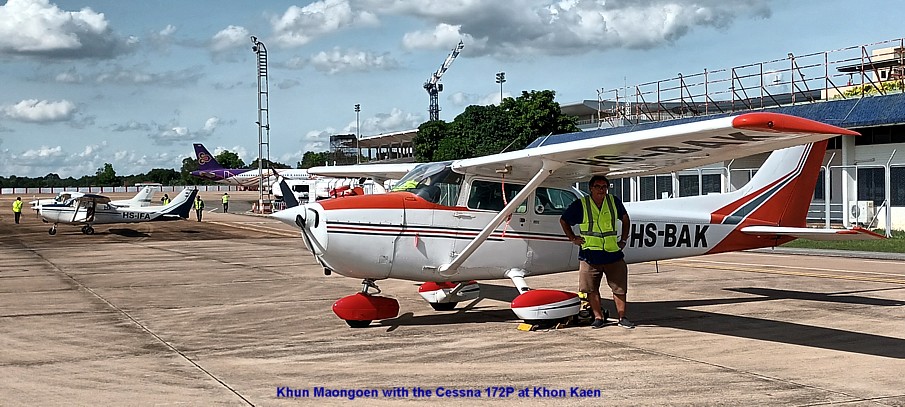 The next day Khun Mao picked me up and we drove to Khlong 11 airfield to fly his Cessna 172P... Flight delayed: No key!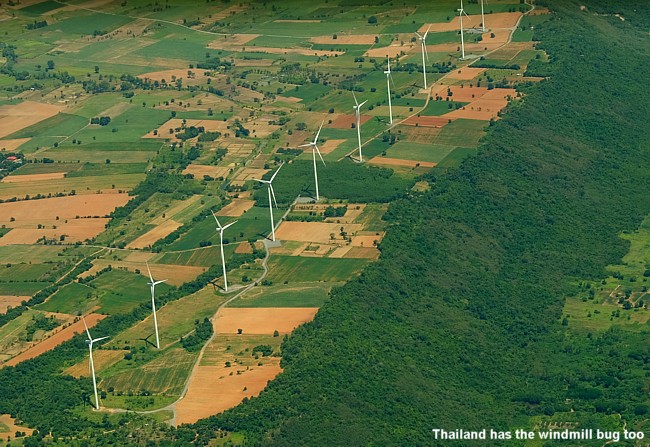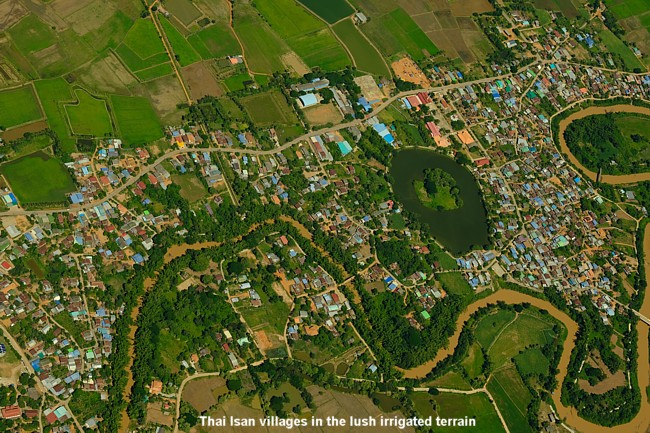 Eventually we got going (takeoff 13:07 local) to fly to Khon Kaen (land 15:14 local). Our route was 3,500 feet to Hin Kong reporting point, and 6,500 feet enroute.
In Thailand you are required to be in contact with ATC at all times, and so Bangkok handed us over to Oscar military 127.0 which was 'radio monitored' until we were within 50 NM of Khon Kaen...
Oscar then told us to turn left heading 360 and then, while we were working out why, told us to contact Khon Kaen Approach who told us to intercept the 250 degree radial inbound (at 42 DME).
Khun Mao handed the aeroplane over to me and I followed ATC instructions to join downwind left for 03. This was awkward as it meant looping around to the right to accomplish a downwind in the opposite direction. I did ask for a left base join, but there was traffic in the circuit on the other side. Thai ATC are not used to two aeroplanes being close to each other as is common in the circuit elsewhere.
I flew everything precisely until the hold off when there was a burble in the air, easily corrected, but then I needed to give it a touch of power and didn't. My landing was untidy, right wheel first then left, but not the nosewheel, at least not the nosewheel! I blame this on my lack of sleep the night before.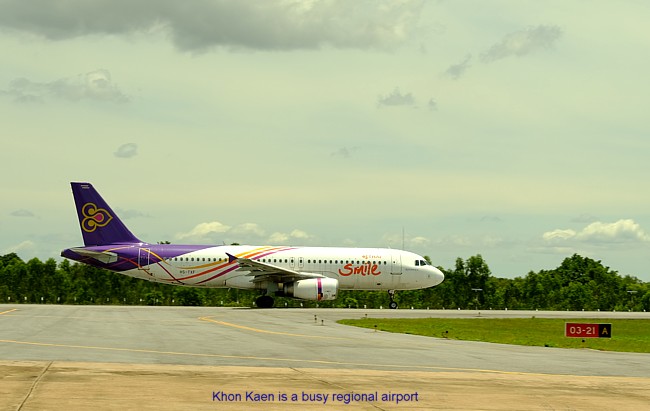 A smart Thai Smile Airbus 320
We were picked up by Khun Ko to spend two nights in the village near Maha Sarakham. The mosquitoes were delighted to see us.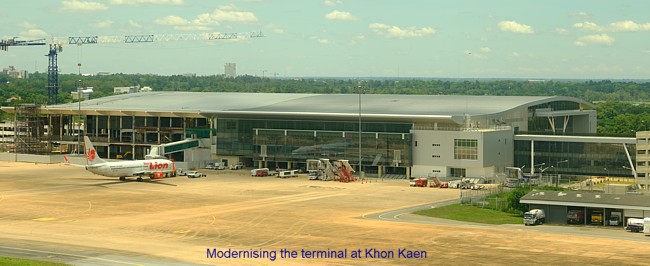 The next day we decided to fly from Khon Kaen to Roi-Et and back, and I wanted to do a few circuits there to regain my confidence!
Instructors in Canada are required to do "Perfect Demonstrations" and so I did at Roi-Et with 20 degree, 10 degree, and zero flaps landings all properly completed.
There's a school at Roi-Et operating a fleet of Tecnam P2002 low wing trainers and a P2006 twin. One Tecnam was in the circuit at the same time.
We rented a car for 500 Baht from one of the staff in the terminal building and went into the town for lunch and a look around before returning to Khon Kaen in the Cessna.
Airborne Times: Khon Kaen - Roi-Et: 12:31 - 13:28 (includes three touch and goes), Roi-Et - Khon Kaen: 16:36 - 17:22 local.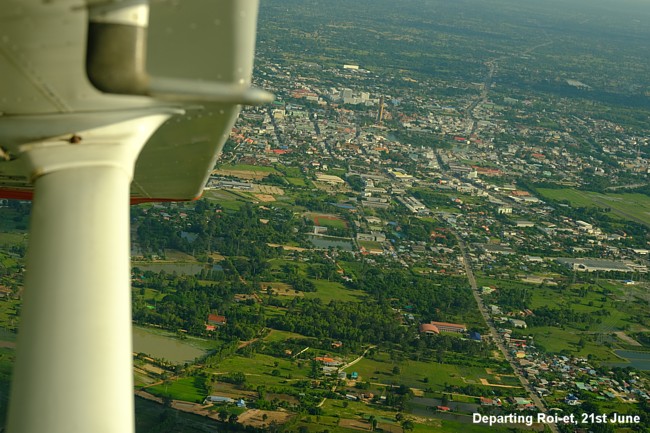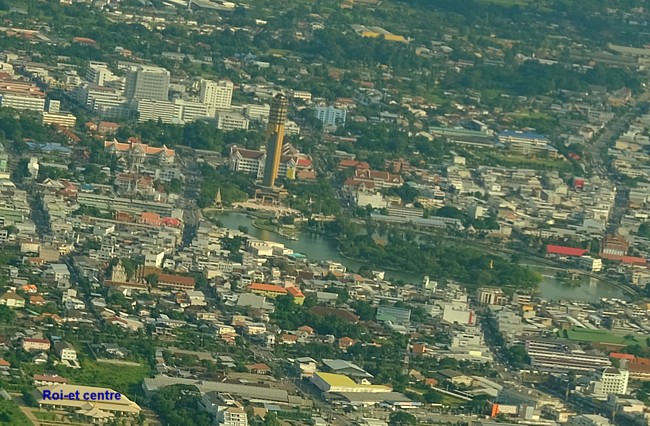 This is a section of the picture above it. I'll get used to the X-T3 camera in time.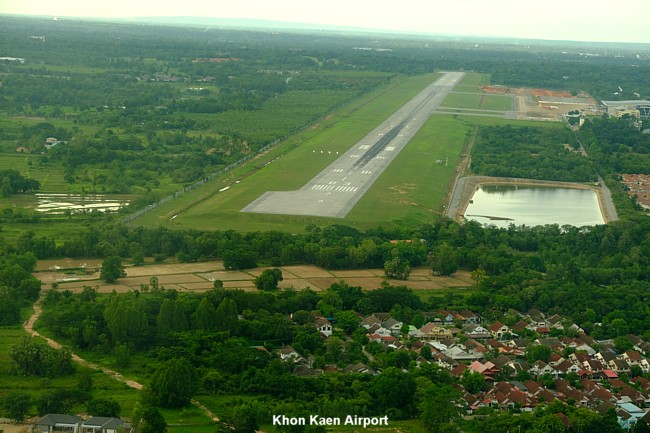 Arriving back at Khon Kaen for another good landing.
Return trip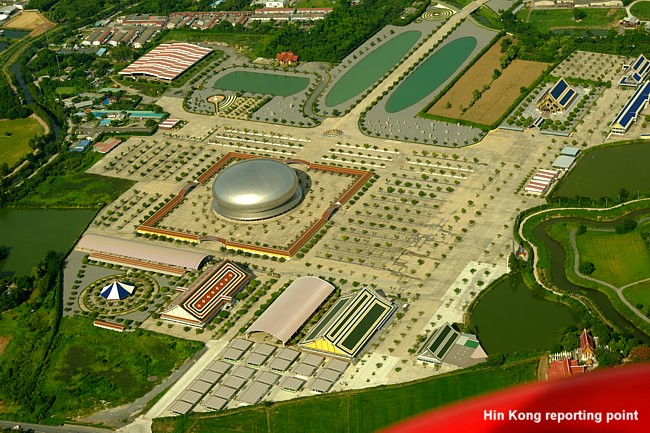 The flight back to Khlong Eleven was done at lower level, 2,500 feet, then up to 3,500 feet, and back down again within the Bangkok zone.
Takeoff at 13:04 and landing at 15:17 with a soft and short field landing (hard runway).
After a short stop at Khlong 11 we took off and flew back to the Cessna172's base at Tantawan which is a grass strip between Saraburi and Lopburi.
Once again we exited the Bangkok zone after Hin Kong.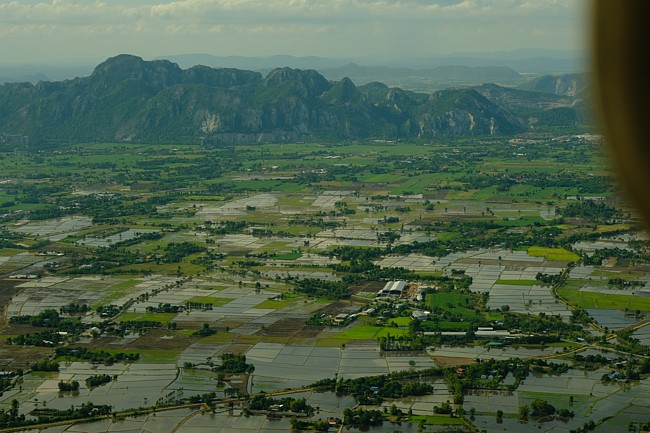 They are slowly quarrying the limestone hills and demolishing them!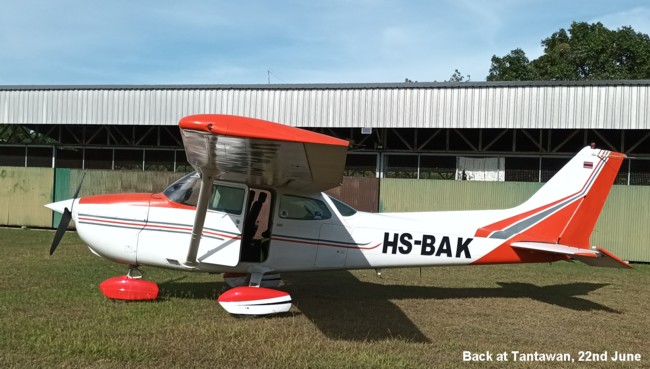 Did a gentle soft field landing on the grass here.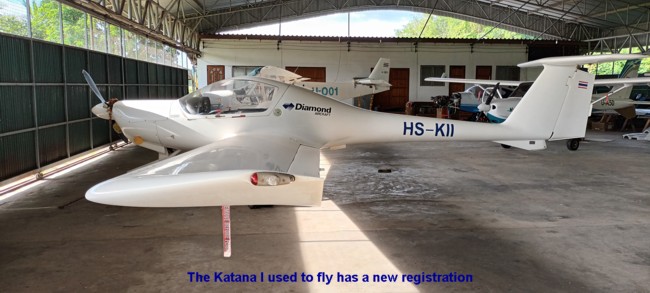 Used to be HS AXL
Khun Mao drove me back to Bangkok where, as ever, I stayed in the Victor Residences Hotel near to Victory Monument. This hotel is close to transport and amenities and is an excellent economic choice when staying in Bangkok.
We went to the nearby Saxophone Pub for beer and some food.
The next morning I walked to the bus stop by the monument (roundabout) and caught the A2 bus to Don Mueang as a memory trip to where I worked for one year, to where I had I used to have my hair cut, (I needed a hair cut), and to the corner restaurant which serves the best Guaidtiao noodle soup for lunch.
In the evening I collected Khun Ko off a Thai Smile flight to Suvarnabhum from Khon Kaen, and the next morning we took the bus to Jomtien.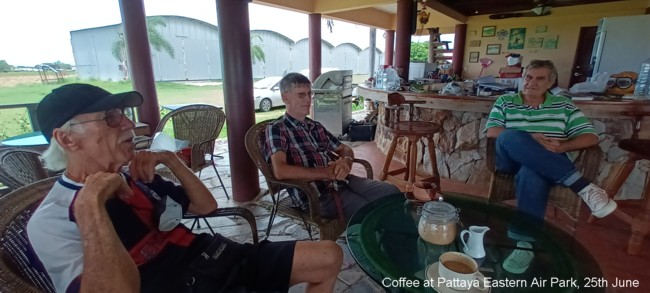 Not much flying is happening at Eastern as most are waiting for licenses and permits for the aircraft and for them to be able to fly.
Many licence holders are out of currency and have to renew their foreign licenses before they can apply for validations to fly.
Those with UK and EU licenses will need to fly with qualified examiners from their countries.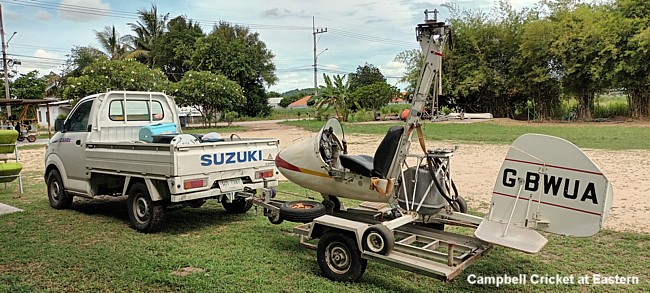 Apparently this autogyro has been there since 2016. It's engine has been fitted to a Quicksilver for the moment.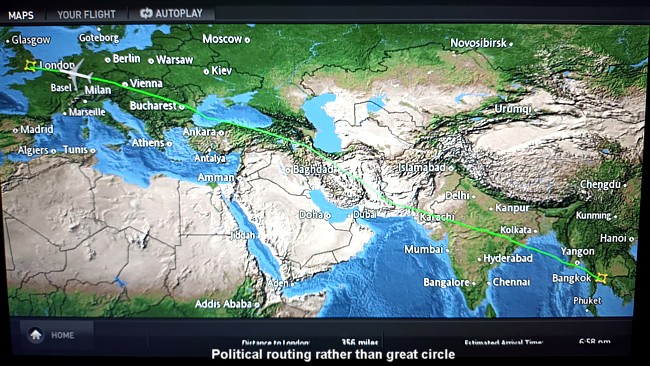 The return flight back oin a Thai 787 was a lot better than the outbound flight. We had good service throughout and I drank a lot of water and tea. Even the food was good.
But the windows were dimmed throughout the trip, and would not undim using the buttons below, and so though daylight all the way, a view of the passing terrain was not possible.

The Great Circle route was changed to a route that takes notice of the conflicts and politics of these uncertain times.
With the present political situation; a mad Russian who apparently has nothing to lose, and the threat of nuclear missiles, perhaps it is time to consider where we see out the time we might have left.
Does Putin have cancer? Does he not mind erasing all of us at the same time?
Life goes on, and the BBC News has other primary stories than the war in Ukraine, but I think this is the most dangerous time for this World as direct action can not be taken against a beligerent Russia while it holds the threat of the use of nuclear weapons.
If Putin ultimately loses in Ukraine and his other ambitions, beware the rest of us.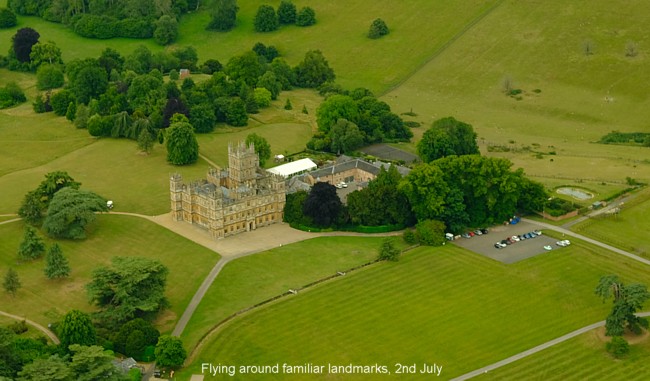 Flying the Aircoupe again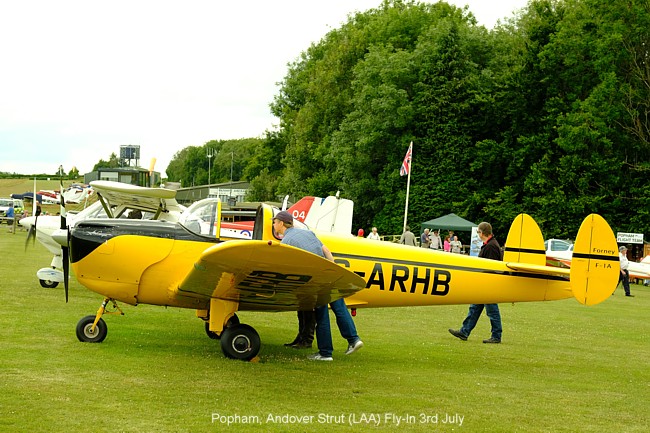 The Aircoupe is up and running and flying well.
It did only one flight while I was away in Thailand, and I did two short flights in it this past weekend. It will be due a fifty hour check in just over three hours.
There are two decisions to be made:
1. To sell this aeroplane, £19,000, engine has just over 950 hours on it, Mode S transponder, Sky Echo 2...
2. To form a group around it. Already hangared at Popham, landings included in Spitfire Club membership... Avgas currently £2.40/litre, work on 22 litres/hour. Insured for licensed pilots approved by me.
It would be sad for me to lose this aeroplane, something to fly, but needs must when a lifetime of instructing results in very little pension money to live on let alone operate an aeroplane.