Part two
Holland
Wednesday 5th July
I drove us back to Heathrow to drop the car off, and then take the National Express bus to Gatwick... This was to be a 'just in time' day.
The bus was £25 each for the one way fare, much more than they advertise as their prebooked fare.
We arrived at Gatwick just in time for the easyJet flight to Amsterdam Schipol.
Alice had rented a Citroen C1 with manual transmission at Schipol. It would cost an additional 10 Euros per day to add me as driver, and so I left the driving to her.
I was reminded of my Hong Kong bus ride...
Nevertheless we eventually found the Air B&B house she had booked two rooms in, in Almere.
Self catering meant going to the nearby Jumbo supermarket for provisions... The prices were the cheapest I've seen anywhere. We bought cheese, wine, beer, and Jordan's crunchy.
The wine and cheese we shared with Francis, the owner of the house. Air B&B is a social way of staying places.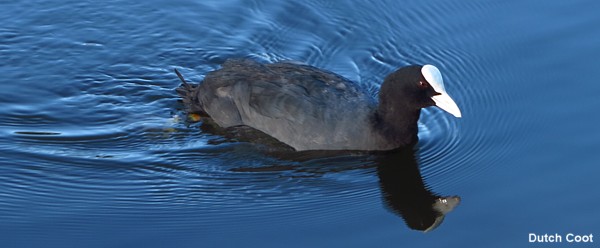 Almere is a very natural place to be
Walking around Almere it was pleasant to see how much social interaction there was, it's a very different experience for Alice who lives in Vancouver.
Marco came over late that evening, I haven't seen him in many years, not since I sat jumpseat in the cockpit of the Transavia 737 he was flying down to Catania and back to Amsterdam.
Marco flew my aeroplanes for a while from Redhill, he also bought both my Triumph Spitfire, and MGB GT from me.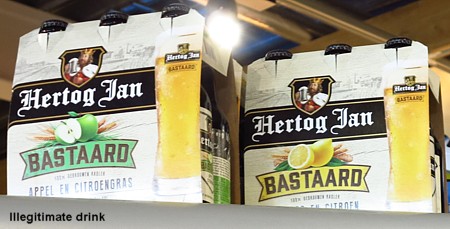 In the Jumbo supermarket
The next morning we walked to the train station and took a train into Amsterdam, and then tram number 5 to the Rijks Museum.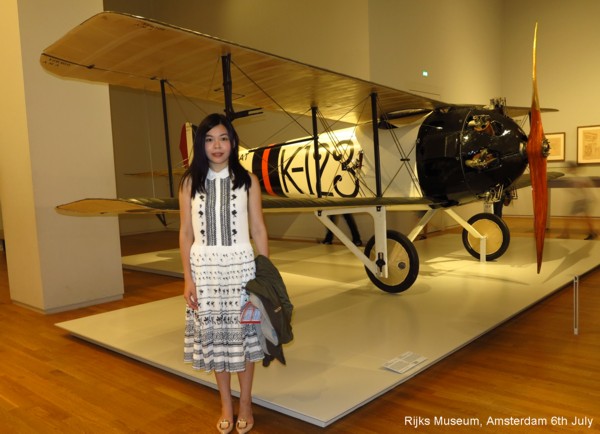 Pictures of this Koolhoven Bantam aeroplane I posted on FB were subject to a lot of discussion by chaps directly involved in its restoration at Old Warden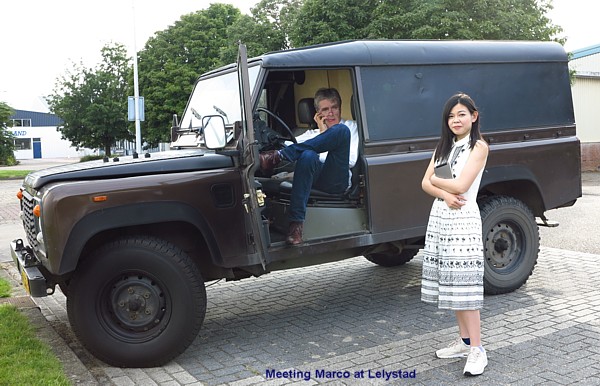 Changed into sensible shoes
In the evening we had an appointment to look at a posh multi engined aircraft Alice is interested in at Lelystad Airport.
This aeroplane is well made, I inspected it carefully and found very few things to fault. It will be a good time building device, and the price asked is fair.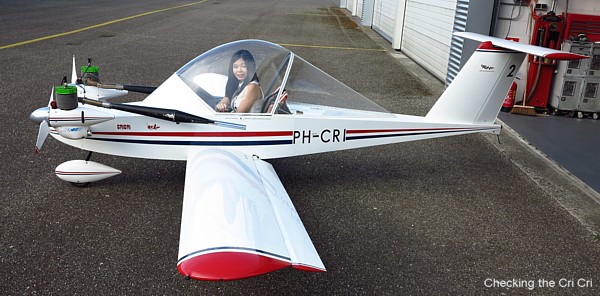 The lady's dad built it for her to build hours for her airline career
Windmills, the girl wants to see windmills...
So she drove us to the tourist trap of Zaanse Schans which is in fact worth a visit. We bought many souvenirs here, and cheese.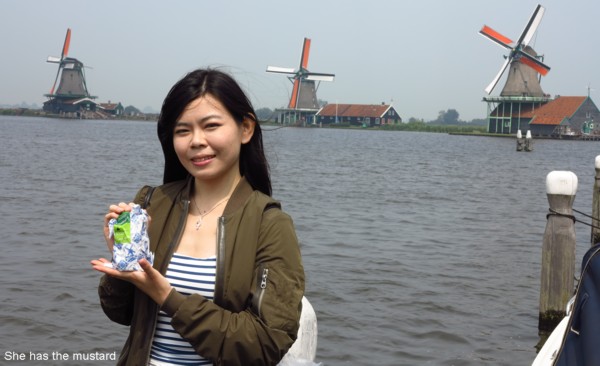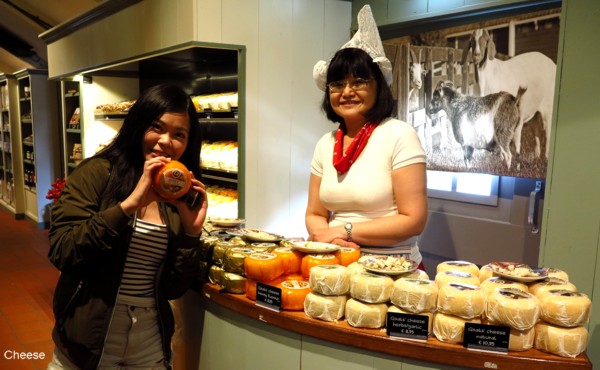 Schipol is a [not like] for me. Sorry, but the signage is not clear, and there are no petrol stations in the vicinity that are obvious and easily accessible. Looking for these on Google Maps shows a couple nearby, but we drove around looking, and getting stuck going the wrong way on the motorway is too easy. In frustration we returned the rental car and paid the 45 Euro fee for lack of fuel.
No, Schipol is not a good airport in many ways.
'Followed the signs to Departures and were told to go the other way back to the other terminal when we finally had to ask for directions.
We made it to the gate just in time for boarding... As the screens displayed... Except that the aeroplane had not even arrived at the gate yet!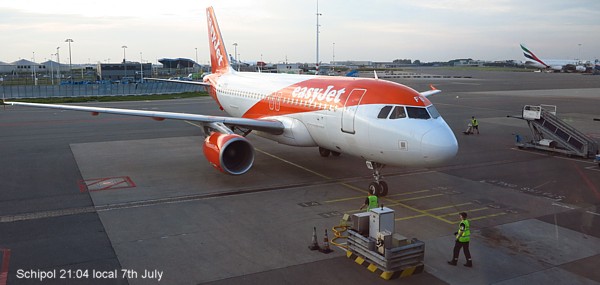 Arriving at the gate after it was supposedly boarding (20:55 boarding, 21:25 departure)
England
Back at Gatwick I picked up a Peugeot rental car from Budget again... My baggage fell into the hole under the carpet in the boot (trunk) left by the absent spare wheel... Rental cars come without spare tyres these days.
I somehow took the wrong turn on the roundabout next to the Moat House, it wasn't there in my day! Corrected, I drove the back roads up to Dorking without error, then on to Guildford.
8th July
The first objective was to see if we could recover Alice's phone which she believed she had left in the previous rental car at Heathrow... They had it, and after proving it was hers she was given it back.
On the way I'd observed the traffic jam on the M25 and so I decided to take the roads through Staines and Weybridge.
Of course this meant lunch somewhere, and I decided this would be at the Brooklands museum which has exhibits from the race track, aviating, and aircraft manufacturing days.
I used to work for BAC and then British Aerospace and had Vickers inspection stamp [V701], so this was a trip down memory lane for me.
Since I used to work there, I was given a reduced entrance fee.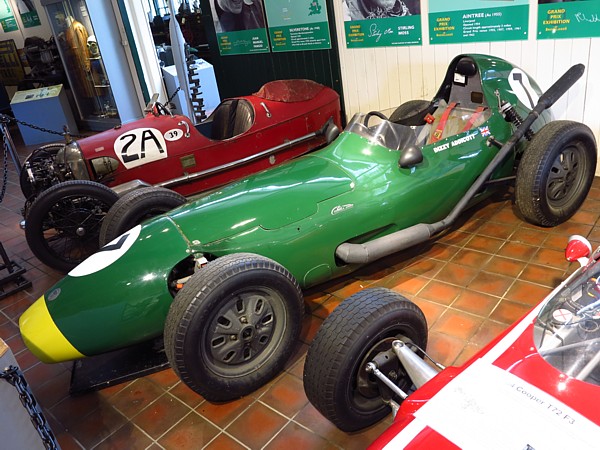 I knew Dizzy Addicott; he wanted me to teach his daughter to fly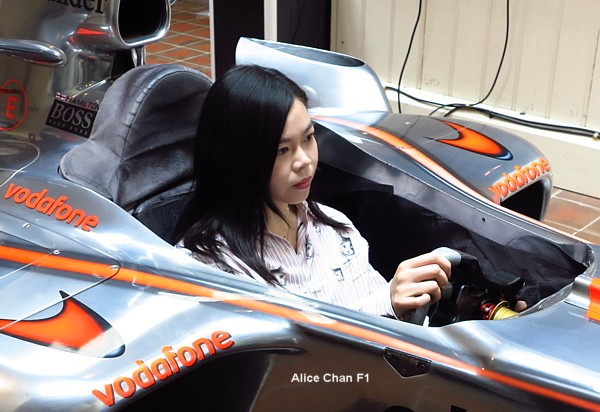 I beat Alice's track speed, but then went off the track into the grass. Stop talking, and pay attention to your driving!


V701 Viscount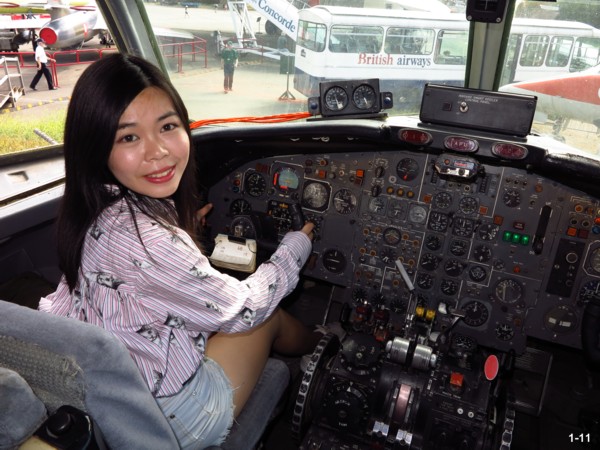 Alice may one day be qualified to sit here
Not shown here was the Vickers VC10 which was one of the most beautiful aeroplanes, and the aeroplane that fascinated me as a 10 year old as it flew around me at low level over Mickleover.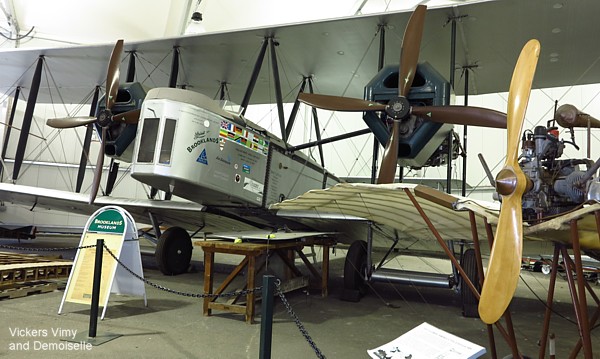 The Vimy at the Science Museum was the first to cross the Atlantic nonstop in 1919
This one is a reproduction of the one that first flew to Australia, and has Orenda engines
The restaurant served very good food.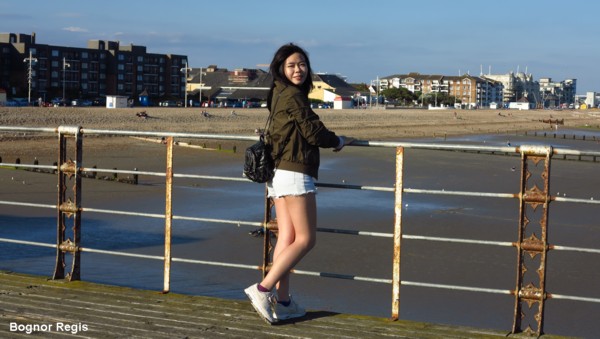 After lunch at Brooklands we drove to the south coast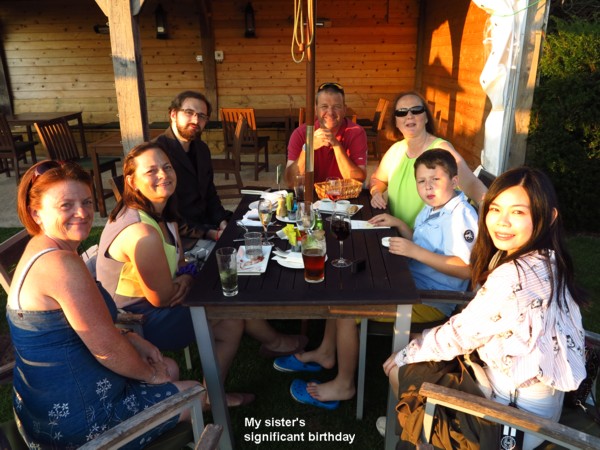 The Black Horse Pub
It was a significant birthday for my sister Julie and so we went to The Black Horse Pub in Binsted near where she grew up in Bognor.
Born in Montreal just after Canada's 100th anniversary, at 12 years old she was sent to England and so went to school here.
In 1966 I went to Montreal when I was 12, and from Grammar School to Elementary school... Many bad memories... I was denied permission to return from a trip to England in 1973.
These family meetings have positive and some very negative effects on me as I remember those times. Two of my brothers live in the Bognor area.
Sunday
My sister came up to Guildford to go for a day out with us.
We drove to White Waltham and for whatever reason I took a narrow lane north of Bracknell... Julie brought up her map on her phone and said that there was a geocache right where we were...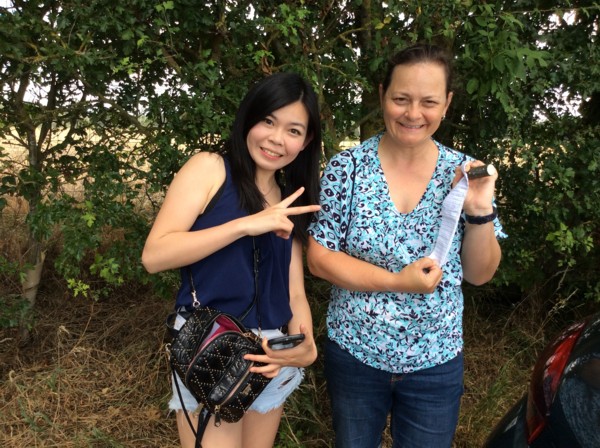 Julie introduced Alice to Geocaching north of Bracknell
Once again an excellent lunch was had at White Waltham, I had the cod a second time, and it as good and healthy.
Next stop was to be Redhill once again. This time I took the M4 and M25, off at the A217, and then through Nutfield, driving past 60 Nutfield Road which I once rented (1987).
I might have gone flying at Harvard Aviation in a Cessna 152, but the available aeroplane had a U/S airspeed indicator. Investigation showed it worked with a bit of suction on the static vent, but not with pressure throught the pitot.
I poked a stem of grass and retrieved a wet piece of something green, poked again, and out came a little black insect.. I blew him off into the grass. Unblocked the ASI now functioned as it should, but the aeroplane was already snagged and could not fly until a licenced engineer signed it off again.
Went to the Bell Inn in Outwood to have a meal with Mark and Berni, old friends from my Redhill days.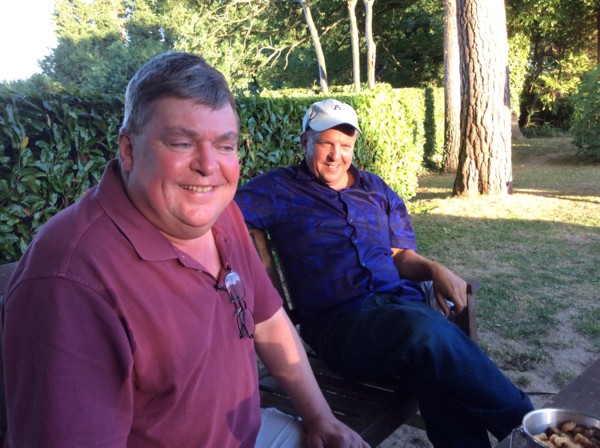 Mark and Berni at the Bell Inn, Outwood
The last day, Monday
First a nearby geocache had to be located, it was just a short walk from Paul's house in Guildford... It was found.
Shopping has to be done and so I drove us up to M&S and Tesco's Superstore in Camberley; just two shops otherwise we would not be doing anything else the rest of the day!
Lunch was at Blackbushe, another old haunt of mine.
The flying club here has higher rates than other places as Blackbushe charges high rents, and higher fuel prices. Perhaps the ultimate objective is to discourage flying from there?
Alice noted two geocaches beside the aerodrome in the brambly thorny places to the east. She found both while scratching her unprotected legs.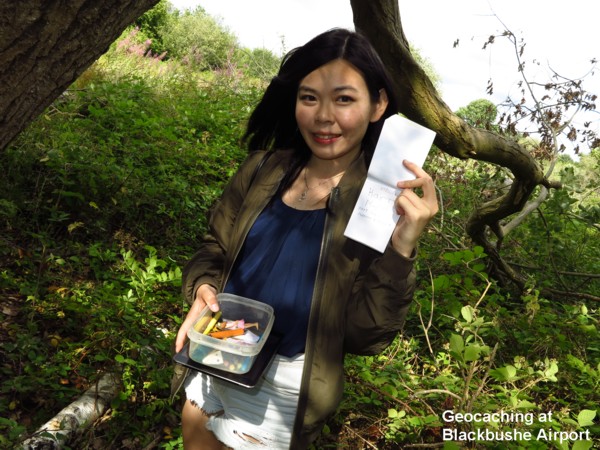 Alice has now got the geocaching bug
We returned to Guildford where Paul was waiting to drive us up to Popham for a quick hello at the BBQ, followed by a dash down to The Bricklayer's Arms in Shamley Green to meet more old friends.
On the way to Popham we stopped briefly at the Farnborough Air Sciences Trust Museum which is worth further investigation the next time I have the chance.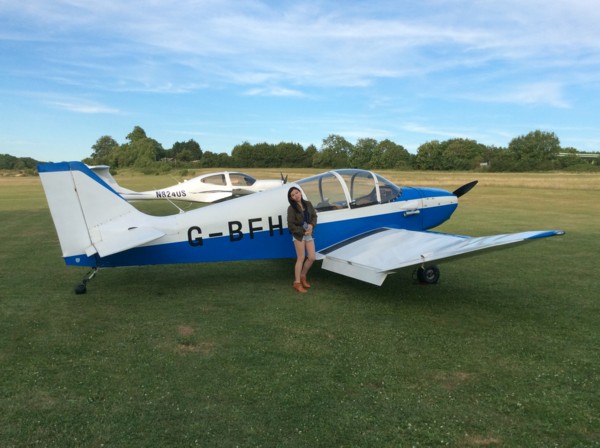 A quick visit to the Popham BBQ on Monday evening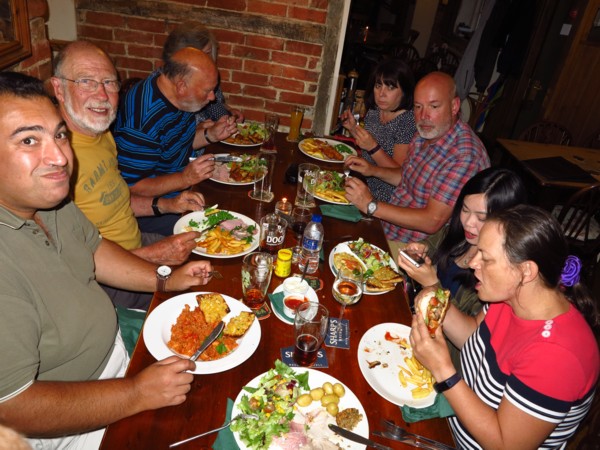 Dinner at the Bricklayer's Arms Monday evening
Julie had forgotten her expensive sunglasses in my car and so came up to retrieve them at the pub.
Unfortunately, contrary to the opinions of some in other countries; I was unable to prove that Britain is more expensive than BC, Canada, and that the food is no good.
Alice enjoyed her first visit to England... She was not too keen on pub food, but this was English pub food and not the regular BC pub food (exceptions would be places like the Flying Beaver pub), and so she was very happy.
Monday afternoon I booked my bus from Gatwick to Heathrow online, £20.50, cheaper than National Express. I could have dropped the car at Heathrow for an additional £48 plus VAT, but elected to take the cheaper option of the 07:45 bus from Gatwick.
Just in time was the trip back to Gatwick.
The car needed petrol and so I refueled in Guildford after leaving at 06:00. We took the A3(M) to the M25 and around to the M23 to Gatwick. There was a long jam on the M23, but it still only took some 40 minutes to get to Gatwick.
The fuel gauge showed less than completely full and so I drove to the convenient petrol station on the airport and added another three litres... The fuel gauge failed to budge to indicate full! It was absolutely full.
Everything done I was in good time to catch my bus, and Alice was the requisite 2 hours early for her Air Transat flight to Vancouver.
I arrived very early for my Thai Airways flight back to Bangkok and so had more time to enjoy my porridge before departure.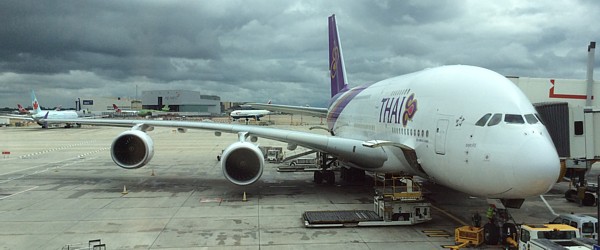 My ride back to Bangkok
The A380 is very quiet, the seats are comfortable enough, but I failed to get more than a short snooze.
As ever the service was good.
I watched two films, Life a gruesome Martian movie, and an emotional tear jerker Japanese film Her Love Boils Bathwater billed as a comedy. I looked at The Darjeeling Limited, but this film was not very good and so I stopped watching it after thirty minutes or so.
The plane landed at BKK on time at 05:40am.
On the way out I had a ticket from Bangkok Suvarnabhumi to London and so I was able to take the Don Mueang Airport connector bus.
Come back and without a ticket from Don Mueang you can't take this bus...
So I paid 45 Baht to take the packed Airport Express train, packed because it's used as a commuter train too. Then BTS Skytrain to MoChit station, 34 Baht, and taxi from there to work 140 Baht.