Going Around the Northern Hemisphere Again Part 2
With the smoke precluding pleasant flying we decided to drive down to Seattle to visit the airfields and museums there.
Fluffy cat
George is a pilot who has a Citabria and a Wilga here in Thailand at Pattaya Eastern Airpark, and he is a Facebook friend.
On FB he posted a picture of a cat somewhere in the USA, and from a couple of parts of wing and fuselage I recognised the aeroplane above the cat as being a YAK18T.
So there we were pulling into the car park at Arlington for lunch at the café, and I see a YAK18T in the same colour scheme, and a fluffy cat... The same cat.
I sent a FB message to George asking where he was, and received a response later when we arrived at the first museum at Paine Field... He and Jim were going to the Paul Allen Collection on the other side of Paine Field and so we met up there.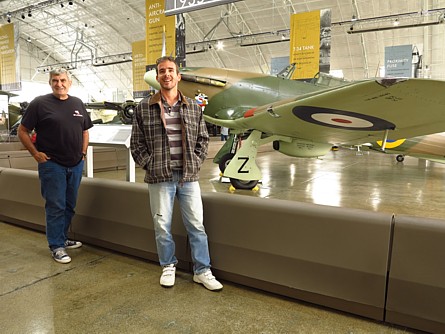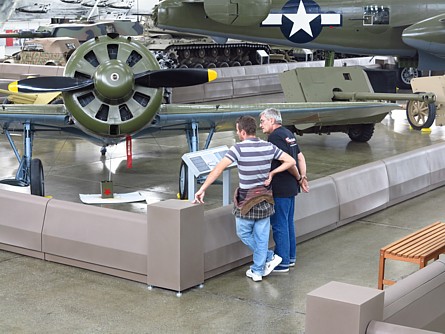 Jim and George from Pattaya Eastern


Always good to see an airworthy Mosquito
We stayed the night in Snohomish. It was the most expensive motel on this trip, with the poorest standard.
I invited Jim and George to the pub in Snohomish, they were staying nearby. Jim paid, so I don't know what happened to my invitation!
The next morning we drove to Renton where 737s were being prepared for delivery to customers such as Nok Air and Thai Lion Air among others.
Then on to the Museum of Flight at Boeing Field.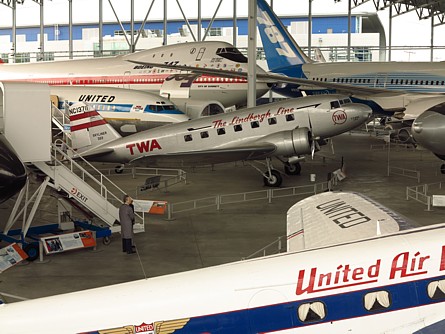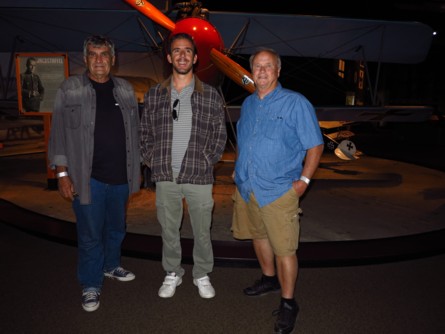 Jim, George, and another denizen of Pattaya Eastern Jim
Rather than stay another night in the expensive Seattle area, I drove us back to Langley and to the Travelodge by the airport... They were getting used to our changes of mind, and so all of our Canadian accommodation was here.
9th September
The weather was opening up or so it seemed and so we planned to do some flying, ideally to go to Victoria and see a bit of Vancouver Island, but the weather prevented this. It was looking better and better improving from the east, and so we could perhaps go to Chilliwack and back.
David who owns a Cessna 175, (and who flew a Cessna Mustang jet from Bangkok until he recently obtained a job flying a Citation in Canada), took Daren in his aeroplane, and I flew with Alice in the Warrior.
It was too grotty and we were forced to return to Boundary Bay.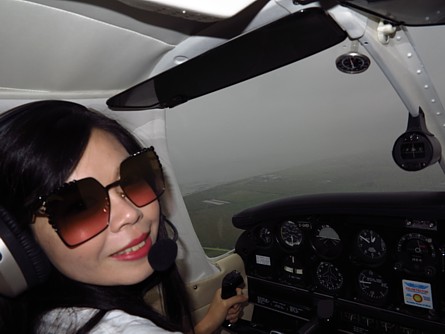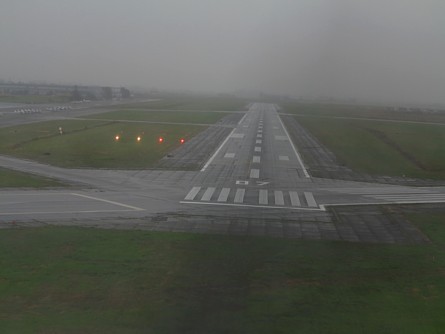 Alice flying the Warrior. We ended up doing a bunch of circuits
The next day began with fog.
We did no flying even though at lunch time the fog cleared to beautiful blue skies.

Same again on the 11th, fog in the morning, and blue skies later. Daren had a flight in the Cessna 180 on floats from Fort Langley Air.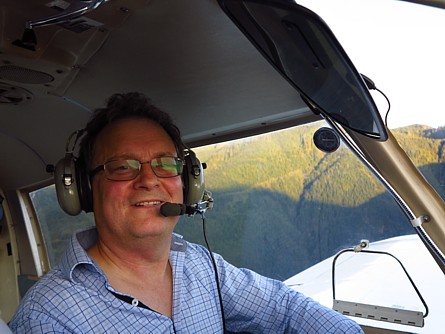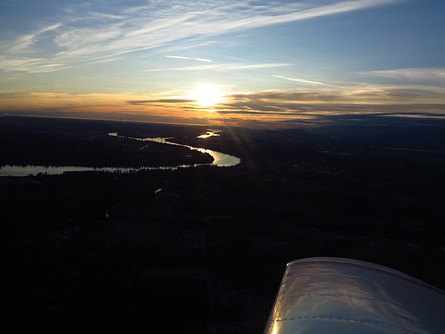 In the afternoon I went for a flight with Gary in the Cherokee...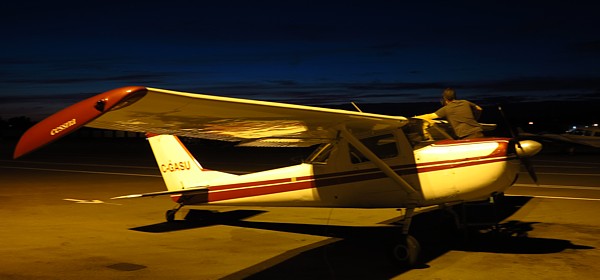 ..and then night flying in the Cessna 150 with James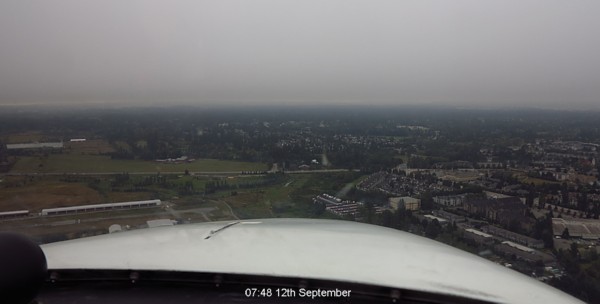 Volmer with a string
One final early morning circuit flight with Bill doing power off approaches and landings
Portugal
We took the afternoon WestJet flight from Vancouver to Gatwick, arriving the next day, and then I caught a TAP flight from Gatwick to Lisbon to check on the Cessna 172R the company is purchasing from there.
The original plan did not include going to Portugal, but this Cessna 172R deal has been a bad one and so I agreed to go and do a predelivery inspection.
The inspection turned out to be necessary, the aeroplane was not fit for the long delivery flight, and instead will now be dismantled and shipped in a container instead.
It shows the flying club in Cascais to be inefficient, and disorganised, among other things... I could write a lot more about this.
The aeroplane was urgently required, and the Portuguese were unable to deliver. I have learned a lot from this deal, much of it not pleasant.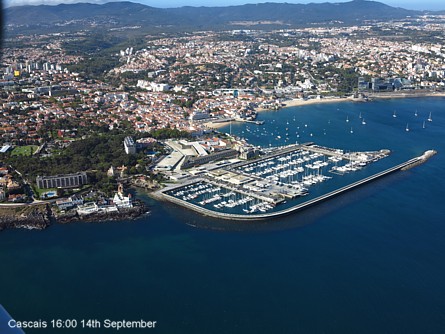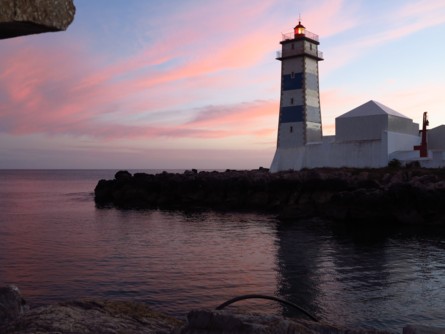 I did a test flight in the Cessna 172R we're in the long drawn out annoying process of trying to purchase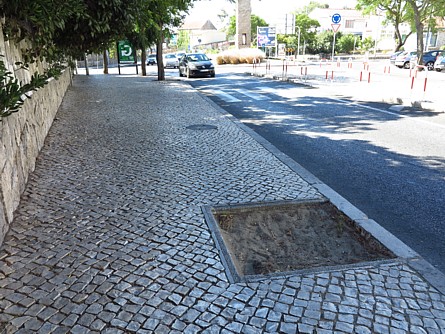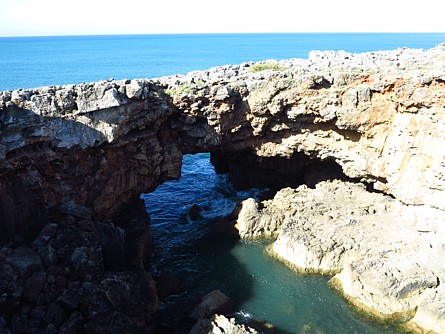 Be careful where you step, the tree hole in which a distracted Michael ended up spilling - and the Inferno
Cascais is a pleasant place, and I told the people I am dealing with that I like visiting, but not for the reasons I was visiting this time!
I like to walk, and so on Saturday I went to see the Inferno, a natural bridge in the coast line, a two mile walk.
A few yards down the road I stepped into a hole in the pavement, I was distracted looking across the road, and I was walking fast. I smacked my left hand and an x-ray showed a hairline crack in one of my fingers.
People stopped to help me, they were very kind, and a passerby gave me a bottle of water.
After a bit of recovery time (I felt sick), I got up and I completed my walk.
People tell me I'm getting old, but there's a direct relationship between how fast you move and how soon you die... I am told to slow down and take it carefully; I suppose this means people want me to go to an earlier death?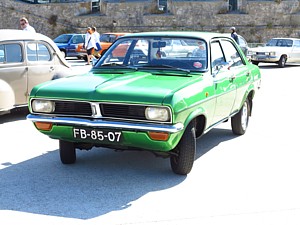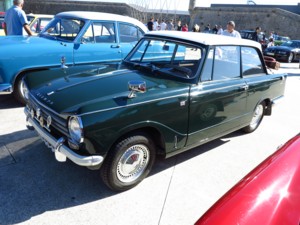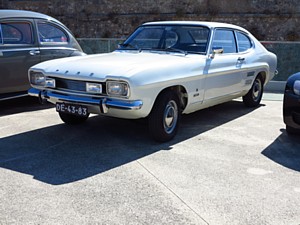 Vauxhall Viva HC, Triumph Herald, and Ford Capri
On the way back from the Inferno I stopped to look at a drive-in of classic cars, mostly British.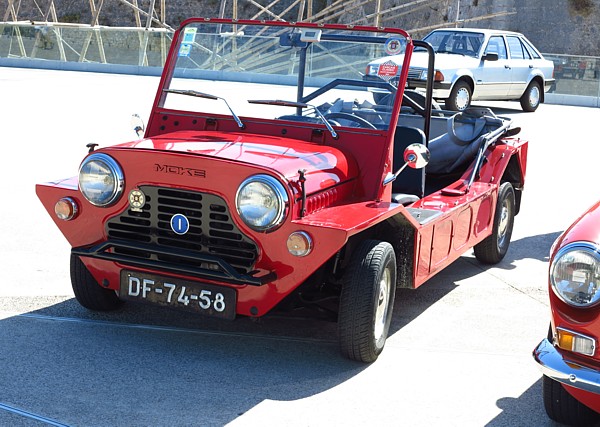 Mini Moke
Back to Britain
The TAP flight attendants gave me a couple of Paracetamol pain killers, and an ice pack to reduce the pain and swelling in my left hand during the 8,000 foot pressure altitude flight back to London Heathrow where I was to pick up a rental car. This time I chose Green Motion which operates from the Holiday Inn, J4/M4. You pay £5 to take a bus there and back, and then when you get there the operation is supremely inefficient. I did not know I had to walk through the hotel to pick up my car... Everything took a lot of time.
I drove to White Waltham and then to Guildford where Paul put me up again.


I used to sleep behind the upstairs right side window
I only had three days in England so on the first day I went with Paul to Redhill for lunch and cake at the Pilot's Hub.
The food is good, and on the day we were there the service was very good too.
The second day I drove to Goodwood to meet Ginny who I have not seen in twenty years.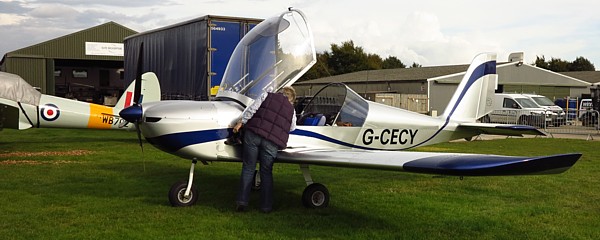 Ginny prepares the Evektor EV97 Eurostar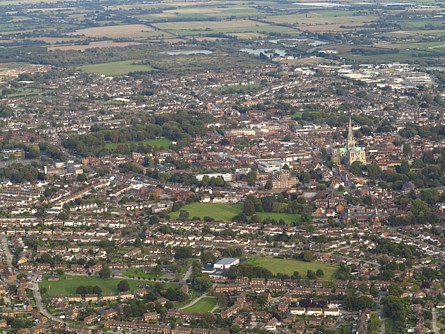 It's expensive to fly from Chichester Goodwood, but it is still a pleasure and a privilege


Goodwood Aerodrome
My final day was a drive to Elstree, and then to White Waltham.
At Elstree I met a bunch of aviation enthusiasts perusing old photographs of aircraft taken at Elstree Aerodrome... I could name all the fixed wing aircraft except for a German parasol light aircraft from the 1950s.
Richard, who was showing his pictures asked me if I could identify the aircraft for which he showed me a photo of one smashed up wing... I looked carefully at it, noted the cut out at the wing root, and stated Comper Swift... He almost said he'd buy my lunch if I could identify the type from a wrecked wing, he was glad he hadn't!
I drove back to White Waltham for several cups of tea, and a lot of gossiping, and then onto the M4 to return the car.
Met Daren at Heathrow, and boarded the Airbus 350 to go back to Bangkok.