Heading home for the winter
Thailand again
Here I am back in Chiang Mai.
It was mentioned to me that I hadn't updated this webpage in a while.. Do you know how long this takes?
I will publish this and the maybe I'll edit it again and add some pictues that are on my iPad later.
Flight Log
2nd November: Test flight in the RV9A from Nok, San Kamphaeng Hot Springs.
3rd November: To Mae Kuang Dam, and then San Kamphaeng Hot Springs in the RV9A.
5th November: Up with Paul in the Allegro, Pattaya Eastern - Klaeng (touch and go) - U Tapao for two circuits - then stalls before landing back at Eastern.
8th November: Steep turns, slow flight, and stalls followed by 5 circuits at Nok in the RV9A.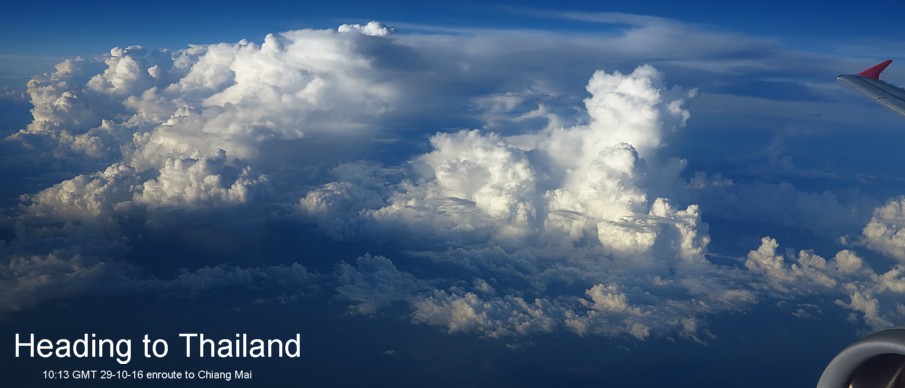 Cathay Dragon Airbus 320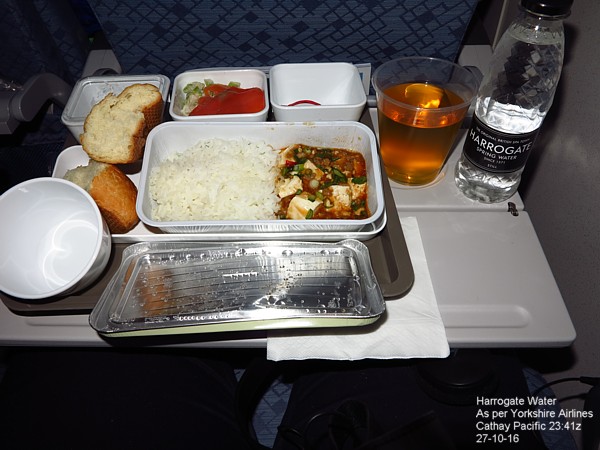 Enroute to Hong Kong
Inflight movie watching
Independence Day: Resurgence. Rubbish; a poor follow up to a very good original movie. *

Adult Life Skills. A nice film about life, trauma, and getting over troubles, it was good. ***

Star Trek Beyond. I photographed the location for this movie which was filmed in the blasting area in the Pitt Lake Parctice Area. It was okay. **

The Kodai Family. A day dreaming Japanese office worker's relationship with her company boss. He can read her mind. Very good. ****

Midnight Diner. Another Japanese film about life in a midnight diner, and insight into Japanese culture. ***

At times the traffic is as bad as Richmond BC


Hong Kong

I arrived in Hong Kong for an overnight lay-over.
My Cathay flight arrived on time at 19:20 Hong Kong time and my Cathay Dragon flight was due to leave at 15:20 the next day.

Like a native I took the train and the MTR into Kowloon using my Octopus card which is a super convenient idea.
Public transport and infrastructure is cheap and efficient here in this modern city.

For the first time in Hong Kong I was royally ripped off!
I wondered why all the hotel rooms were so expensive... Two weeks before I saw rooms began at $300 and were up over $1,000 a night ... Rooms I had booked before were $600 CAD when they were $100 CAD for me in the past.
A week before, same same... The a day or two before I thought I would stay overnight in the airport terminal and I wish I had!

I booked a room at the OM Guest House in the grotty Chung King Mansion on Nathan Road through Agoda. It cost me $301 and nothing less than the term "sh*t hole" would describe it! I was paying six times the normal price for this grotty room with its dirty drinking mugs; one bed with a dirty sheet, and fortunately one bed with a clean one... Never never never again! If I happen to go through Hong Kong and cannot get a decent room due to a period of outrageous over charging I'll spend the time on a bench at the airport.
There was no-one there to check me out in the morning so I left the key in the room and left.
I am glad I paid through Agoda, I would not trust this place with my credit card information.

In the morning I met up with Neil who is an old friend from Tiger Club days in England in the 1980's.
We went to the Hong Kong Aviation Club for breakfast and to catch up on old times. Neil now flies an R44 helicopter for fun in Hong Kong.
It seems I still have good friends from my English flying times.

It was soon time to go to the airport and so I caught the A22 bus, swiping my Octopus card as I entered... The bus was in traffic for a while but soon entered the motorway for a fast trip to the airport.
This was the first time I used the bus here.

The Cathay Dragon Airbus departed Hong Kong close to being on time, and was on time arriving at Chiang Mai.
I expected it to be busy in the Immigration hall, but it wasn't. I went through, collected my bags immediately and was in a taxi back to Pada Mansion in no time.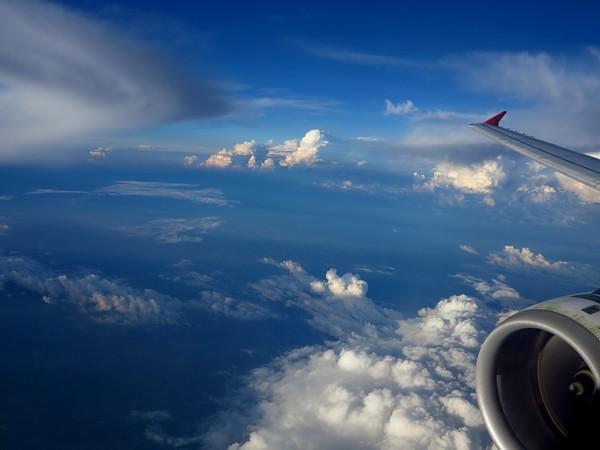 Fantastic cloudscapes are a feature of tropical skies. I'd never be bored flying this route.
Back home I washed and cleaned the loo, and the floors. Made my bed, plugged in the fridge, and went to Tesco Lotus for supplies.
I was picked up, went for dinner with Koi and his family, and then to the pub... Picked up my car, and drove home.. (I drank pop!).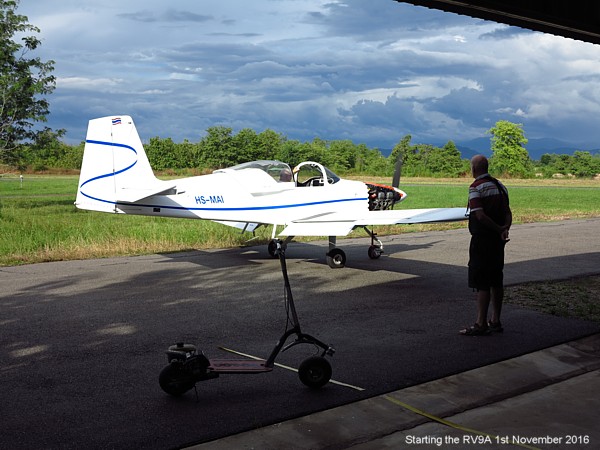 Batteries do not last very long in the tropics and so the battery in the aeroplane needed replacement... In the meantime Michael swung and swung the propeller many times before the engine would start!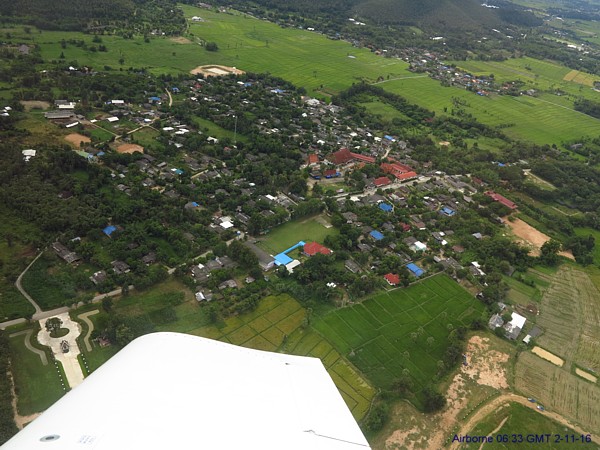 Airborne to check all systems in the RV9A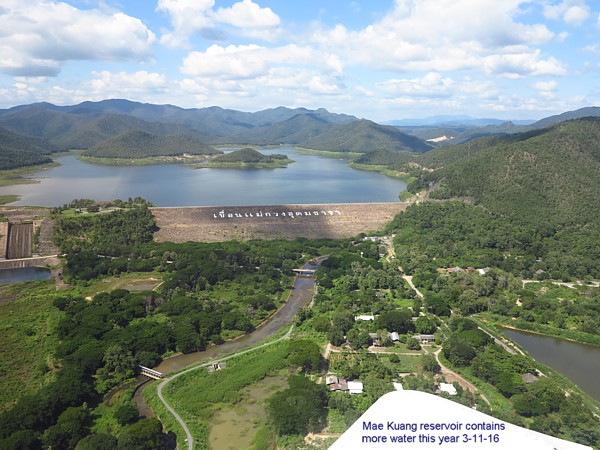 Beautiful weather in Northern Thailand
Bangkok

On Thursday I flew from 12:40 to 13:50 local time in the RV9Aand then rushed home, showered, and had a ride in a TukTuk owned by a resident of my apartment building to the airport to catch the 17:05 TG 613 (A330) flight to Suvarnabhumi.
The flight arrived on time at Bangkok, but then we were bused from the gate to the domestic arrivals...
I caught the train to Phaya Thai station and walked to the Victory Executive Hotel where I'd booked a room with breakfast for $58 CAD.
This is a very convenient hotel for me, close to Victory Monument and the end of the Airport Link rail line.

NaRuk works nearby too, and so we met up to go out for dinner at the Saxophone Bar which is a short walk away.
It's very good, with live music and good food.

In the morning NaRuk came over for breakfast and then she went to work, and I took the Rail Link back to the airport and caught the 120 Baht bus to Jomtien.

I had a few Briggs and Stratton bits to deliver to Pattaya Eastern... Unfortunately this time Gill was travelling the opposite direction on her way up north, and so I drove her and Alasdair's truck from the bus station...
English food is available in Pattaya; Alasdair and I went to the Caddy Shack for din dins. Chicken pie, mashed potatoes, and baked beans for me.
Pattaya is known for it's street life, old farang men with young women (and boys) are it's reputation. This is true, but there are many exceptions though it's not my favourite place.
But let's think about this.
Foreign men come here for a sex time, but then they get involved, they help their prostitutes out with money, set them up in a house or a flat, and sometimes they marry them!
What is the problem here? Is it perversion? Is it simply a need for sex? Or is it something different?
Western society has changed. Boys of my generation grew up usually with a mother in the home, sometimes caring, sometimes didn't care, and sometimes abusive, but she was there.
Now everyone works, a woman's career is important; more important than family. Family can wait and often for the woman in her late 30's it's too late.
Women in western society have adapted well to the new 'everyone in the workplace' lifestyle, but western men have not adjusted so well. So you see these guys, and they're actually not usually bad guys, taking care of the poor Isan girls who at first sold them sex, but in the end sold them necessity. These men feel necessary when they support a poor woman in Thailand and they often are ripped off by these women too...
So I wouldn't criticise these blokes as at heart they're often good souls. It's just that western society has moved on, and they have not kept up.
Allegro

It was time to dust off the Allegro and go for a flight on Saturday 5th November.

Eastern is being squeezed as there is a concrete depot with a tall wall at one end, and a migrant workers accommodation camp at the other end. They have recently erected a water tower on the end of the runway to supply the migrant worker camp. There's no restriction on what people may build at the end of a runway.

The Allegro gets up and goes and so the water tower is not a problem...
We took off and flew east south east to Klaeng airfield to do a touch and go there.
This part of Thailand is undergoing major industrial development, especially since so many factories were inundated during the floods a few years ago.
A new motorway is being constructed, there are new factories being built (many speculatively "For Rent"), and there are housing developments.
The nature of this part of Thailand is moving away from tourism... But will it compete with growing economies such as Vietnam, and Myanmar (Burma)?

Klaeng is a narrow runway with trees at the north end... We did a quick touch and go and then headed west along the shore, passing the oil refineries of Rayong to join right base for a couple of circuits at U Tapao.

After two touch and goes we headed home to Pattaya Eastern.

Dinner was at the Pig and Whistle, I had Chicken Kiev; everyone enjoying good English food.
Then I caught the bus back to Suvarnabhumi, and the train back to the Victory Executive Hotel.
This time the room was $49.06 CAD but breakfast was not included.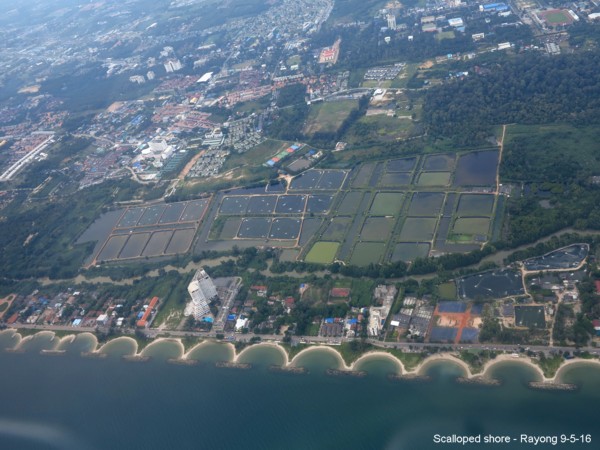 When we were proud to make cars

Sunday in Bangkok

NaRuk picked me up from the hotel in the morning and we drove to a school where her niece had a music lesson.
This was fun, these children hammering away on Dulcimers as a practice for the Xylophone, creating a din.

We drove to the Khin Lom Chom Sa Phan restaurant by the Chao Phraya river for an excellent seafood lunch, and followed this with ice cream at Swensen's in a nearby mall.

I could not book a flight online within six hours and so we drove to Suvarnabhumi and I bought a 1,900 Baht ticket on Thai Airways back to Chiang Mai.


I've begun my early morning bicycle rides again... Get my morning exercise.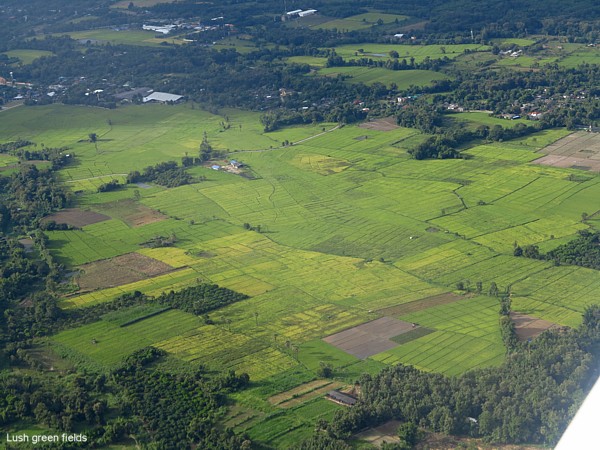 Monday and Tuesday each had a flight in the RV9A... Today, Wednesday, I was rained on during my early morning ride and I did not go to the airfield.
Instead I went for lunch with Daryl who is visiting from Vancouver.


VTCY, San Kamphaeng - Nok Airfield

Busy times in Thailand

There were build ups early in our flight but it was a clear run from Tak

In the evening NaRuk and I had dinner with David who is flying a
Cessna Mustang jet from Bangkok. Saxophone bar is a very good
place with good food, and live music near to Victory Monument

Photos

As ever it's a difficult decision deciding which pictures to display on here, and then which ones should be small and which should be larger. I have a lot of pictures!
I'm cognisant of the server limitation.

Flight Log

11th November: Ban Thi - Nok (San Kamphaeng) VTCY to Bangkok Don Mueang VTBD. Takeoff 14:09 land 16:30 local time. Fuel used = 70 litres Avgas 100LL.

You must get a slot number Landing Permit to fly into Bangkok Airport, and handling by a company such as MJets there.
Handling is expensive, but they will reduce their fees from BizJet/Airline fees to suit a little aeroplane like an RV9A.
You must carry your current documents on board the aircraft; these will be checked.
You will need a passport or an ID card - Gerry used a Thai Driving Licence.

I filed my flight plan with Chiang Mai and included the Landing Permit number.

The flight went without a hitch, we were handed over to Tak approach (Phitsanulok), then to Focal Military, and then to Bangkok arrivals.
The VFR approach route was to Ayutthaya at 2,000 feet, 1,500 feet to Patumthani, then down to 1,000 feet. Contact tower on 118.1.
Vectored to the approach to 21 Left we kept 140 knots on final to suit an Airbus behind us, floated it off down the runway, and landed flapless to exit on W and taxi straight to our parking spot E3 where MJets crew were ready to marshall us in.

There are many frequencies that can be possibly used and so I write them down on my pad and underline the ones I am called to use.

As usual the axxera XGPS 150 E failed to work when it was needed. Gerry said he had bought two of these units in his time, and both had failed...
In England I was impressed by Pauls' home made ADSB GPS WiFi unit that worked perfectly with the iPad Air. I'll have to get something better than what I have as the Air Nav Pro program is essential for efficient VFR navigation in Thailand.

MJets has moved its facility to the south end of the field on the west side, below the cargo terminal.
We were driven back, and a taxi was called to take us into town.
I left the taxi at Makkasan and took the train two stops to Phaya Thai to stay at the Victory Executive Hotel near Victory Monument. This is an alright hotel with a good breakfast and it's very convenient for me. 1400 Baht a night, I could get cheaper, but a difference of $10 or so for convenience is worth it.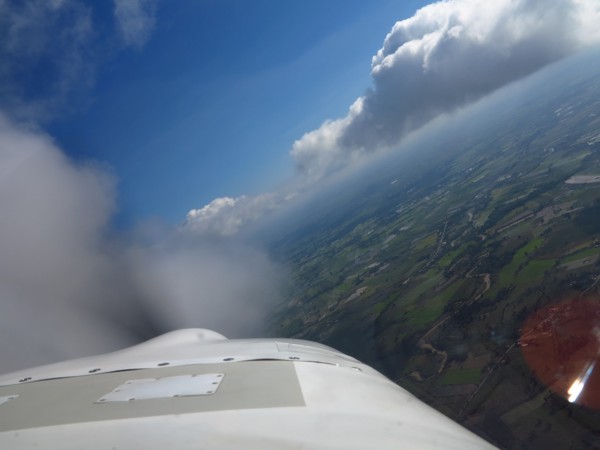 Heading towards Nakhon Sawan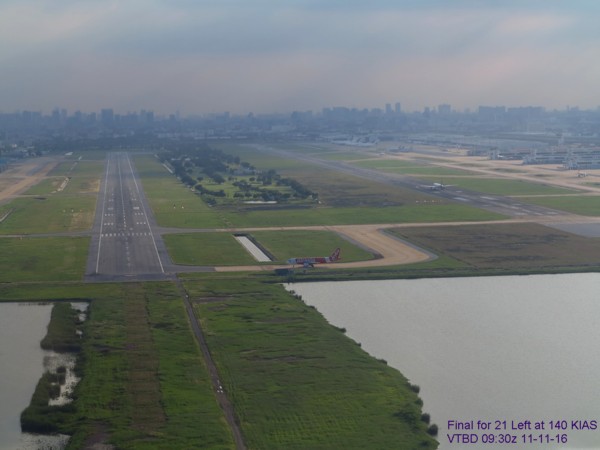 Fitting in with the big stuff means doing what is necessary within safe bounds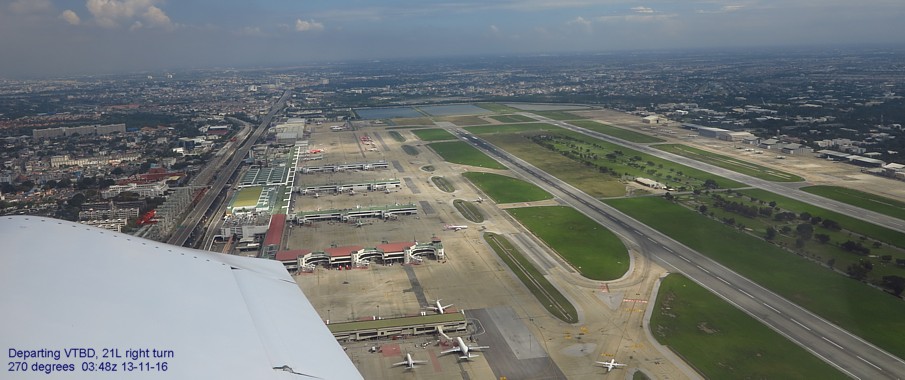 I learned last time to expect the westerly departure

Hong Kong style development west of Don Mueang

Bangkok to Nok 13th November

We turned up at MJets where we were told that the CxA had expired on our aeroplane... But we did the annual check back in February. The new certificate was produced and this was sorted!
I filed the flight plan and then we were driven out to the aeroplane where the fuel truck (and trailor) topped the tanks with precisely 70 litres.

Boonying's office was in the building beside the aeroplane, he's in charge of maintenance of several Navajo aircraft operated by Budget Airlines. They have a Partenavia and a Cessna 150 as well. So we met briefly before my departure time.


A smart Cessna 310 at Don Mueang

Takeoff was at 10:44 after allowing time for the vortices from a preceding A320 to dissipate. We were told to turn right 270 degrees climb to 1,000 feet soon after takeoff to clear the airport to the west, and then vectors and climbs 280/1,500', then 320 degrees, and cleared direct TL. ATC requested our ETA at TL and at PSL...
We climbed to 6,500 feet... Bangkok told us to contact Takhli who requested that we route 15 NM west of TL... I used the cursor on the Garmin 430 to estimate this position and selected Direct To this point. My position turned out to be 13.9 NM west... Oh well I tried.
Abeam Takhli we were cleared direct to PSL... I'd flight planned via Tak, but ATC told us to go via Phitsanulok.
Phitsanulok Approach advised us of traffic and suggested we go Nok direct rather than via their overhead... Perfect, we like that.
Passing Sukhotai we descended to 4,500 feet to be under the cloud build ups, passing easily over the mountain ridges using the sunshine between the shadows on the ground to determine a safe passage.
Southwest of Lampang we descend to 3,000 feet to fly along the motorway pass then direct to Nok.
Landing time was 13:05 local after 2 hours 21 minutes in the air... We should run a scheduled service!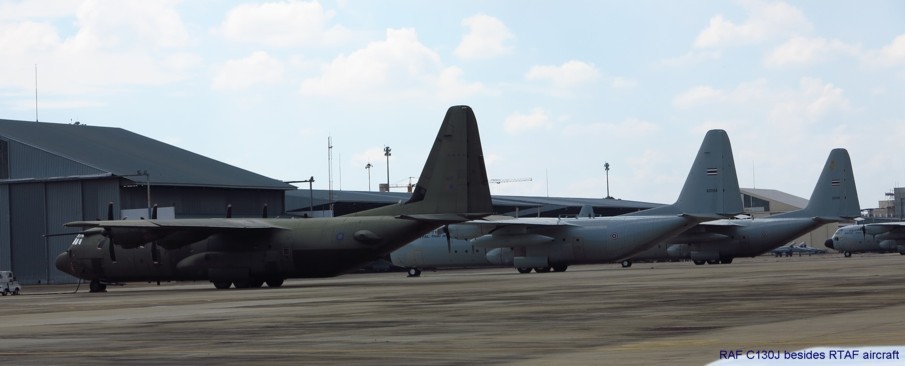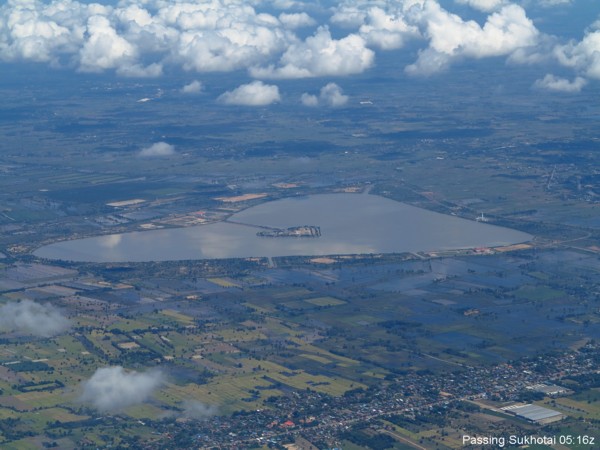 Water at the heart of the Thai agriculture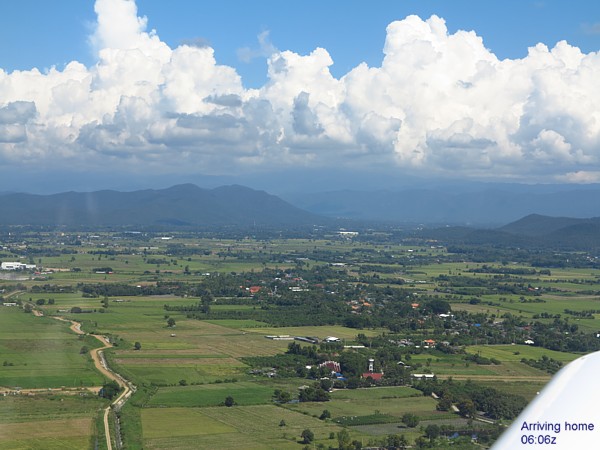 The end of a lovely flight


Loy Krathong was originally cancelled while the Thais mourn the loss of the King

Thais revered their King, he was loved

Alasdair and Date (dat tay, Japanese) are on a round Thailand flight in the EuroFox.
I've done this in this aeroplane too, it's a very reliable easy to fly aeroplane.

They were visiting Lanna Airfield which is next to Nok and so I was able to catch up.
I have not been able to meet many of my friends here since I have been busy with the RV9A.


14th November


Maintenance must be done




The floats in this year's Loy Krathong parade celebrated the good works of the King except for one which was promoting the Mitsubishi MRJ regional jet.

Visitor from Vancouver
Leak test

The oil change and filter change were completed and the engine ground run to check for leaks.
All was well so I took Daryl for a flight to give the engine a thorough leak test.

We flew over the Mae Kuang reservoir and then over the Hot Springs and did a stall test.
There were many fires in the countryside as the pyromaniac farmers began their attempts to get rid of the clear blue sky and fill it with harmful smoke instead... I wonder about the Karma they are producing for themselves.
Doi Inthanon flights


Natasha

Pritesh

Two visitors from London

I took two people for a ride to Doi Inthanon followed by a low approach and go around at Chiang Mai Airport.

Doi Inthanon is the highest mountain in Thailand and there's sometimes frost and ice formed up there. The Thais revel in the cold in December up on the mountain; they dress in winter gear as if it was Whistler in the winter.
Cloud shrouded the Chedis on the mountain during the first flight. We had fleeting distant views of the Chedis during the first flight, but they were in the clear on the second flight as is evident in the heading picture.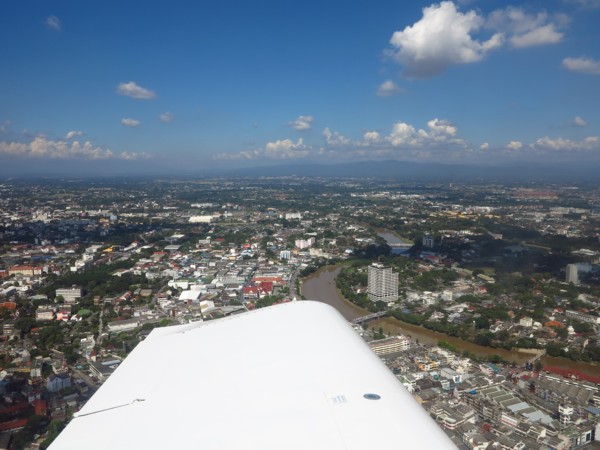 A view over Chiang Mai after the low approach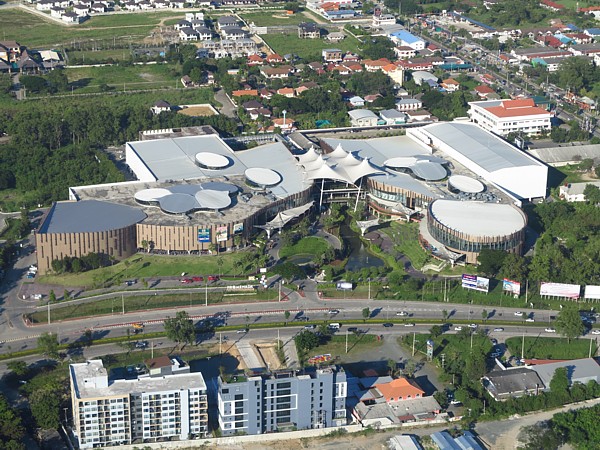 Promenada Mall

Towards completion of flying in the RV9A

Easy flight down in good visibility with few clouds to avoid

This time we did 120 KIAS on final to fit in

Bangkok again

The objective was to do a final ten days trip in the RV9A before the aircraft moves on to a new custodian.
we were to fly as far as Phuket, but in the end the weather forecast meant other plans.
When you have to be somewhere, take a commercial flight.

Takeoff was at 12:10 in the afternoon (19th) and were were told to track outbound on the 130 degree radial, 2,000 feet initially and then climb... I requested 150 as 130 would take us into the mountains... 150 was approved.
Overall this flight was easy, over Tak and then down to Ayutthaya to do the VFR approach into Don Mueang.

The axxera XGPS150E - iPad Air - AirNav Pro combination was performing well to Ayutthaya, and then failed enroute to the first checkpoint and I didn't spot it quickly enough to realise my intercept was taking me well off course. ATC then helped with vectors.
I am going to take the axxera XGPS150E and modify it with a sledge hammer, or I will send it back to the manufacturer. I haven't decided how annoyed I am with it yet. I will never take it flying with me again.

I want to buy one of those ADSB kits which worked superbly with the same combination of iPad Air and AirNav Pro in England.

As usual we held at 5 NM West for a while before we could be fitted in to land on 21L at 14:35.

MJets crew were ready to greet us at E17, drive us back to their posh FBO.
I made tea, and then in the taxi to Bangkok where I was dropped off at the Victory Executive Residences Hotel.

Wedding

A school friend of NaRuk was to be married on that day, and so I had invited myself to the reception.
It's always a pleasure to spend time with a gorgeous woman dressed beautifully, while possessing a sense of humour I really like.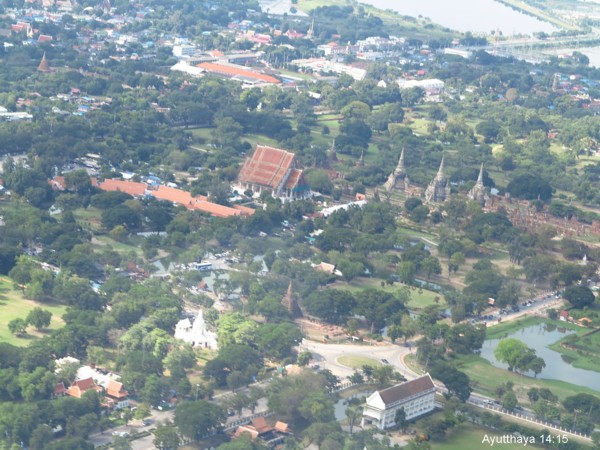 The VFR procedure from the north takes you over the historic city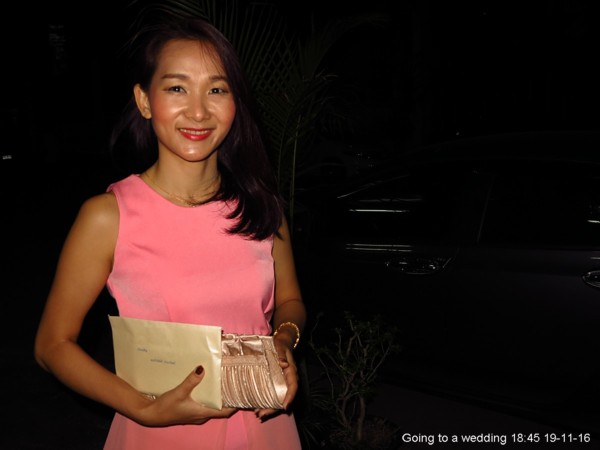 I knew what I was looking forward to


Bangkok to U Tapao for the Air Races

NaRuk likes the steadiness of the RV9A


Formula One air racers built with 200 cu in engines or smaller to
a formula, such as minimum wing area for everyone to be able
to compete. Unlike aerobatics where you need a lot of money

Supporting General Aviation

I knew about these air races before many pilots did here because it was not well publicised in Thailand.
The first many heard of it was when I told them... Then the comment was that 'like many events it would be cancelled during this time of mourning'.
The sport flying community here in Thailand was largely unaware of this event.


Colin and Zanna, engineer and assistant
Colin is flying his KR2 around the world but took a break to help here

Colin had hoped to see many small aeroplanes arrive in support of this event... In the end only one turned up, the RV9A, and then the Navy had us park a long way from the action on the south end of the field out of sight.
It was a bit sad for sport aviation here in Thailand as it could have been a positive event for us.

NaRuk and I took off from runway 21L at Don Mueang at 10:46 and were routed to the west, crossing 21R, to be vectored down to the sea, and across to U Tapao. Landing would be at 11:38.
U Tapao asked us if we had arranged handling? Negative, we were invited to the air races... Or so we thought.
Never mind, we were accepted in and handled by the Navy who parked us on the south side and gave us a ride in a pick up truck to the hangar where the race planes were being prepared... Autographs were being signed by the pilots, and there were a lot of local Thai visitors.
It was a good show with competent aerobatics being flown in an Extra 300, model aeroplanes, and model helicopters to keep the crowd amused.
We managed to find some lunch and water with the help of Zanna and Colin and then the race was on, then off, aeroplanes back in the hangar as the skies opened for a downpour...
The race was rescheduled for 16:15 and I was conscious of the fact that we needed to be back on the ground by 18:00 before official night.
NaRuk and I had a ride back to the aeroplane to be ready to start at 16:30... We were able to see some of the air race from there, and to witness the yellow Cassutt pull out of the race with an uncertain engine to land on the main runway followed by the 'equipment'; (fire engine, ambulance etc).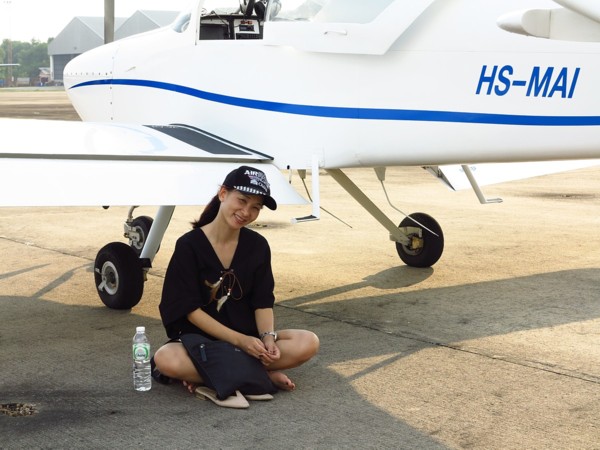 We were parked at the Navy end of the field, out of the way

Arriving at Don Mueang as the Sun sets

We were airborne at 16:40 climbing to 6,500 feet to cross the sea to reverse our route back into Bangkok Don Mueang.

You can expect a few holds and then some vectors to bring you in between the heavy stuff.
We held a few miles to the east for a while and then were vectored, "report established on the localiser", ILS 21 Left.

Landing was at 17:45, enough time ahead of sunset to be comfortable.

Handling at Don Mueang by MJets is very efficient, they are very good at their jobs, and the new facility is comfortable, and very posh. It is definitely worth the fees, and they gave us a heavy discount as a small flying club aeroplane.


MJets new facility at the southern end of Bangkok Don Mueang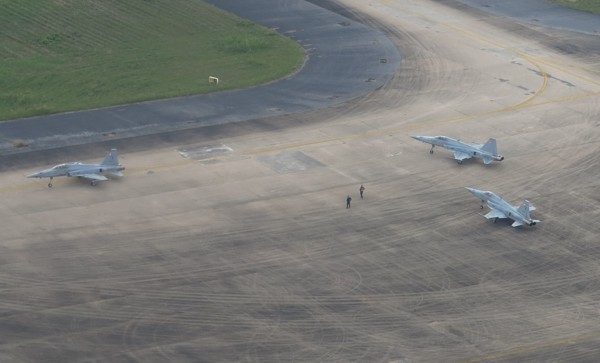 F5s ready to line up
U Tapao again

U Tapao is also known as Pattaya International Airport and is becoming busy with commercial flights as well as military activity.
It is friendly to little aeroplanes as well, but also asks for 'Handling'.

MJets handle us here too but they do not yet have a swish facility like the one in Bangkok.

I sent MJets an email with my flight plan. When you do this they provide you with a package containing General Declarations, weather, and NOTAMs.
Daren and I were then taken by minibus to the east side of the airport, passing the sad Caravelle, and many used aircraft. There are a lot of interesting aeroplanes and helicopters to see here. Several Chipmunks were spotted in a hangar behind a fence...

The fuel truck was there ready to sell us 55 litres Avgas... I was anticipating buying a 50 litre drum at U Tapao so I wanted enough space in the tanks for this... As it was, U Tapao fueled the aeroplane from 200 litre drums using a metered pump so I would have had full tanks when I left there anyway.

It took 25 minutes between engine start and takeoff at 13:30 for the repeat flight, west crossing the runway, then vectors enroute back to U Tapao where we landed at 14:18.


Something was going on, as there were L39s, O-2s (Cessna 337), F5s, and F16s in abundance at U Tapao

Art Deco fashion, '30s style posh hotel

Pattaya Eastern Air Park

Pattaya

I spent two nights at the Wave Hotel.
Pattaya is not my favourite place, but I could escape to the Eastern airfield where I was treated to a downpour which soaked the field and prevented any flying.

Across the Beach Road there were prostitutes every few paces... I wonder that they have enough business, certainly not from me.
I walked a bar street; very noisy with music clashing between bars, all with live bands.
'Returned to the hotel where I sat and listened to Thai interpretations of popular music from 30 to 60 years ago while having a single beer.


Madness off Pattaya Beach with parachutes being dragged across the sea,
Chinese ladies in inappropriate long floral dresses awaiting embarkation in speed boats
And many others lined up with same colour towels waiting for whatever wet excursion

Since I was departing the next day back to Chiang Mai I moved hotels to the cheaper, considerably cheaper, quieter, Royal Phala Cliff Beach Resort and Spa in Ban Chang just a few minutes drive from U Tapao.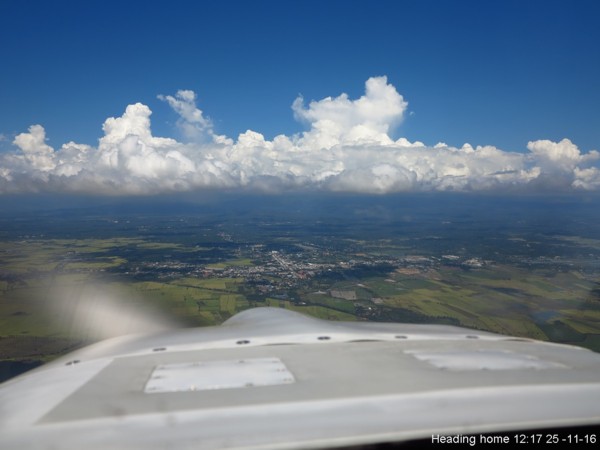 25th November. Solo flying back to San Kamphaeng - Nok VTCY
U Tapao to Nok 25th November

This was to be a long solo flight.
I had estimated my fuel precisely (or was it more luck than judgement?) as the aeroplane took exactly 50 litres of fuel to be filled up.
I needed cash for the fuel I was told (in fact you can use a credit card), and I had used most of the 5,000 Baht I took out of the ATM that morning already. I thought I had some American money in my bag and stabbed myself with a badge pin while searching; blood spurted out of my finger!
Out of luck I turned a $100 CAD bill I had into 2,500 Baht.

As I filed a flight plan in the navy office I realised I was going to become hungry on the flight back...
This problem was resolved by MJets staff who provided me with a cheese and ham sandwich, water, and orange juice. Thank you very much.

I flight planned via Khanong Phra in Khao Yai, a route that would take me well to the east of Bangkok's and Takhlis controlled airspaces, then up over Phitsanulok on a straight line to Nok.
Takeoff was at 11:35 with U Tapao instructing me to fly outbound on the 030 degree radial to avoid the parachuting at Nong Khor.
At 11:51 I was handed over to Oscar military who gave me traffic advisories, and then asked me if I had visual contact with terrain as I approached the mountains... There was a rainstorm on my track so I deviated to the east and asked for a climb to 4,500 feet (12:25).
North of Khao Yai Oscar asked me to call Focal on the same frequency... Thai military use 127.0 and most of the time they have you on radar.
At 13:10 I requested 6,500 feet with 65 NM to go to Phitsanulok, then back down to 4,500 feet while talking to Phitsanulok approach with 35 NM to run (13:25).
I was handed off to Lampang when 40 NM outbound from Phitsanulok, but the terrain means that you do not get them until you are within 30 NM or so as there are mountain ridges between radio stations. These ridges were easily traversed, and I was asked to pass the 225 degree radial from Lampang at 15 NM due to traffic. This was a deviation to the left of track.
I landed at Nok at 14:43 after 3 hours 8 minutes in the air, and phoned Chiang Mai Tower to report my landing time (closing the flight plan).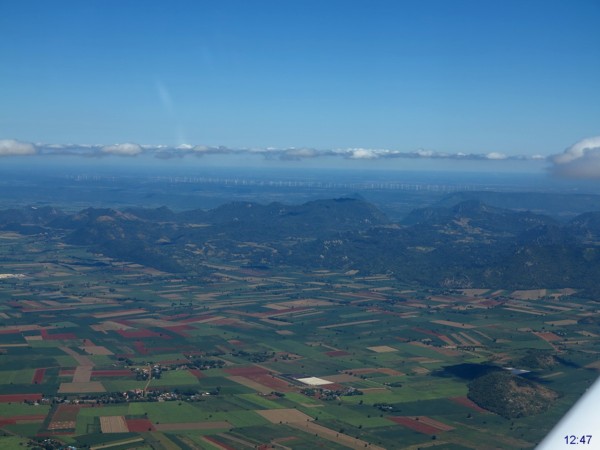 Wind turbines in the distance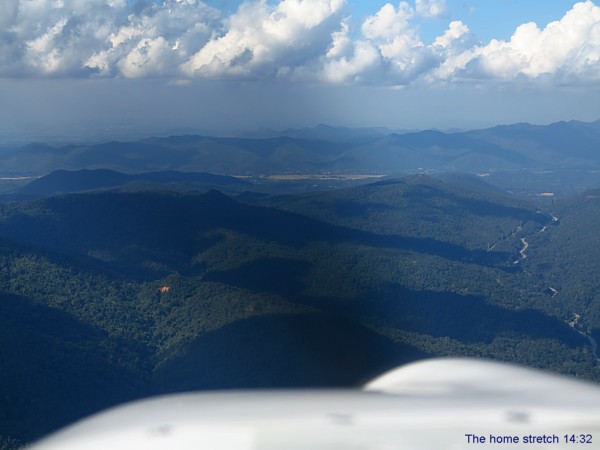 Besides the highway from Lampang to Chiang Mai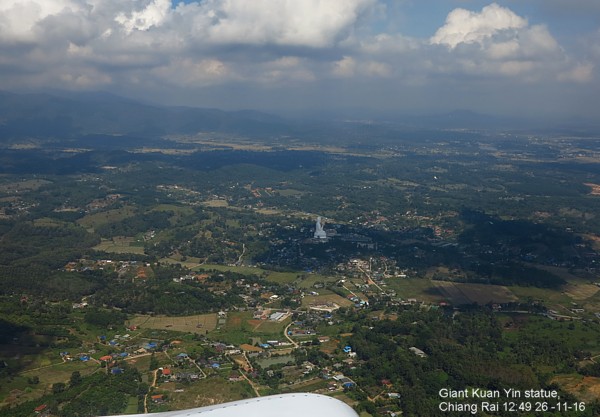 To Chiang Rai 26th November 2016
Gerry wanted to take the aeroplane to Chiang Rai the next day.
This is a scenic flight but we missed the White Temple on the way while the autopilot was explored.
The flight only took 48 minutes including a deviation and a hold for inbound airline traffic.
| | |
| --- | --- |
| Stayed at the Diamond Park Inn Chiang Rai Resort | Anek did his PPL at Pro at Boundary Bay |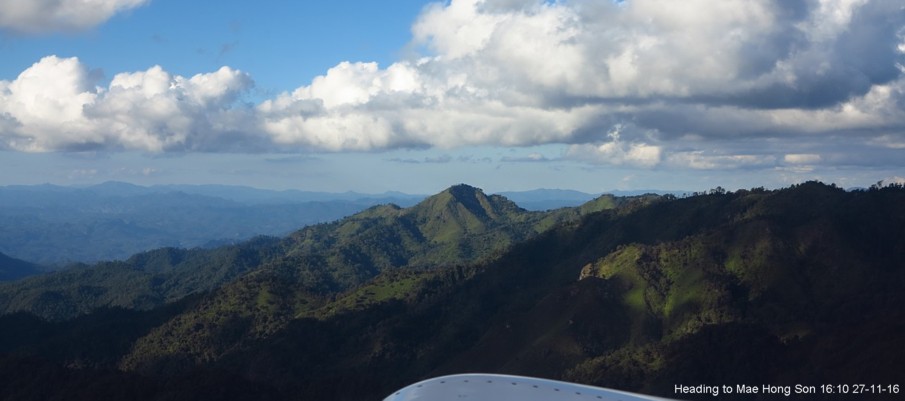 I've been very good, checking NOTAMs before my cross country flights... Yesterday we filed to go to Mae Hong Son with the intent to night stop there, but it was not meant to be.
Operations at Chiang Rai phoned me in the morning as the rain was falling, (and I'm thinking of going nowhere in an aeroplane), to ask if I would be leaving soon as the Prime Minister was due in the next day.
VIP flights are a big deal here in Thailand, they are much bigger events than when the Queen of England flies... So when the weather turned good we were happy to oblige and filed a flight plan out of Chiang Rai.
Enroute to Mae Hong Son ATC suddenly asked if we intended to stay overnight... We did.
It turned out that there was a VIP flight due there the next day as well so we agreed to land, pay the fee, and flight plan to go elsewhere.
The favourite would be Mae Sariang, but this was closed as it was being used by military helicopters in support of the VIP flight.
We could go to Pai, but I thought we might be stuck with closed airspace with the VIP activity, and so we decided to fly back to Nok.
There was no NOTAM issued to the effect that there would be a VIP flight the next day otherwise I wouldn't have ventured there.
We landed at 16:18... A soldier told us we couldn't park there, but we assured him that we would be a few minutes, go into the terminal, pay the fee, while I phone Chiang Mai and file another flight plan.
We took off again at 16:56, and landed at Nok at 17:45 whereupon I phoned Chiang Mai Tower to give them our landing time.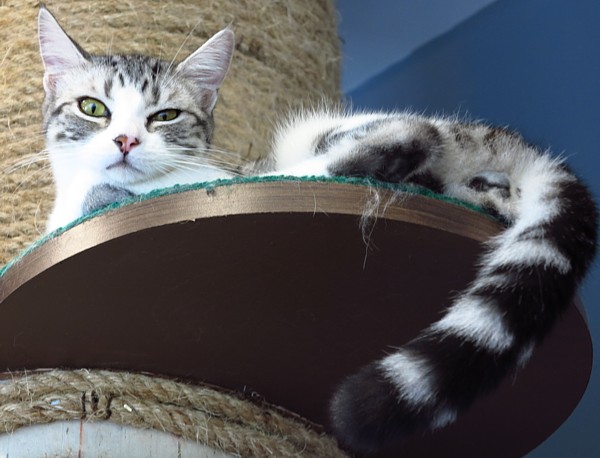 We had coffee at the Cat 'n A Cup Cafe in Chiang Rai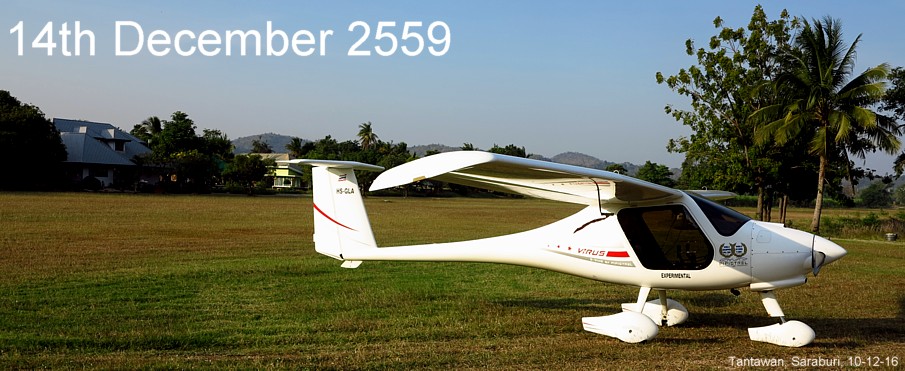 December touring

I've been lax in doing my bicycle rides around the ruins
This is an ancient ruin of a Cortina

Began this month with a good meal at David's Restaurant

Living in Chiang Mai

The first week of this month was without any flying at all.
On the 8th I flew a few circuits in the RV9A with Gerry to officially complete his checkout and send him off on his own in it.
Gerry is a competent pilot so this was a formality.

It has been a year since I met NaRuk and so I invited her to Chiang Mai, bought her a ticket on Bangkok Airways, and took her to the Narittaya Resort for the weekend.


Celebrating our first anniversary (not married though)
We replicated a picture from a year ago, in the same clothes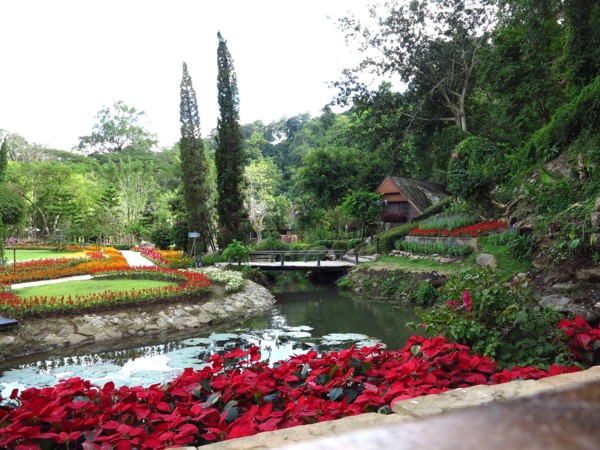 Krisdadoi Gardens are now open, free entry at the moment
There's food at two restaurants there now. We had cheesecake in the garden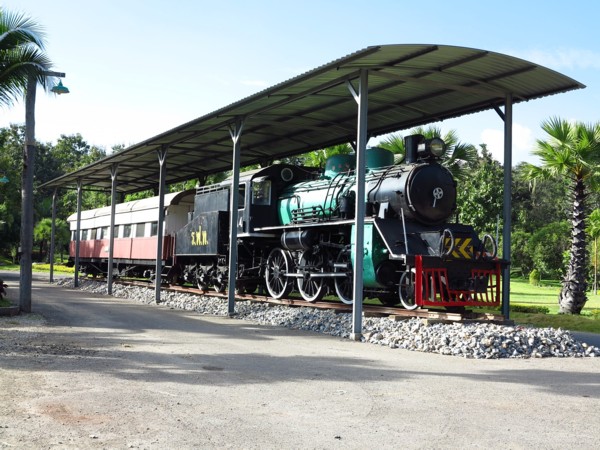 Another resort has a 2-6-0 steam engine as a feature on the Samoeng Road
It was a good weekend, driving around in the little car.

Sunday evening NaRuk wanted Kao Soy, and we found it at the Riverside Bar and Restaurant.
I had Chicken Corden Bleu .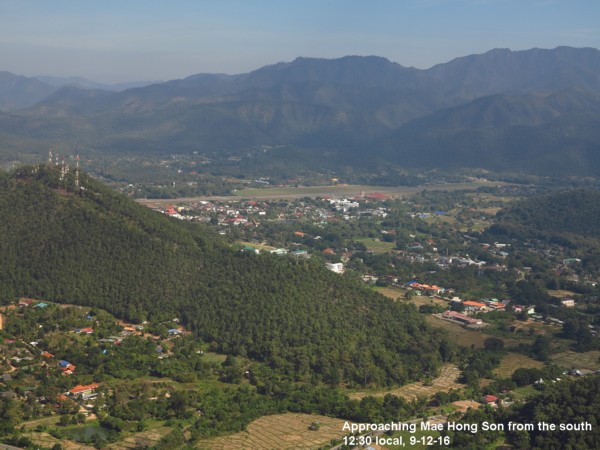 Mae Hong Son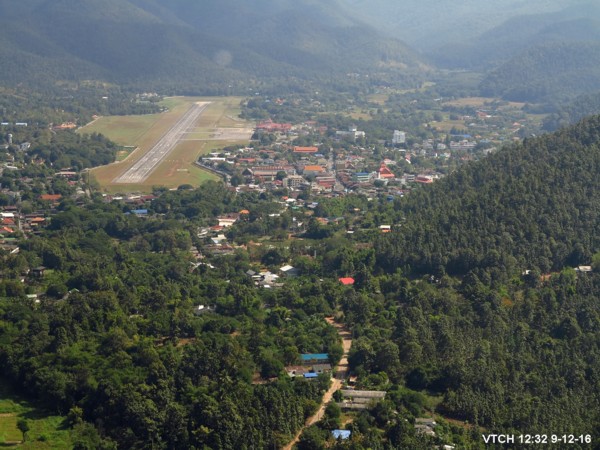 The Pipistrel Virus


The Fern Restaurant has a Christmas tree.
Snow is not expected in Mae Hong Son this year

Gerry invited me along for a flight to Mae Hong Son.

My route is normally aimed to the north of Mae Hong Son to descend in the valley to arrive on a slant base for the runway.
Gerry prefers a valley to the south of the airport and a right base join... This was a different view for me, and it was very nice.
As usual Chiang Mai Approach routed us up to Doi Saket, then over Mae Rim at 2,000 feet before allowing us to climb over the mountains.
We flew south of Pai and then across the mountains to descend to a position 8 NM south of VTCH.

After landing and paying the landing fee we walked to the pond in the town and I said hello to the lady at Piya Guest house who is always pleased to see me.
We had a coffee at the restaurant-bar by the pond, but service was slow and so we carried on to the Fern Restaurant where the service is good and the food is reliably good too.


The old Landrover has been sitting here for years and years

The Virus is a fast and efficient aeroplane for the cruise, but it's low wing loading means that you feel every bump.
On the way back I suggested that we might soar the aeroplane... And I think that if you use this ability in the aeroplane you could go a long way, running with a low fuel consumption.
At around 25" MP and 5,000 engine RPM, using an electric VP/CS propeller, the cruise can be 130 KTAS at altitude using 19 litres per hour.

Mae Hong Son
| | |
| --- | --- |
| 5,500 feet return from north of Mae Hong Son | They're burning early this time; unhealthy air to come |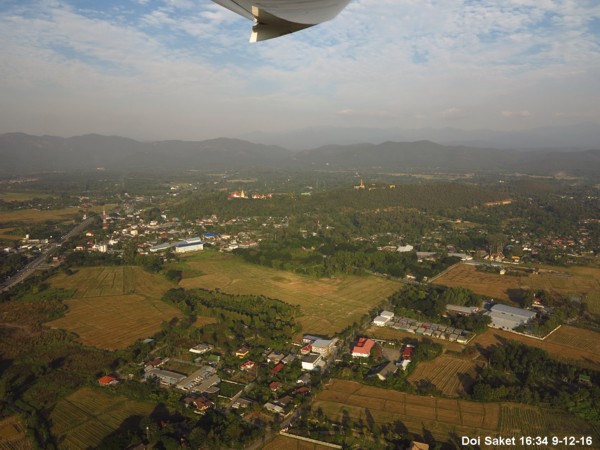 Looking down Sun
So far this year the air has been clear as the ground has been wet, but as it dries the pyromaniac farmers are once again busy burning their stubble and dead leaves to fill the blue sky with cancerous deadly smoke.
So I can not in good conscience recommend travelling to Chiang Mai for Christmas, and not until May at the earliest. They can not burn so much when the rains come, so rainy season is the best time, and a couple of weeks afterwards.
I myself have to consider moving south to the coast where the air quality is a little better.
I suffered badly ten years ago when I was in China. The pollution caused me to be very ill in June of 2006, and at that point I handed my resignation in to the flight school as my life would be short if I stayed there.
Now here it is the same. The smoke and pollution will kill me!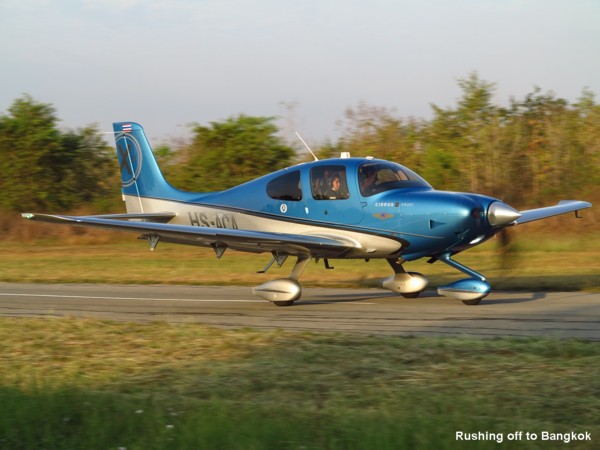 On arrival at Nok we had to wait until the Cirrus was moved off the runway
Australian Validation
As I may be travelling to Australia I have begun the long process of validating my pilot's licence there.
The only signatory country of the 7th December 1945 ICAO conference that agreed that signatory country's licences would be recognised that actually goes with this is Britain. Most other countries, since they all invented aviation and know best, have various validation processes, and so far Australia appears to be the worst.
You begin by obtaining an ARN, Aviation Reference Number, from CASA, applied for online, and received within 24 hours. This is the number you use to identify your file.
Next, with this number you have to apply for ASIC from Aviation id Australia with a fee of $235 AUS. This is an aviation security check with a card to be issued, valid for two years. They will check your criminal background, whether you are a terrorist or not, and if you've been good you might be allowed to fly in Australia.
I am told this process will take six weeks.
First you apply online, and then you print the pdf application and send it with copies of your Passport and Aviation documents (licence), and two recent photographs back to their address in Australia.
This was sufficiently important that I went to my favourite printers at Airport Plaza, put the package together, and sent it by Thai Post, EMS on Saturday morning.
Monday was a holiday here in Thailand so it was essential I do it then.
Finally I will have to make an application to CASA for a licence validation... All documents have to be notorised and there's a cost for this, or you can go to an Australian Embassy or Consulate and have them signed off there.
The issuing authority (Transport Canada/CAA/FAA/CAAC) will have to confirm that you are a pilot in good standing. I know that TC are not too fond of doing this, and the CAA have a fee for doing it.
The Australian process is the most involved one so far, so we'll see if it is possible and how long and costly it really is.
Flying to Tantawan

The Saraburi - Lopburi area has many limestone outcrops


Congenial Thais enjoy their aviating

I'm late... On time for 14:00, but the engine needs starting 10 minutes before departure to warm up.
But it's Saturday afternoon and I had to get that Australian stuff off in the post. Gerry was not amused.

Nevertheless we were airborne, only five minutes late on the flight plan at 14:05 and heading for Tak, and then down to Tantawan.
ATC had us flying on a heading of 180 for 20 NM before allowing us to intercept the 170 degree radial outbound from CMA.
They like to know your radial outbound even though you may want to go a roundabout VFR scenic route...
It's best to give them an initial radial outbound and then request any heading changes in controlled airspace.
Once handed over to a military controller on 127.0 the response is usually "Radio monitor" as they have you on radar, and diversions here and there to look at local landmarks are alright.

We routed over Tak and then west of Takhli before turning to approach Tantawan from the west.

We landed at 16:23 after 2 hours 18 minutes.
Later Gerry took someone for a ride for 20 minutes or so.
When we fueled up for the flight back she took 50 litres for a fuel consumption around 19 litres an hour.

Tantawan is a mainly Thai airfield with just a few farangs like us who fly there.
They build aeroplanes here and there are many interesting types.
Jamrat has a Maule with a nosewheel and an RV6A... Of course I was up for a flight in the RV6A so just before sunset we took off and went for a turn or two... The airspeed indicator is in MPH and I'm not too used to this these days... I do knots!
At 2,500 feet PA, + 22C or so, full throttle gave 2,500 RPM and 172 mph IAS. Stalls: power off no flap 63 mph, full flap 62 mph, and with 1,500 RPM and full flap 61 mph, IAS (the GPS showed 45 knots groundspeed).
This RV flew very nicely and we had a little fun in it.

On Saturday evenings the flyers have a dinner at the airfield with a few beers, or stronger, or water if you like.
It's a good atmosphere in the true flying club spirit. Very friendly.

There is accommodation on the airfield; my room cost 300 Baht with outside loo and shower... Gerry had the upmarket room with ensuite shower and toilet for 500 Baht a night.


Not shown is the TV, cupboard, towels, soap, and shampoo


Two parallel grass strips, hangars, and aircraft factory
Bangkok
On Sunday morning the wake up call was by Zenair 701s taking off for early morning bimbles around the field.
Here, most of the aeroplanes are "U" registered, Ultralights, and they do not fly very far from their home base.
Permits to fly cross country must be applied for.
There's a form of ATC with a controller using an ICOM handheld. Flight Plans are mandatory in Thailand, and here this is simplified with a blanket flight plan for aeroplanes from Tantawan to fly in the local area during VFR daylight hours.
It is easy in the spirit of flying for fun.
But still, they need the five year permits, CxA renewals, and pilot licensing, and these documents take time to renew, and so there are many aeroplanes grounded for months while they await the paperwork.
We were invited to breakfast at Reggie's hangar/weekend cottage (with the red roof) as Tum his wife produced fried eggs, sausages, toast, coffee and tea.
Then we were driven to the local town, Phra Putabat, to pick up petrol for the Virus, and to catch the minivan to Mo Chit in Bangkok.
There was a minivan waiting, and it was soon filled with Gerry and I crammed on the back seat for the 2 hour 30 minute, 120 Baht ride.
If I had been quick I could have got off at Don Mueang Airport on the way... But I could not confirm the possibility of a meeting there and so stayed on to Chatuchak - Mo Chit BTS station.
It was only three stops on the skytrain (31 Baht) to Victory Monument, and then a short walk to the Victory Executive Residences hotel where it's my habit to stay when I'm in Bangkok these days. It's very convenient for NaRuk who works nearby. 1,400 Baht including breakfast, swimming pool, and rooftop view.
I'm reminded of the $45 taxi ride from St Andrews into Winnipeg, and the hotel cost per night there...
After work NaRuk took me to Central Plaza for Japanese food followed by a very naughty pudding at After You desert café.
After You is so popular you have to get a number and wait for a table... We had time to walk around before our number 169 was close... Some people don't turn up and so the next number is called, don't lose your place!
Monday was a holiday, but NaRuk came for breakfast at the hotel and took me to Don Mueang for my meeting... Some aviation business, but nothing to get excited about yet.
I took the A1 bus from the Terminal to start my journey back to the hotel, 30 Baht to Mo Chit, and then 31 Baht to Victory.
It is cheap and efficient travelling in Bangkok where there is excellent infrastructure. Unlike Vancouver they anticipate here... There's a new high speed rail link being constructed to Don Mueang which is developing once again as a major airport hub after the construction of Suvarnabhumi Airport! The highway system is also being upgraded, and they are not slow.
Bangkok is definately 21st century, 1st world, and Vancouver has a long way to go to be able to call itself a world class city without telling a lie.
In the evening I went for dindins with NaRuk again at the nearby Baan - Ajarn Pub/Restaurant. It was good food.

Journey back
Tuesday morning I met Gerry on the platform at Victory Monument BTS (Skytrain) station at 09:00.
We were to reverse our trip back to Phra Phutabat but with a little complication...
Mo Chit bus station is a long way from Mo Chit BTS station and so we took a taxi and this cost 67 Baht.
The minibus fare was 102 Baht each, and we left within minutes of arriving at the bus station.
The ride back took longer, around 2 hours 45 minutes, as the minibus made several stops to pick up and drop off passengers on the way.
At Phutabat there were two sorng taews waiting for any passengers like us. The driver who took us knew where the airfield was and Gerry asked to go via a 7-Eleven but somehow this was lost in translation... We were driven to the airfield, 100 Baht.

I'd like to do something with these but it would
be more difficult than it was in Canada




Microlight?

I still do not understand the term "Microlight" or "Ultralight" as many aeroplanes in this category look like light aircraft, fly like light aircraft, and often out perform their equivalent light aircraft.
In Thailand many of these aircraft types are both registered as Aeroplanes, and as Ultralights depending on the licence of the owner, and of the degree of convenience a U- registration has over a HS- one.
Recently however the range of operations of U registered aircraft has become more restricted.


The Storm looks like a regular aeroplane to me




A couple of simple Whittaker microlights here were formerly on the British register.
Back to Chiang Mai
The fifty litres of fuel was added to the Virus, and some food was added to the crew for a flight plan back to Nok, VTCY.
Takeoff was at 14:12 and Khok Kathiam was contacted shortly afterwards...
We transited the zone and entered the Takhli military training area... Takhli routed us well to the west of their field before we were told to continue our own navigation.
The whole flight was flown at 2,500 feet on the QNH until west of Lampang where we had to climb to cross the mountains.
Landing at Nok was at 16:41.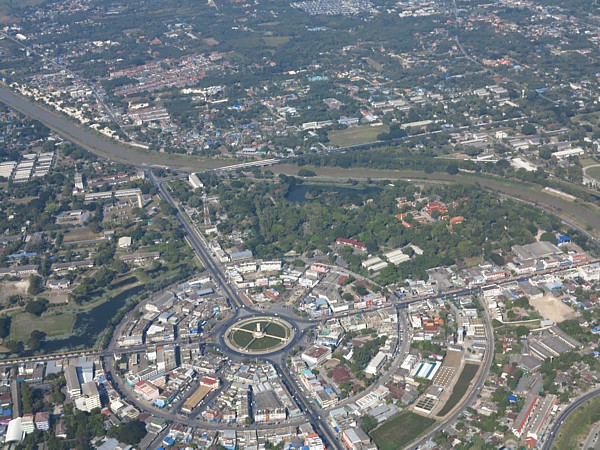 Lopburi has two circles like this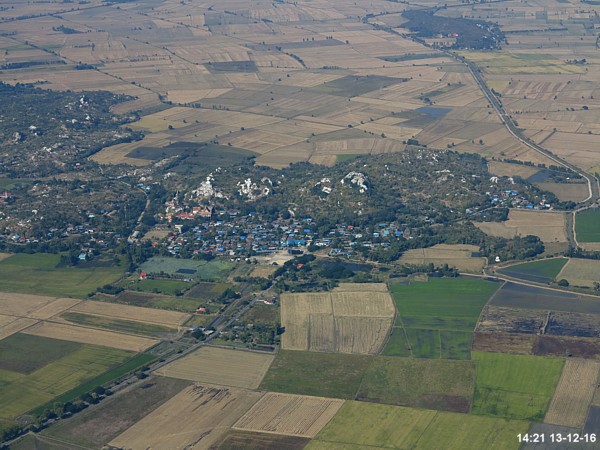 Limestone outcrops over the fields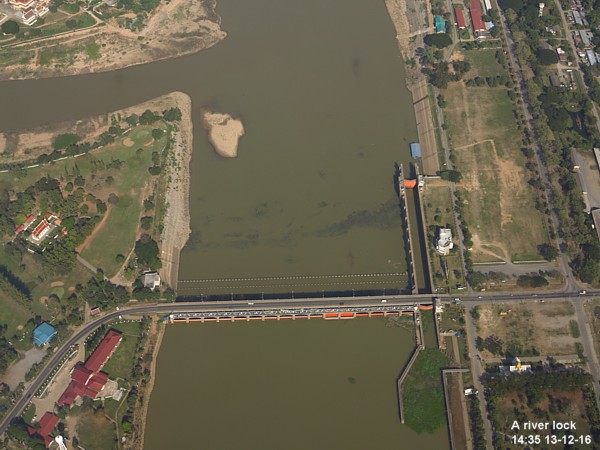 I was showing some people pictures of the lock at Weybridge, but they have them in Thailand too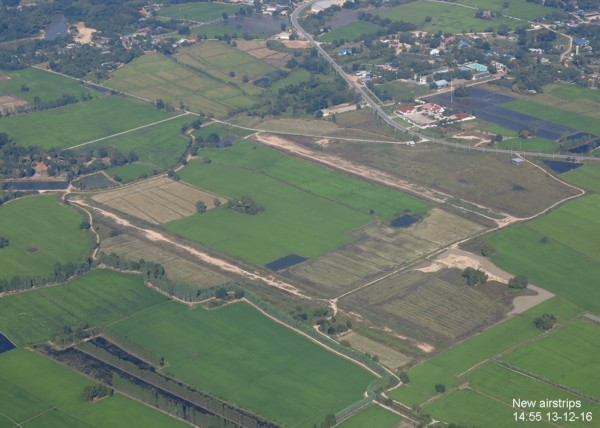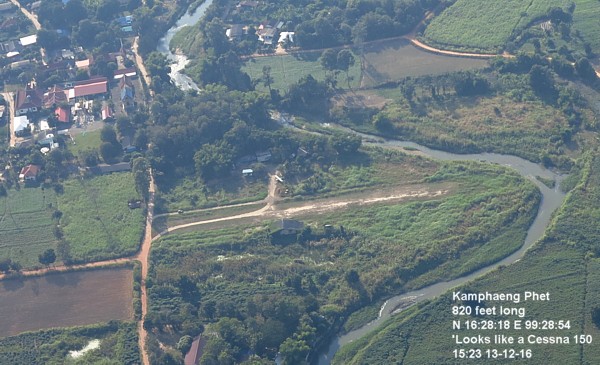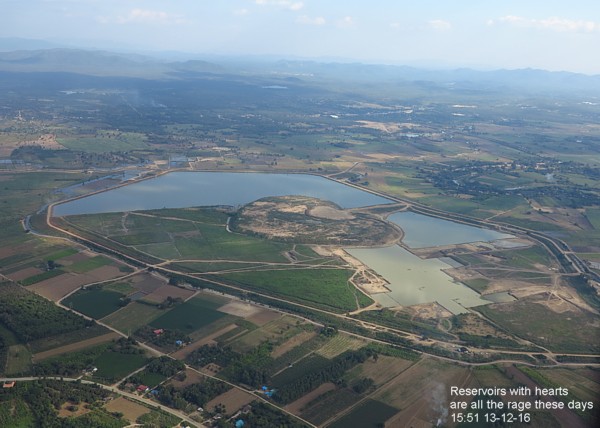 Same idea as the reservoir near Sukhotai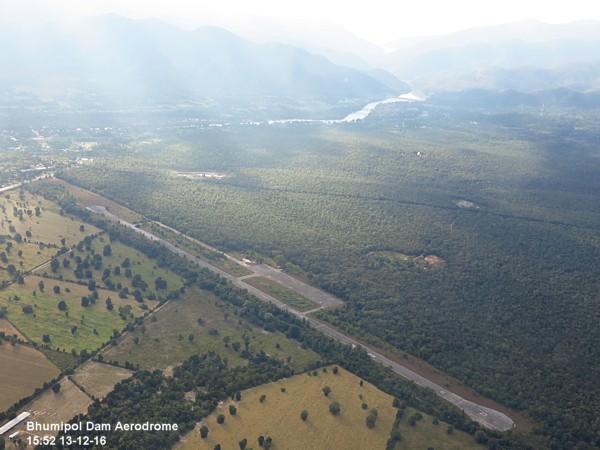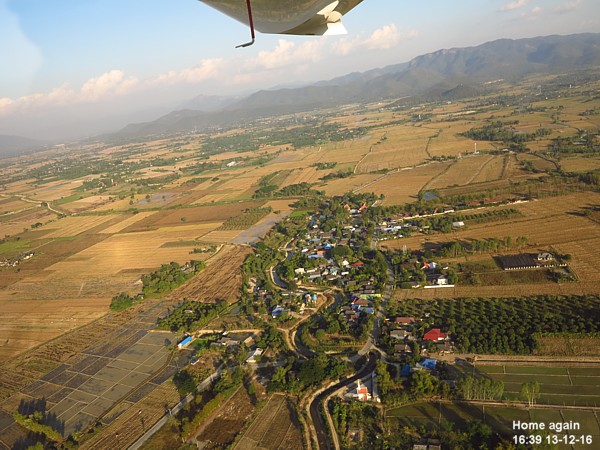 In the circuit to land on 16 at Nok
Now what?
It's a shame, but for the foreseeable future I have nothing to fly.