Malaysia
Mindsets develop over lifetimes, and even over days.
To describe my mindset I will paraphrase something I wrote recently on Facebook.
Back in the 1980s a US Navy carrier docked at Portsmouth with two avid flyers; one who flew an S3 Viking and a Pitts Special, and the other an A7 Corsair.
They found their way to Redhill and were looking for an aeroplane to fly.
Britain signed the ICAO agreement in 1945 in which nations agreed to recognise each other's pilot licences. This means you can take an FAA licence, or a Canadian licence, among others and rent an aeroplane in Britain.
So when the US Navy pilots turned up, I was delighted to fly a few circuits with the Pitts pilot in the Condor, give both pilots a briefing on flying in England, and send them off to do a little bit of touring.
When I went to Redhill myself last year it was not easy to find someone to fly with me and let me rent an aeroplane, but it still worked out, and although it had to be a Cessna 152 I was still glad to fly.
Because throughout this life I have bent over backwards to help people to fly and have always done my best to be hospitable, I get a bit annoyed when people are negative and state what I can't do rather than perhaps suggesting what I can do.

Sunset 19th January

I still enjoy my bicycle rides though the extra 2kg I put on last year is not coming off.


Kan Air safety brief

Kan Air

I was about to book a flight to Bangkok Suvarnabhumi as my plan was to go down to Bangkok, visit the Australian Embassy, and then fly to Kuala Lumpur, Malaysia.
But I thought I'd check Kan Air out first and see what it would cost to fly to U Tapao... I didn't go any further, didn't bother with Bangkok, why would I? The fare was 690 Baht, $19.60 USD!, yes, less than twenty dollars, and I was fed on the flight too. ($25.72 CAD).

The flight took 1 hour and 37 minutes which is somewhat quicker than the 3 hours 8 minutes it took me to fly back from there in the RV9A.
The captain was from Spain.


Onboard food was up to standard. I saved the cake for breakfast
I had asked a friend to book a car for me, she did, and sent someone to the airport to see that all went well.
I picked up the car from Avis and was out of the airport and on my way quickly.
I drove to Ban Khun Poh hotel on Sukhamvit in Pattaya, and they had a room for me at 750 Baht a night. I've stayed here many times before as it is convenient for Pattaya Eastern Airpark.
Sunday morning I checked out and drove up to the airpark to see what was happening... Nothing. Addy did a low pass in his Ekolot but that was it.
I did have some paperwork to do, and then it was off for breakfast with Paul at Addy's restaurant.
Another form had to be signed and so one of the girls went off to print it while we dined. My concern was that I wanted to get to Bang Phra before 16:00 to see what was going on there...
...nothing much.
They only have a few movements on the weekends, they close the field at 17:00 and on Mondays and Tuesdays all day.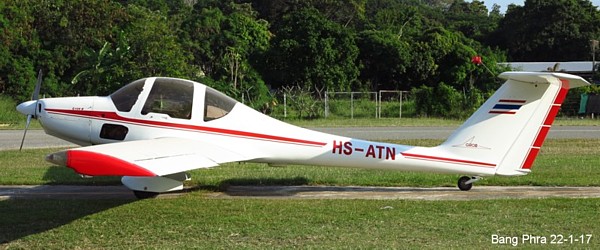 Visit to Bang Phra on a Sunday

Wrong dog for the tropics. Don't know if he was friendly,
too scared to find out


There's stone chip damage and damage to the valance

Rather than drive through the university I decided to carry on to the normal entrance for the flying club... I found the gate shut and a notice that it would be locked on the weekends, so back around and through the university I went.

Thai Flying Club are looking for an instructor, and this person must be Thai.

With not much going on I got in the car and drove to Bangkok, and to the Victory Hotel... This time the hotel was full, but they could give me a room in their residence block for 1,000 Baht, and I could buy breakfast in the morning for 150 Baht.

A Brit turned up thinking he had paid by credit card on Agoda, but in fact he had been sidetracked onto Booking dot com. This happened to me once... This meant he had to pay at the counter, but he did not have his credit card, it was physically in England.
I gave him 4,150 Baht (£94.40) for £100 (I was £5 in hand), and so he was able to pay.

In the evening I went to the Saxophone pub for dinner and met up with David who is from Victoria BC.
David is flying a Cessna Mustang Jet in Thailand.
Monday morning I got up, had breakfast and headed for the Skytrain to Chong Nonsi to go to the fortified Australian Embassy.
I have applied for an Air Side Identity Card in Australia, and I needed four documents notorised... This was expensive at 1,700 baht or so per signature, but it was done.
This should mean I can get the document fairly quickly, and this in turn will enable me to obtain an Australian validation of my pilot licence.
I celebrated with a coffee and a chocolate eclair just along the road, and then went to a post office to send the documents off.
Bangkok to Rayong and on to Klaeng
I was smiling as I drove along Rama 9 and then onto Motorway 7 for the long drive to Rayong... I had had breakfast with NaRuk.
The object on Tuesday was to check out Klaeng Airport where they intend to do parachute dropping from a PAC750, and joy rides using a couple of Kitfoxes built in England.
In Rayong I stopped at an Amazon Café to get my bearings.
A couple of chaps were outside with Malaysia on their shirts so I had a chat with them.
One was Thai, the other chap German... Of course the subject came around to flying and the Thai chap asked me if I'd been to Klaeng?
He had worked there, and had even had a flying lesson there, so I was able to get a good route plan to find the place. Serendipity.

This costs 20 Baht in Chiang Mai and 20 Baht in Rayong too.
It provides a nice scent in the car and an income for Thais
I found Klaeng and surveyed it, and then drove through Rayong... Too many slow traffic lights (4)...
I drove to Ban Chang and to Tescos, got online and booked the Palace Hotel... Looked alright, but many places are not their former glory as depicted on websites, still it was cheap enough at 700 Baht.
Wednesday morning I drove to Pattaya Eastern for a quick visit before catching an Air Asia flight from U Tapao to Kuala Lumpur.
Booking this flight had been very distressing as it took all my credit card details, went to the card authorisation page, was accepted, then nothing! The Air Asia website will not process my credit card.
All other airline sites I use work without a problem.
So I had to phone them and this meant paying an extra 210 Baht for the agent to process my payment over the phone. She did give me 82 of their Big points.
Last time I flew Air Asia I went through this, and when I tried to book my flight from Kuala Lumpur the same thing happened again.
When the fuel tank level was down to a quarter I added 400 Baht of 95 Octane petrol to see if it made a difference to the low powered automatic Suzuki. It did! The car accelerated much better. When I returned the car an additional 700 Baht of petrol was required.

Air Asia flew me to Kuala Lumpur from U Tapao (Pattaya) in 1 hour 45 minutes.
It's a good walk from the gate to immigration where they take your index finger prints and give you 90 days.

I took a taxi to the Holiday Inn Kuala Lumpur Glenmarie.
Accommodation cost $136.59 USD for two nights with breakfast.
It was a nice hotel, and I stayed a third night as well at a cost of 462.40 MYR ($104.33) which include a phone call, laundry, and two bites to eat in the evenings.

Even though it's longitude is west of Chiang Mai, KL is one hour ahead. GMT +8.

The hour and ten minute drive to my hotel was in the wet and dark, and Malaysian drivers have their share of idiots on the road.


Holiday Inn Kuala Lumpur Glenmarie
Here in Thailand I use my Canadian bank debit card to obtain cash. Foreign debit cards do not always work in Malaysia, be aware of this if you visit.
I had to use the credit card for cash advances, and this is more costly.
Subang Airport


Swiss design MD3s built in Malaysia
Indonesian Liberty
I have a lot of pictures...

The homebuilt and light sport scene is active with several RVs, and odd aeroplanes like this JetFox from Italy.

In the morning I was picked up by Andreas who runs his own flying school, Air Adventures, at Subang Airport.
There was a possibility of me renting his N registration Cessna 172 to do some flying in Malaysia.

Malaysia does not have a licence validation for visiting pilots. All pilots there have to be resident, and have a work permit.
This means that if a foreign student wants to learn to fly he or she will need a work permit and so this precludes offshore flight training.
If a visiting pilot has an FAA licence then there are a couple of N registered aeroplanes available when they are not in maintenance.
Flying a foreign registered aeroplane in Malaysia requires the application for a permit to fly a cross country several days in advance.
It's simple in a locally registered aeroplane, file a flight plan and go. A foreign registered aeroplane is not allowed this privilege.

All in all I was told why I can't fly here, and this is a bit annoying. Oh well, I came to learn about the situation.

For locals it's not a bad scene. There are a lot of aeroplanes that can be flown, and a lot that are abandoned too.

Andreas is a good host, he obtained an airside pass for me, showed me around, and we had lunch together. I would recommend any visiting pilots call him and go for a flight.

In the evening we all went to the pub in the terminal where they drank Guiness and I drank Kilkenny.


Flying on Friday

When I was being shown around I met Les who has an Extra, a Sinus and a Petrel, and Evgeny from Russia who works as an engineer, and who also flies the Petrels. There were three Petrels.
Evgeny was keen to go flying there and then... I like this attitude, but decided to go the next morning, (Friday).
I arrived at the airport early and ready to go... I had so much time I decided to book my flight back... Almost everything was full, but I could get a seat on Monday's flight with Air Asia direct to Chiang Mai.
I ran into trouble again... Card accepted, but no booking. I did not have a phone to use so tried their Live Chat... But the agent could not take my card this way.
With seats filling fast I had to act fast... I found they had an office at Subang and was able to make my booking through the agents there, but this made me late for my Petrel booking, and put me through quite a bit of stress. I will never ever use Air Asia's booking system again, and will avoid flying with them unless there's absolutely no other choice, as there was this time.
It cost me 1,118.95 MYR for the flight ($252.54 USD), and the ticket had "You could have earned 495 Big points" written on it. I applied my number on the web, but not in the office. It doesn't matter.
There is no seaplane rating in Malaysia so these guys checked themselves out to fly flying boats off the water.
They have a lot more experience than I do in flying boats.

Evgeny is a former Mig 21 pilot, and has a Russian attitude to flying... It was an enjoyable experience.
We took off, flew over to Mine Resort Lake for a quick splash and go.
I'd be a bit wary going in and out of this lake, but the Petrel is very light and had no trouble getting in and out.

We flew on to the Empangan Klang Gate reservoir accompanied by Les in his Petrel.
Lots of room in the reservoir to mess around.

With the first touchdown on the waves Evgeny brought the stick right back and the aeroplane settled.
So I did one, but holding the planing attitude to let the aeroplane settle in this attitude.
The Petrel is tolerant, and puts up with either method.
In the Volmer I wouldn't pull the stick hard back when bouncing on the waves, but this is a different flying boat with a hull to the tail. Pulling the stick back in the Volmer could cause the tail to strike the water, rebound, and pitch the nose down.. It wouldn't be pretty. The Petrel has a short hull, the tail is high, and the elevator is large and powerful, so the pitching effect is reduced
We discussed these different methods, it's interesting.
I have to teach for all seaplanes, and then explain any differences in technique for specific types. But I admit I have limited flying boat experience, I am qualified with my instructor rating, but not as qualified as pilots with many hours experience in these aircraft.
In the SeaRey and the Volmer I looked for another qualified instructor with more flying boat experience than myself.
No joy, so they got me!

I was told that you can alight the Petrel on the water with the undercarriage down if you forget and the aeroplane won't flip. I didn't try this!

I like this flying boat. It is steady in the air, and very comfortable with a lot less noise than either the SeaRey or the Volmer Sportsman.

An hour in the Petrel cost 800 MYR, or $181 USD.

Saturday night I was invited by a friend from Canada to stay at her sister's house.
I went there in the morning by taxi and we took a trip to the Avani Sepang Goldcoast Resort by road, and then on to the Taman Tanjun Baywatch restaurant.
Taman Tanjun is a Chinese village on the coast.
Most of the business in this part of the world is in palm oil plantations.
Happy Chinese New Year
Hindu Mini

Chinese New Year's day was on Sunday and so we went to the local temple.

There was also a festival for Hindus at the same time in their temple next door.

In the afternoon we drove into Kuala Lumpur to see the sights.
Ended up in an Irish pub for more Kilkenny


There are still plenty of old buildings in Kuala Lumpur
Early start
My friend was going away to Sydney early in the morning, and this meant leaving the house at 05:00 (04:00 here in Chiang Mai).
I had booked the Tune Hotel at the airport for my early morning departure and so I went along for the ride to the airport and to leave my bag at the hotel, (5 MYR cost).

The monorail cost 3.10 MYR each way to Imbi
The PA warns of pick pockets


Lion dance at Menara Tower

Solo trip

The airport express train takes 35 minutes into Kuala Lumpur Sentral Station...
Spelling is deliberate.
It cost 100 MYR return from the Airport, 80 MYR if you book online using a Master Card, though I don't know how a ticket can be issued like this.

From Imbi I walked to the Menara tower.
It costs 110 MYR to go to the viewing level, but I paid 122 MYR to go first to the revolving restaurant including a buffet lunch and then you can go to the viewing level... It's a much better deal.


View from the revolving restaurant


I wanted to change money. Went for a cup of tea, and then this at both kiosks
My flight would board before this opened

I knew John Jordan who had a Stearman I flew in a couple of films. This was his company in Biggleswade.
Bangkok Airways flew me back to Chiang Mai within two and a half hours..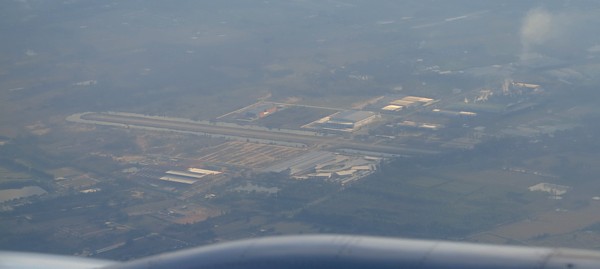 Lamphun runway is clear of market stalls