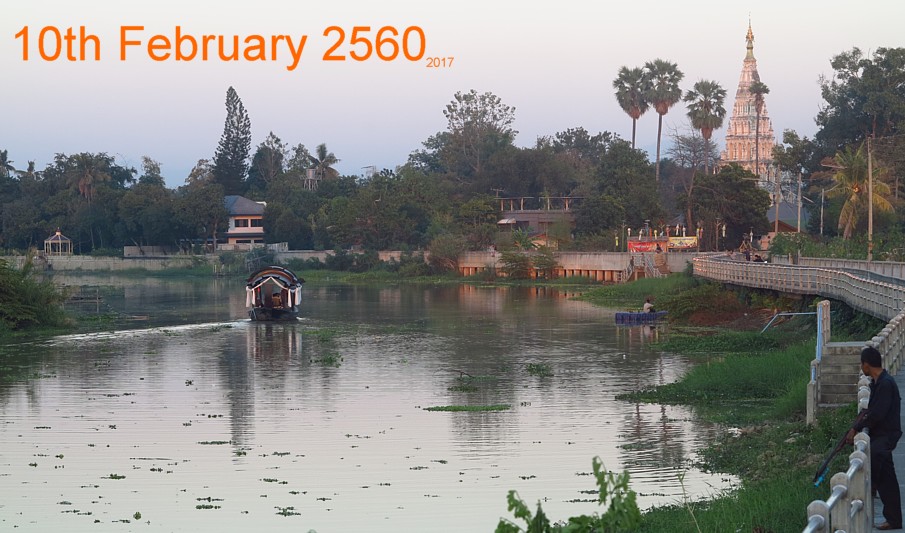 Altruism and Aviation
Yesterday I took a trip to the airfield to be a bit nosy perhaps, but mainly to give the car a run.
I have been fortunate in my life to have come across altuistic organisations and people who have kept the enthusiastic flying opportunities going.
I have watched these organisations come and go.
Years ago Norman Jones helped create the Tiger Club and supplied it with a variety of interesting aeroplanes. The Club was there to promote and encourage sport flying, and this it did very well.
There was a hurdle. To join you needed 100 hours flying including at least 5 hours tailwheel in your logbook, and to be sponsored and seconded by two members of the Club.
"You'll never be a member of the Tiger Club" I was told by a few people who considered it to be a high status, 'upper class', club. But both Mike Stow, and Michael Jones signed my membership application and I was in.
As an enthusiastic member I was there every weekend, staying in the bunk room in the back of the hangar, up early Saturday and Sunday morning, preparing fourteen aeroplanes for a day of flying.
I was eventually cleared "All Types" on my Tiger Club type approval card, and was even allowed to do some check flying, (my first instructional job), sitting in Stampes, Tiger Moths, Condors, and Jodels.
I learned aerobatics in the Stampe, mostly with Tim Barnby. There was no Dual Rate, all 'flying instruction' was freely given by the check pilots. In this way we were all altruistic.
It was through the altruism of Norman Jones that we were able to experience a fantastic free and easy time flying classic aeroplanes.
Then it was my turn to be even more altruistic than I already was.
The 100 hours flying with at least 5 hours tailwheel requirement made it difficult for the fewer enthusiasts from the schools at Biggin Hill to qualify to join the Tiger Club and so there was a gap between PPL and 100 hours that I could fill.
I bought a Condor, rented it out, taught people to fly tailwheel aeroplanes... My customers joined the Tiger Club as associate members and when they had their 100 hours they transitioned into the Tiger Club.
Eventually I built up the Condor Club adding a second and then later a third Condor, a Slingsby for aerobatics, and a few guest aeroplanes such as Austers, a Tiger Moth, Jungmann, Stampe, and a Cherokee 180.
Altruistic? Yes, I think so, as I never made more than a basic living out of it. For me it was a social justification for my existence.
Altruism is a rare commodity, and few people in this day and age have it. Aviation is populated by many individualists.
The Tiger Club's demise began for me with a letter from the Chairman asking me to stop bringing new members into the Club; "...we want to keep the Tiger Club exclusive...". He was an aircraft owner, and had no interest in maintaining the Tiger Club's intent 'to promote and encourage sport flying' among less well heeled people (less wealthy).
Private owners do not realise that a popular flying situation where non owners of aircraft can participate in this activity is very important for the maintenance and continuance of light general aviation.
When flying becomes the sport of the rich, it becomes weaker. The more people you have supporting anything like this, the more secure it becomes.
I suspect that in the present serious societies in which we live, there will be fewer altruists with enthusiasm for flying.

Separating stamps into countries


I have not been using my car, I washed it yesterday


There will be a Cessna 172 on the flying club for a short time
When the paperwork and administration is completed

Stamp in

I've been given a box of postage stamps to sort... 'Keeps me inside, but in the evening I still try to go for a bicycle ride.
The car and my camera have had little use... In fact three of these pictures were taken using my phone.


Dinner cruise ship on the Ping River


The Katana was sold months ago, but the paperwork isn't complete

At the airfield yesterday I saw how aeroplanes are being prepared to be shipped away from here, some to the USA, and the Katana has been sold to a chap in Bangkok.
For many years we have had one altruistic person to thank for supplying aeroplanes we could fly.
I am very thankful for the flying I have been able to do here these past few years.

In Pattaya aeroplanes sit for months awaiting paperwork to allow them and their pilots to fly. Sitting on the ground for six months or so is not healthy for the aeroplane, nor good for a pilot needing to retain flying skills.

At Bang Phra the Thai Flying Club does a couple of flights on a Saturday and Sunday, they close on Monday and Tuesday, and fly little the rest of the time. There are usually only one or two aeroplanes that can mechanically and legally fly at any one time.
They need an instructor, but this person must be Thai.

Here in the Chiang Mai area the Super Cub of my delight has an expired CxA, it would take months and months and months to get it certified with all the right paperwork to be allowed to fly again. Why bother for the limited time it flies? It's not profitable.

The efforts of a few here to provide flying opportunities for vsitors like me has been very welcome.
The problem is that eventually we all run out of energy.

I look forward to flying again some day.


30 years ago I was the atruistic one, operating a flying club which allowed people to fly different aeroplanes
I tried it with a Cessna 120 in Canada, but there were fewer enthusiasts there


By the sea, by the sea, by the beautiful sea
Frejus - St Rafael
Back in 1978 we were cruising down to the South of France, heading to meet up with Sue Jones who had a farm on the Plateau de La Motte.
I'd miss calculated, or rather not calculated at all, the fact that nightfall would be earlier at this longitude, and quicker at this latitude, so as we winged by Aix en Provence to lock on to the autoroute we noticed the lights going on below.
Ok, so I switched the big Jodel's navigation lights on and made a direct track to Frejus.
The short of it was that we ended up landing in the dark, which was easy enough, but taxying without a taxy light was not easy at all.
I did ask for "lumieres de piste", but there were no lumieres de piste! So you pick up the piano keys with the landing light, drop the left wheel a little lower than the right and feel for the ground. Le Mousquetaire is an easy aeroplane to land, but as the tail goes down the landing light points high, too high to be any use for taxying.
After a short stay in the South of France, we flew up over Grenoble, to Lausanne, and then to Bex for the fly-in and airshow there.
I took the opportunity to fly front seat in HB YAP with Raymond Marley... This is a Breezy.
On the morning following the airshow my morning business was interrupted by a loud bang when a BBMF Spitfire collided with a Dutch T6 in front of an RAF Harrier... Later a Dutch Saab Safir tried to get airborne off the remaining length of runway and crashed in the field beyond the end of the runway.
When the runway was opened again the Jodel 140 easily lifted off the shorter length and were were off to clear customs out of Switzerland and into France, and then we were enroute to Le Touquet to go home to England.
It was a very hazy afternoon, and I'd allowed a little too much distance to the south of the big Lac du Marne to be able to see it... "Let's go back to Chaumont" was suggested, but I made a correction and suggested we'd carry on and find Epernay easily... We decided to night stop there.
A CAP10 was doing aerobatics overhead as we landed, and we taxied to the clubhouse where the Mayor, and many people were among long tables with white cloths, consuming many bottles of Champagne d'Aeroclub; there were many bottles on the floor too.
Glasses were proffered, and we joined in.
A lady came over to me, "I am taking my daughter to visit her grandmother", "You can stay at my apartment tonight", and so it was we were driven to Ay en Champagne, beside the canal.
We were given two bottles of Champagne to have with our dinner... I don't remember going to sleep... 'Woke up in the middle of the night on the settee.
In the morning I opened the shutters to breathe in the aroma of fresh baking from the nearby patisserie, this meant taking a trip to buy fresh croissants et pain au chocolats for breakfast...
Then I heard the sounds of two aeroplanes approaching from the west, it was David Faulkner-Bryant in his Currie Wot and Don Lord in his Jodel heading along the canal to attend the Swiss rally...
We still had one bottle of Champagne d'Aeroclub, our French hosts gave us two more, and sent us on our way home to Redhill where one bottle was shared in the Tiger Club Club Room.
This memorable trip was shared with Martin and Jean, and I had not seen either of them for thirty years or so... Jean unfortunately has passed away, but Martin has been visiting Thailand, and so I managed to catch up with him by flying down to Suvarnabhum Airport on Saturday to meet him before he caught his flight back to London.
Thirty years is a long time and we have both aged, but there will always be the memories of the flights we once did.

The retired Dakota looks up at the passing jets, 'I was once there'


A thousand ships could be launched from Bang Saen

To the seaside

With money running low I have to be very efficient with my operations and make them count.
Of course it was Valentine's weekend and so there are certain responsibilities associated with this.

NaRuk was able to come and meet Martin, and Ko, and to take me and her nieces to Bang Saen.
I ended up doing the driving, and made an error, turning too early for Bang Saen Beach which is very long.

We decided to book a second night at the Nana Chart hotel... It's best to do this if you want to use facilities such as the swimming pool, and to relax. Checking out at eleven in the morning is rarely convenient if you want to enjoy the place.
But I do not recommend this hotel. At 1,700 Baht per night it wasn't good value for money, and we had two rooms.


Always take advantage of a business opportunity

A beach is a beach, I'm not so beach conscious, 'never have much time for doing little or nothing, but I put up with it this time.
We ate fresh seafood sitting on a mat in the shade.

The youngest niece swam in the sea, while her older cousin watched on, (heading picture).

I caught a bad cold.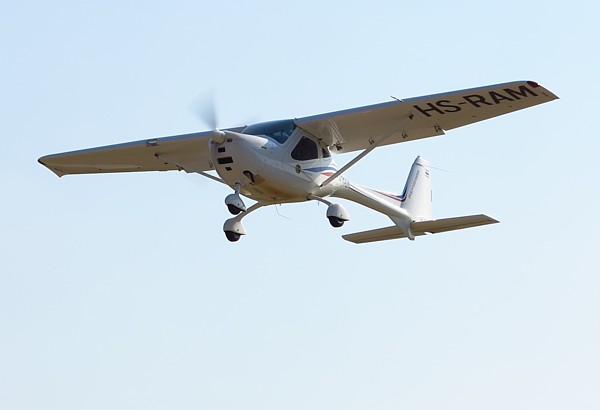 A quick visit to Bang Phra; it's only twenty five minutes drive from Bang Saen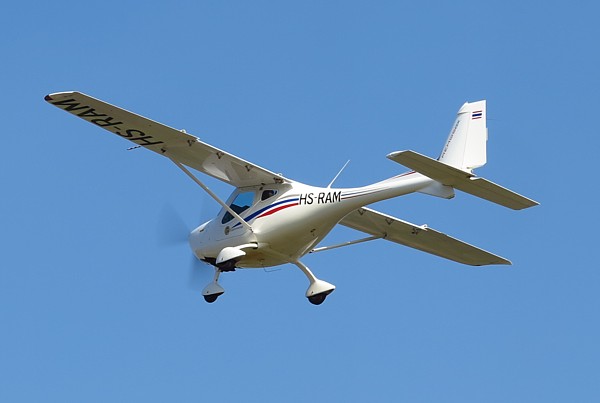 Dr Rolf in his Remos

On top it's usually an easy passage. An elevated toll way makes it easier
to cover long distances most of the time. Sometimes there are jams


Below there's always plenty of traffic
During rush hours the highway on the right is choc a bloc
But Bangkok's road system is vastly superior to Third World Vancouver
I think of the long queues for the tunnel and for the bridges

Which City is Third World?

I can compare two cities: Vancouver and Bangkok with real life experience, driving in both, and accessing both using public transport.
Bangkok is a World Class City, with excellent affordable public transportation, and an efficient road system if you have to drive.

Yes, there is a lot of traffic, and jams are common, but overall you cover more distance per unit time in Bangkok than in Vancouver, and if you get frustrated, dip your hands in your pockets and pay the tolls... It can cost you up to 70 Baht to quickly drive on the elevated highways to where-ever you want to go.
The tolls are low perhaps because of the volume of traffic, while Vancouver tolls on the bridges are much more expensive.
As much as possible the Thai capital has avoided the use of traffic lights, prefering road design to facilitate the flow of traffic.
But yes, it can be frustrating to sit at the traffic lights, but then again one must remember that traffic lights are every five hundred metres in Vancouver and you sit at many more red lights there.

Bangkok has a toy train system that is similar to Vancouver's toy train system. The BTS Skytrain is a lot cheaper to ride on however, cheap enough to make it a much more economical choice than driving...
Even on my own, there's no difference in cost driving the Mazda into Vancouver against the cost of public transport. If it's only for a short 'car parking' time, it's often just as well to drive in.
In Bangkok, and in London, it's much better to use public transport as in both these places it is efficient and less costly.

I took the bus from Don Mueang Airport to Mo Chit BTS (Skytrain) station, 30 Baht, then BTS to Phaya Thai Station, another 34 Baht. 64 Baht is $2.25c CAD.
From Phaya Thai you can take the Airport Express to Suvarnabhum Airport for 45 Baht $1.60c CAD, it costs $8.50 or so to take the Skytrain the much shorter journey from CYVR into Vancouver.


An excellent rail link takes people efficiently to the airport for 45 Baht
Sunday night I returned to the Victory Hotel, my regular place in Bangkok these days as it is convenient, and at 1,400 Baht per night it's good value. Dinner was at Saxophone again, but I was still suffering this bad cold :(
I had a meeting to go to on Tuesday, some manuals to study, and then I went back to Phaya Thai for a coffee and to meet NaRuk to go and eat before I caught the Thai Smile A320 back to Chiang Mai.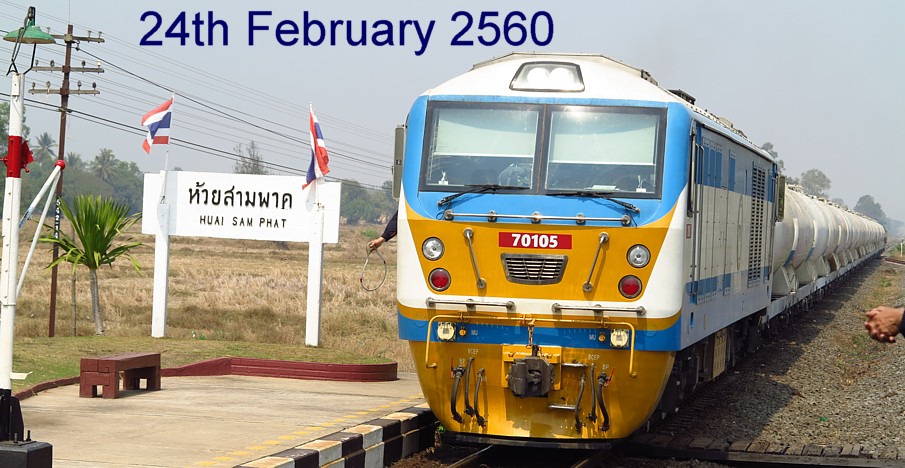 Khon Kaen and Udorn Thani
Friends and life
I believe that we should make the best of this life and do what it takes to see people from time to time.
In my upbringing, like most people, I grew up with work being the most important aspect of life. Life is not easy, money is not easy to get, but easy to spend.
But I think that people are far more important in one's life than anything else. Along with life experiences, I think sharing with the people in your life is important, so sometimes I will go out of my way.
In a way, I go out of my way, to sit and write this to share with you.

Kan Air has chosen very good flight attendants
Scheduled landing time: 14:30

Two Hours Late

Mike offered to pay for two nights accommodation for me in a hotel in Khon Kaen if I paid for my flight there.

There are two choices to fly direct to Khon Kaen from Chiang Mai: Thai Air Asia, and Kan Air.
There are two reasons to fly Kan Air. 1. Air Asia's online booking system will not process my credit card, 2. It's always good to support your local bus service.
But I should have considered the fact that Kan Air only has two aircraft, a Cessna Caravan, and an ATR72.
The Caravan is offline for an engine change, and I should have considered this.

In their "Travel Conditions" Kan Air state that their "..Check-in counters OPEN 2 hrs and CLOSE 45 min before departure time". (Except Caravan flights).
I was there 90 minutes before departure. Nobody at the counter...
So I walked over to the ticket office to be told they will open one hour before departure.

My boarding pass had a boarding time of 13:30 printed on it.
At 13:10 they began to board passengers on the bus to the aircraft, but "Mae Hong Son" was listed on the counter... They were loading an ATR for Mae Hong Son! I thought they only had one ATR72.

Running an airline with one aeroplane is hazardous at the best of times, so I thought they were smart and had leased in a second ATR... The ground staff were evasive and did not want to give me the truth...
Rather, a little later, they made a single voice announcement that our flight was delayed an hour and a half due to the late arrival of the incoming aircraft... In fact it was just departing for Mae Hong Son.
There's not an aeroplane I know that can load, fly to MHS, unload, load, and fly back to Chiang Mai in twenty minutes.

This annoyed me. Why are the ground staff not honest?
They knew early that our flight was to be delayed, and yet they were not forthcoming with their passengers. In this way they upset their customers, many of whom will not return to fly with this airline again.
I sent an email to the company and directly to its President, but like many Thai companies they are unlikely to have the courtesy to reply.
Air Asia have not responded to my response following several instances of their website not working properly, so why should Kan Air?

Kan Air has done very well in their selection of flight attendants.
Once we're on the way the inflight service is very good, the FAs do a very good departure safety briefing, and they feed you a hot meal once the aeroplane has clawed its way past 10,000 feet.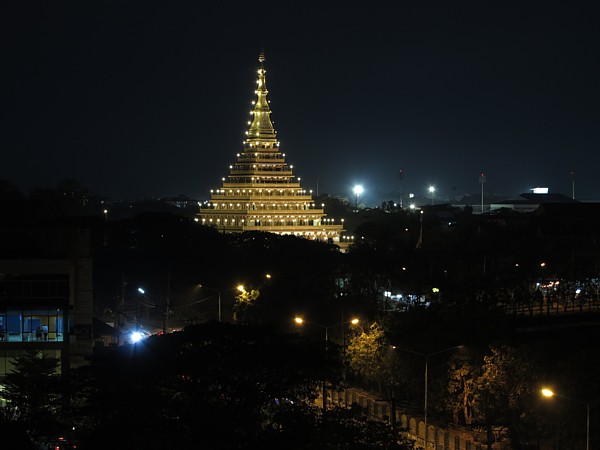 Phra Mahathat Kaen Nakhon, Khon Kaen

Mam and Mike from England

There are a couple of rooftop restaurants either side of the BB Hotel where I stayed.

Curiously the hotel lift stopped between floors, meaning you either walk up or down a short flight of stairs to get to your floor. Not convenient for disabled people.

Khon Kaen

Khon Kaen is developing, and they are building a Skytrain line.
As it is a small city there must be political reasons rather than practical reasons to be doing this.


Road junctions are not controlled
Train Journey to Udorn Thani
25 Baht each way for foreigners ($1 CAD)

Khon Kaen. Diesel locomotive; CoCo
The small rails have been replaced with full size standard rails


Water was available for steam locomotives, signals out
While still Metre gauge, they have fitted concrete sleepers (ties, USA)
What does one do on a Tuesday in Khon Kaen?
How about taking the train to Udorn Thani?
The aim was to take the 09:30 train to Udorn Thani and either take the train back again or take a bus back.
Train rides are usually good fun, and they are cheap in Thailand. Our train departed at just after 10:00 and arrived in Udorn Thani at around 11:45.
We went for lunch at The Good Corner, Thai/Danish restaurant.
Departed Udorn Thani at 13:50 and arrived at around 15:50. Four hours on a train for 50 Baht ($2 CAD).
Thailand's railways have been overhauled over the past few years with new welded rails, sleepers, and bedding. Higher speeds are possible without the rocking and risk of derailing of recent times.
Since this is a north - south service, up in the morning and back in the afternoon, posh does not apply... Choose port both ways when going north in the morning and south in the afternoon.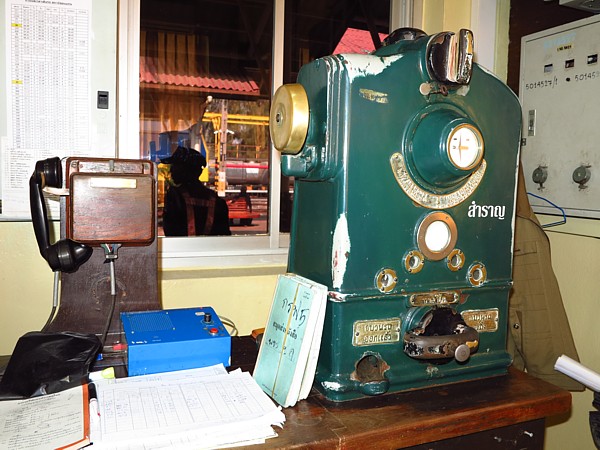 British railway signalling equipment, made in India c1925
Westinghouse Brake & Signal Co Ltd, London & Chippenham
Saxby & Farmer (India) Ltd, Entally Works Calcutta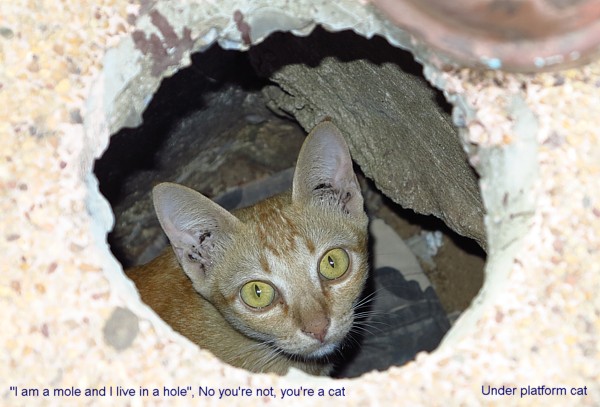 Khon Kaen Railway Station

Our train arrives, just a little late, at 10:00 am


"Pull the other one" "Which one?"


Tickets please. Most Thai people travel for free on local rail routes


Last station, next station distances in km
Expanding water, not smelly water
Bob Hope was here once during the Vietnam War


British signal systems are standard here, note logbook and phone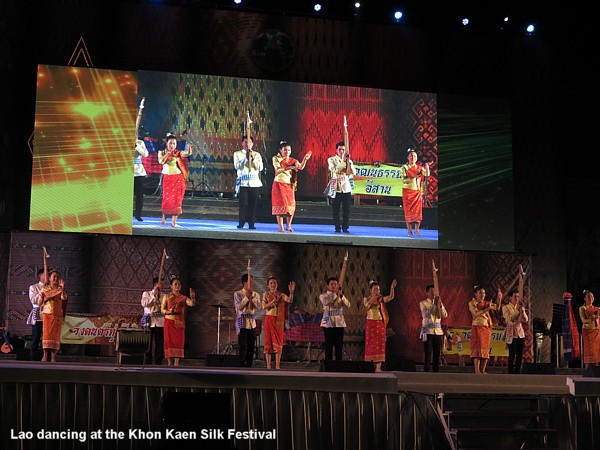 There's a screen above showing the camera images of the stage, note the silk patterns below it
Tuesday evening we took a taxi into town to walk through the market.
The approach was down a street of furniture stalls, good quality and dubious quality, all gleaming in shellac, and then there was a combine harvester on display.
The annual silk festival was on, and this evening Laos was the guest of honour with Lao dancers and musicians on the stage.

You can buy a new Combine Harvester at the local night market


I walked around the lake in 45 minutes


This did not go un-noticed, loads of yummy cakes

Many people walk, run, and ride around the lake in the early morning, and I was one of them.


Pigeons have no respect for
Kuan Yin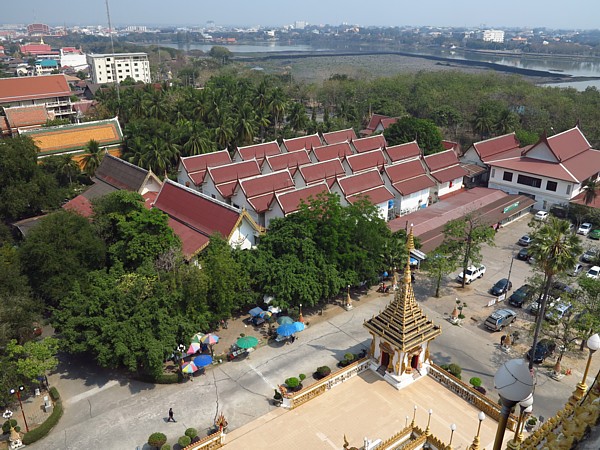 The lake has been partly drained for retoration work and an over water walkway. 'Should be fun when it's finished.



Once again a very good job well done

Khon Kaen Airport Restaurant

The airport restaurant is upstairs in a dim grim setting with no views of the outside World. It's a shame.
But the food was to a very good standard, and plenty of it. If you can stand grey walls you'll be fine.
Khon Kaen's current terminal would not look out of place as you arrive to spend years in detention in Siberia.

On Time Kan Air Flight

We checked on Flight Radar 24 and were pleasantly surprise to see the incoming flight was on time.

The flight was scheduled from 15:00 to 16:10 and we were on time arriving.

Since I had eaten in the airport restaurant I could not accept the inflight meal, but I did accept three cookies, and three cups of hot tea.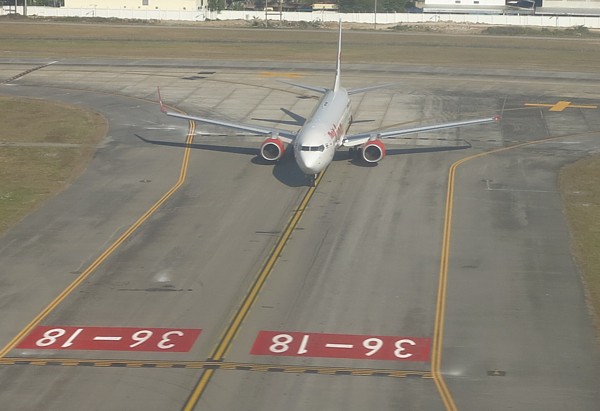 Arriving on time at Chiang Mai Airport


Budget Airlines Navajo on the ramp at Chiang Mai together with the new KBZ ATR72 from Yangon
I have had a bad throat for a couple of weeks, and today I have a bad cold... Not good.
I fly back to Vancouver tomorrow evening, seeing a glimpse of Sunday in Hong Kong before time travel back to Saturday evening in Vancouver.


Going back to Vancouver

The Austin 1300 was a brilliant car in Montreal snow
Still on the road here in Chiang Mai

My last night in Chiang Mai I drove into town to meet Robert and his Thai wife to have dinner at the night market, then walk back to the car and drive over to Nine's Kitchen to meet up with Koi.

The next day was an easy day, my flight wasn't due to depart until 18:25, so I had plenty of time to pack and to tidy up my room.

I have a message on my Canadian phone to say that the Cathay Dragon flight will be delayed... Not much use to me as I do not switch the expensive phone on in Thailand.
It was 50 minutes late departing but made some of this time up enroute. It wasn't a problem for me as I easily made the connection to CX888 at Hong Kong.
In Chiang Mai Airport King Power gave everyone coupons to tear open and reveal discounts in their duty free shops... I briefly considered buying a bottle of whiskey, but thought better of it... At Hong Kong you have to go through security screening again and so the bottle would be confiscated there!
If you continue onward to New York from Vancouver on this flight you will also be screened again so it is perilous for duty free liquids purchased in Hong Kong as well.

The flight from Hong Kong to Vancouver took ten and a half hours.


Landing at CYVR