Back to Thailand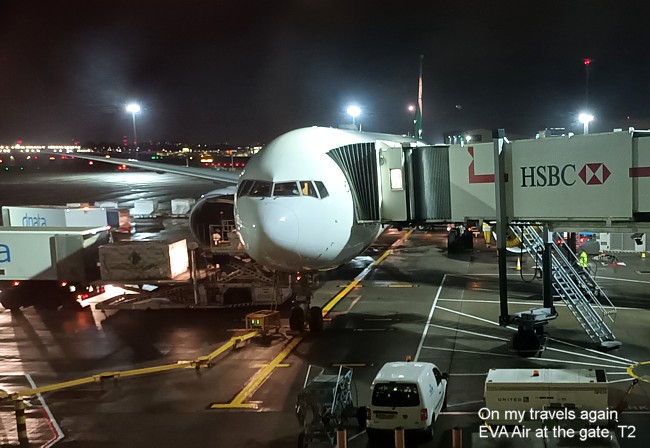 The journey began by missing the bus into Guildford to connect with the RailAir bus to Heathrow, by two minutes or so.
A long wait for the next bus, scheduled to arrive in Guildford after the airport bus would have left meant myself and Koko dragging the bags to the railway station. At least the walk was mostly downhill.
With three minutes to spare there was no airport bus at the station!
There was trouble on the M25, alleged to have been a flood, and so the airport bus may not arrive at all.
Koko took the train back to Redhill, and I got in a taxi for a £90 ride to the airport... Me on a tight budget!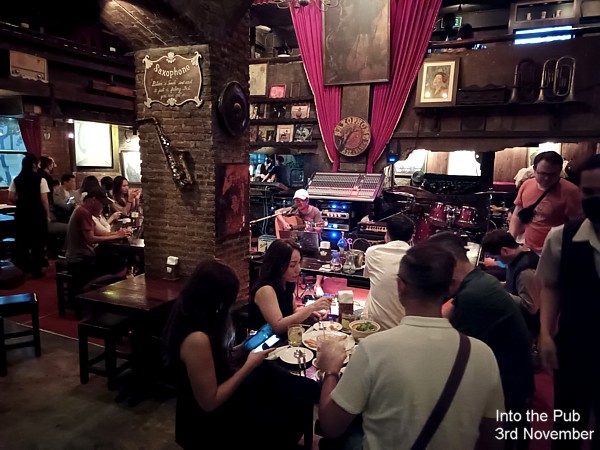 At Suvarnabhumi Airport; passage through Immigration, collection of bags, and passage through Customs was quick and easy.
I put two bags in Left Luggage for the night (270 Baht) so I wouldn't have to lug them into town, took the train to Phaya Thai (45 Baht) and walked the short distance to the Victory Hotel and Residences.
The Victory Hotel is my prefered stay in Bangkok, it's economical, and has good access to public transport and it is near a favourite Pub; Saxophone.
I went to Saxophone, had a Dunkel beer, and Thai fish cakes, returned and slept well.
I try to avoid Jet Lag, and on this trip I have been successful.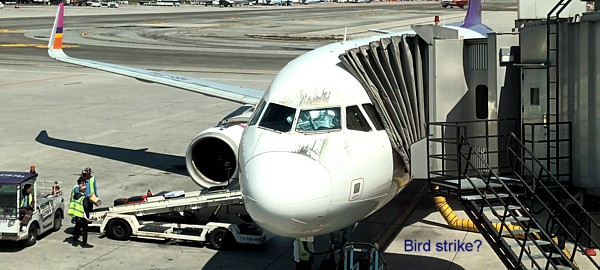 Thai Smile texted me, and e-mailed me to say that my flight would be delayed by half an hour, 'suited me as there was no rush to get to the airport after breakfast, and I had time for coffee there after I collected my bags.
I can imagine the reason for the delay, the A320 had hit something and so had a new radome, and a new left side windscreen. There was still masking tape inside while the windscreen sealant was curing. The design of the Airbus windscreen is such that it is assembled inside against the outer skin, this means a repeat of the BA 1-11 incident won't be repeated.
Taxying out I was surprised that the starboard engine was started half way along the taxyway, saving fuel by taxying on only the port engine.
A 747-8 heavy took off and I noted the time of its rotation on my watch. We took off 90 seconds later, a bit close I thought, but provided both engines produced their power, the steeper climb of the A320 should put us well above the heavier aircrafts' slipstream.
I don't think we climbed as high as normal on the trip to Chiang Mai, and we were soon on the ground there. Just enough time to eat the 'pain au chocolat' and drink the bottle of water provided by the flight attendants.
My car was waiting for me at Gate 2 Chiang Mai Airport.
It is beginning to fade with blotches in its clear coat, but I have had this Kia-Ford Aspire for six and a half years, it's been a very economical car.
Back at my flat I washed the floor... A fine dirt layer settles on the floor over time and so a good clean is required... I can't sleep if my place is dirty.
'Unpack my mattress topper and my bed linen, and make my bed. Shop for food tomorrow...
The next day I get a phone call from Joe, he hasn't flown for a while (Covid) would I fly with him?
He wasn't aware that I only got back yesterday. Thailand is serendipity, things just happen. All being well I'll fly with Joe next week.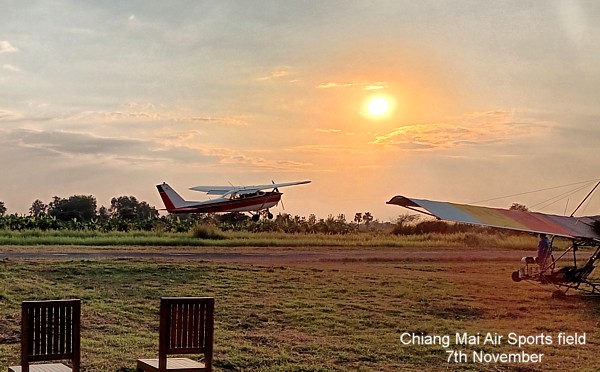 Of course I go to the airfield. Kittikoon practising in the Cessna 172 HS FTO
HS-FTO is part of a group now and no longer on the flying club, and so I can no longer fly it.
I applied for the Thai Validation of my Canadian CPL, (it doesn't cost £45 like validating the UK PPL would).
Validation is done online through the CAAT's EMPIC system... I had trouble with this, but it seems to have been approved.
Trouble is, there's no club aeroplane to fly at the moment.
I met up with Kit' after he landed and he asked me to fly with a new member of his group who already had the Thai licence, but who might benefit from some pointers from me.
Loy Krathong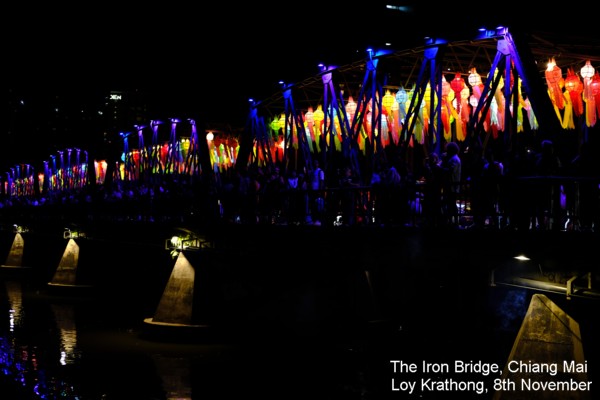 I have always headed to Thailand for the Loy Krathong Festival, I enjoy this time.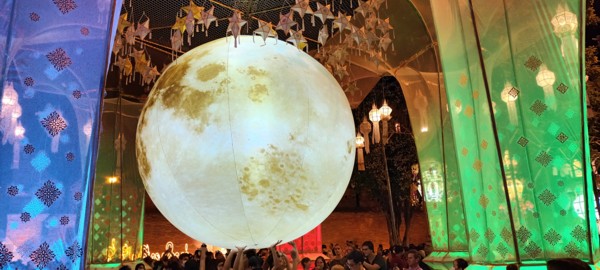 This year they dragged the Moon out of the sky for hands to support it by Tapae Gate.
Loy Krathong is both a lantern festival and one where you float a Krathong down the river with your hopes and prayers.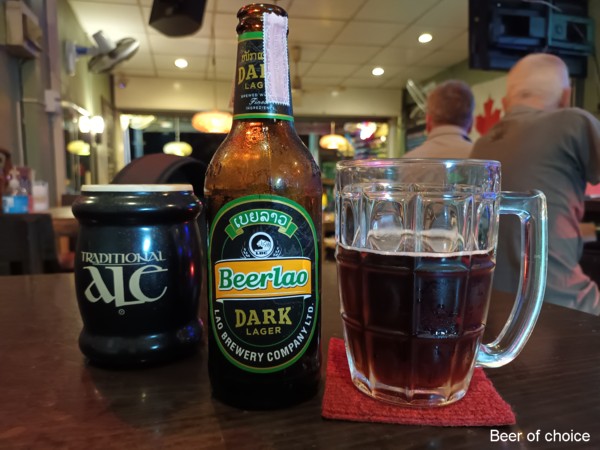 I went to the Wild Boar Pub for both a Beer Lao Light, and a Beer Lao Dark
HS FTO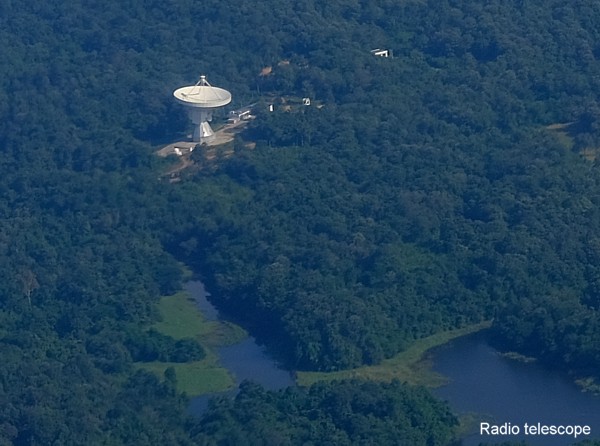 9th November and we're up doing steep turns and stalls followed by a PFL
I'd been told about a new radio telescope NE of San Kamphaeng Hot Springs,where I like to go for airwork.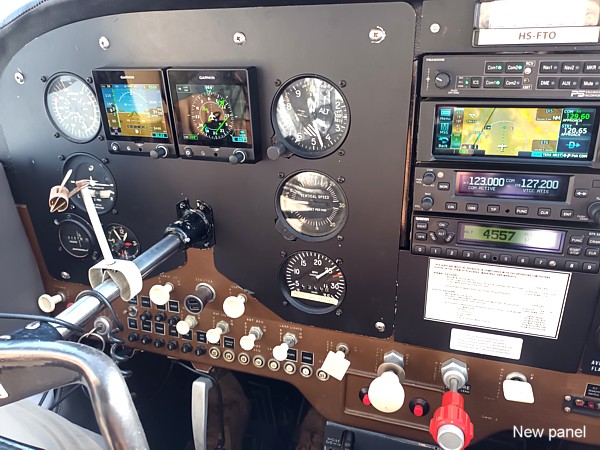 Parade in Chiang Mai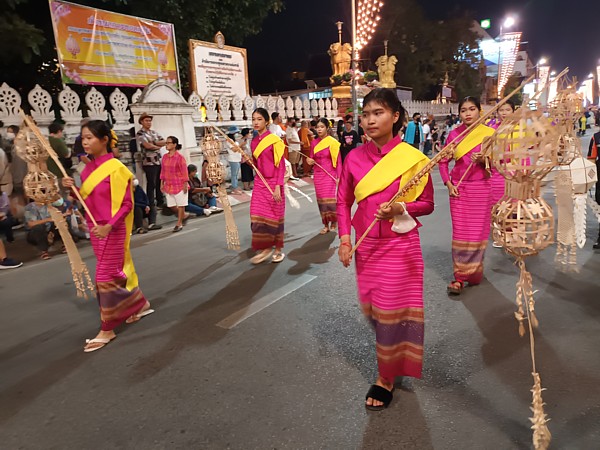 There was only four floats in the parade the night before and I missed these, being a little too late.
The previous night I took a Sorng Taew to the Iron Bridge, and then later walked home (50 minutes), this time I borrowed Koi's bicycle and equipped it with lights.
This evening the pararde was long and went on for much longer than it did in previous years. Perhaps they should split it more evenly between the two evenings?
I was delighted that Two Sisters Pizza was still open, many businesses I knew had gone by the board with the Covid disaster.
I stopped mid parade to have half a pizza,took the other half home. I was surprised that the parade was still on after my repast.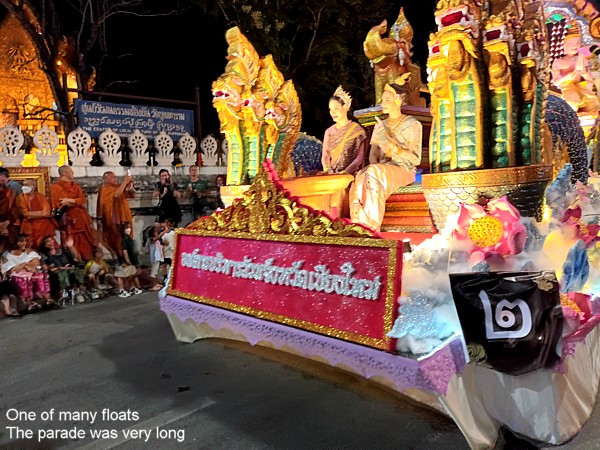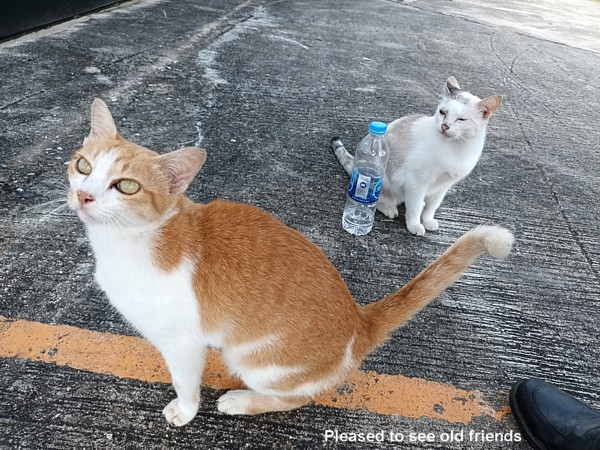 The next day I went to the club airfield and helped unload some aeroplanes from a couple of containers.
Lampang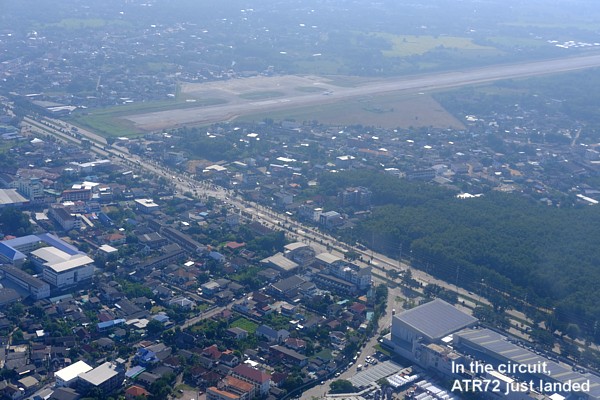 On Friday I was up early again to fly with Matt in the morning mist to Lampang... We did some stalls on the way and then flew some circuits.
Landing fees are still 85 Baht each.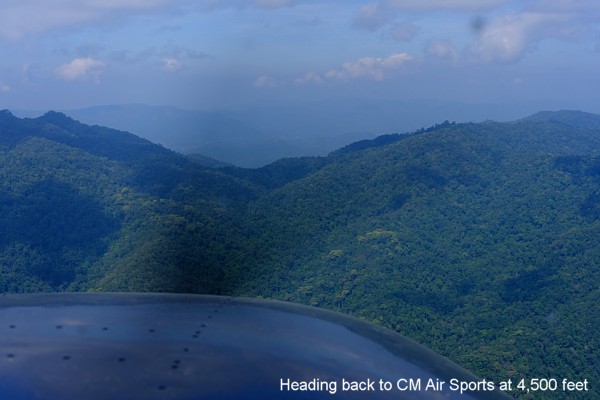 There are mountains and so Mountain Flying Procedures were discussed along the way.


CM Air Sports is just off the 1317 Highway to Mae On, but it is a rough track for the little car to negotiate to get there.
There will be an Air Show here next month.


Busy Days In Thailand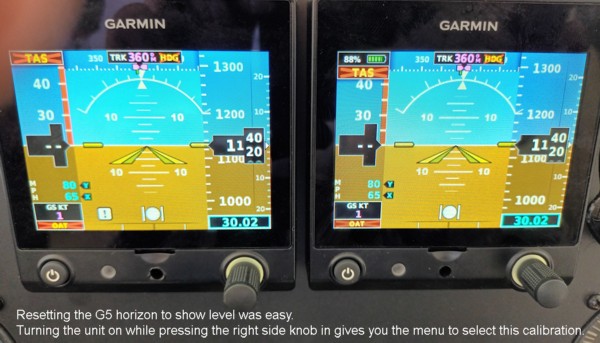 The Cessna 172G gets regular maintenance, and while this was being done Kit mentioned that the attitude was not level on the G5. Should he trust this or the slip ball in the turn coordinator which sat perfectly centred? With a bank indication on the G5 horizon the slip ball was also out to the left; I trust the physical ball..
I downloaded the G5 manual... No clue there, but then in a Mooney forum there was the answer as above, and the horizons were both levelled easily.
The right side G5 is normally set as a Horizontal Situation Indicator HSI, but also can be a back up Primary Flight Display PFD and so it has to be set as well..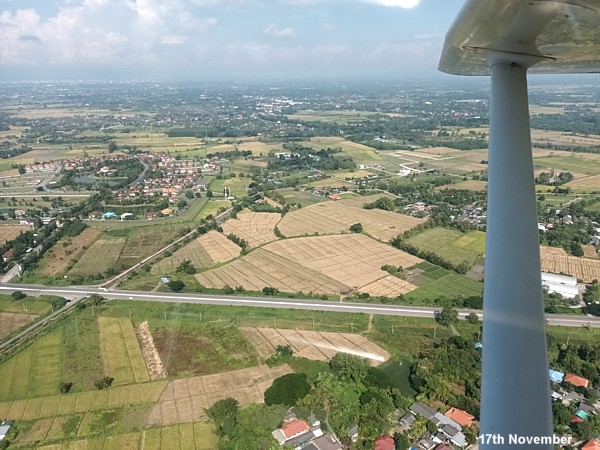 Matt and I did another flight on the 17th, to do climbing turn stalls which produce wing drops in both directions.
Stall and incipient spin training is important, and especially so when operations are carried out in mountainous terrain where false horizons can fool an unwary pilot.
In the utility category the Cessna 172 is spin proof if the power is at idle. The aeroplane can be forced into half a turn of a spin, but then the airspeed increases as the aeroplane begins to spiral.
But, if you are in the normal category with passengers on the back seat and their baggage, the Cessna 172 will spin to the surprise and demise of more than a few people. I recommend spin training in a Piper Tomahawk if you want to see how a loaded Cessna 172 might spin.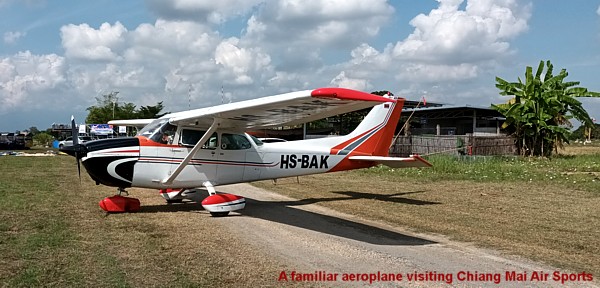 Khun Mao flew in from Tantawan
Flower and Aviation Festival at Chiang Mai Air Sports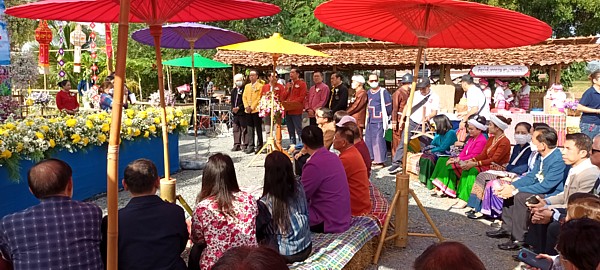 Thai people love to celebrate and to create festivals for the enjoyment of life.
Contrary to many places in the West, life is not all about the struggle to earn a living, the danger of recession, interest rates, and currency exchange rates.
You need to offset the serious with the pleasure of life.
Of course the opening ceremony was a series of speeches, but then they got on with it.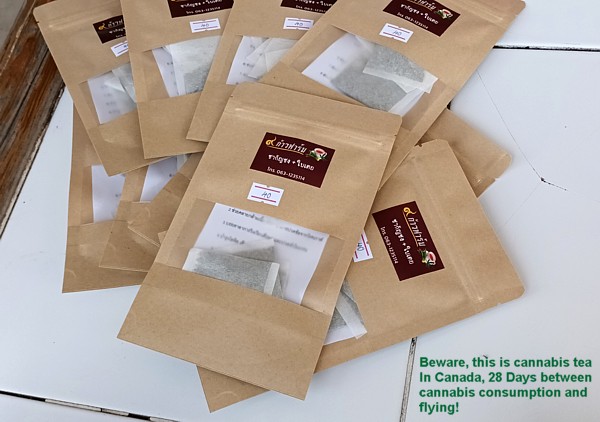 Herbal teas... Get the translator program out, and pilot beware!
High School Involvement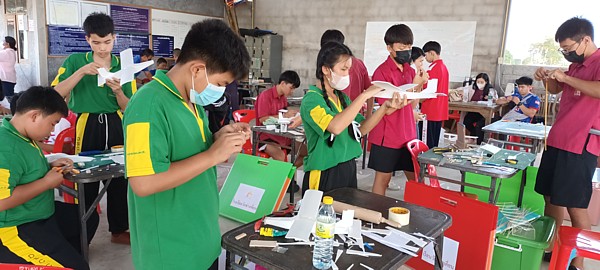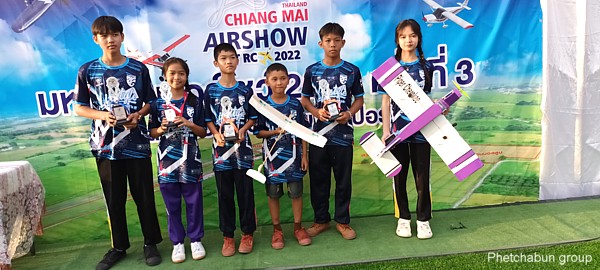 Thailand has a vibrant model aeroplane community which is good to see.
I grew up making model aeroplanes and naturally this transitioned into going for my Private Pilot's Licence, and my subsequent career.
At the Chiang Mai Air Sports Festival groups of youngsters from school's as far away as Phetchabun were busy building three types of models.
Some built frail indoor models covered in thin film, and flew them outdoors! Others built foam gliders, and there was a complete factory building Pilatus PC6 rubber powered models.
The completed models were then tested with stopwatches used to time their endurances.
It was great fun for all, including me... Fishing some models out of the pond, and giving a little flight instruction... There were TCUs about, and so I explained how these towering cumulus clouds formed, and how they produced precipitation.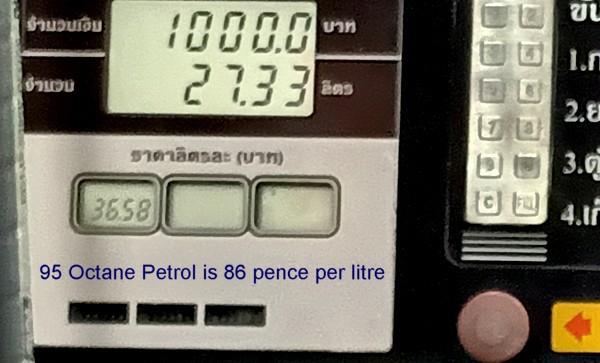 My little (Kia) Ford Aspire of six and a half years is frugal on fuel, and fuel is very cheap here.
Transponder Troubles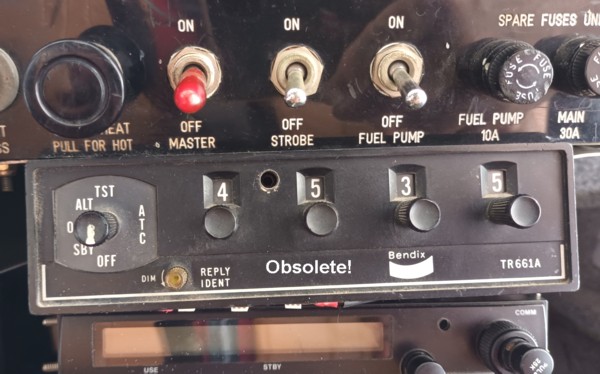 I was asked to take a KT76A transponder and a functioning GPS 296 to Ubon Ratchathani in the far eastern reaches of Siam; a Jabiru 170 was stranded there..
The transponder had failed, and the pilot's own GPS 196 had decided to call it a day... These old Garmin GPS units seem to have an expiry date.
As it was the aeroplane had an ancient transponder far older than the vintage KT76A, it had different connectors. The one I brought was not a compatible unit.
The problem may have been resolved by connecting the VHF radio to the VHF antenna, and the Transponder to the Transponder antenna; 'seems these aerials are not interchangeable! V=F(Lambda) (V is a constant = Frequency x (Lambda) Wavelength), meaning an aerial or antenna has a length equal to a half or a full wavelength. ~
Transponders work in the GHz (gigahertz) frequency range and so have very short wavelengths and so they use the short antenna usually found on the bottom (ground view) of the aeroplane.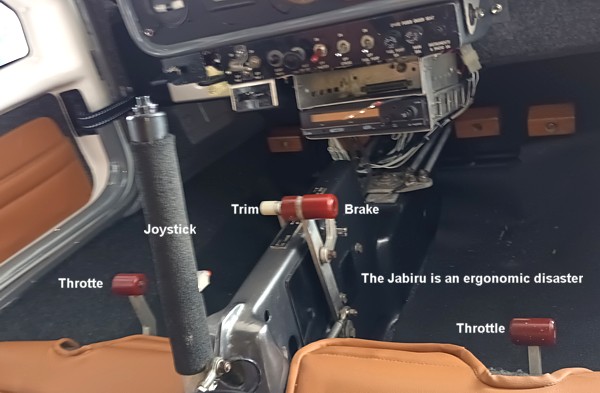 You need special dexterity to operate a Jabiru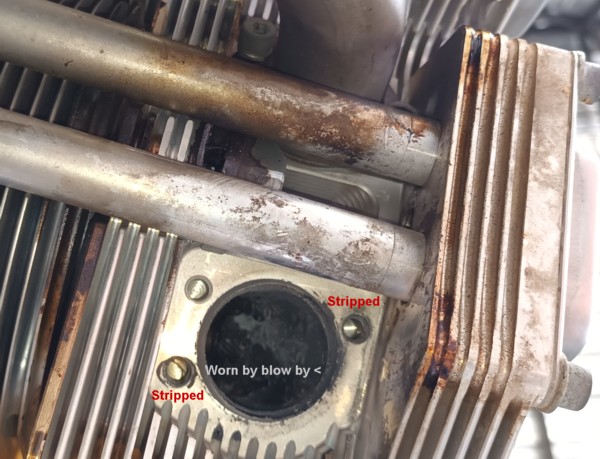 Exhaust port.
Unfortunately, the deal breaker is stripped threads in the cylinder head of one cylinder.
It's easy to over torque steel screws or bolts fitted into aluminium, (65 SMOH).
There's no safe bodge for this problem, you have to recut the threads and insert a Helicoil.
With a Helicoil the thread diameter is retained, and probably the attachment is stronger.
Finding a Helicoil Kit in the wild is not likely, so make an order and call a specialist.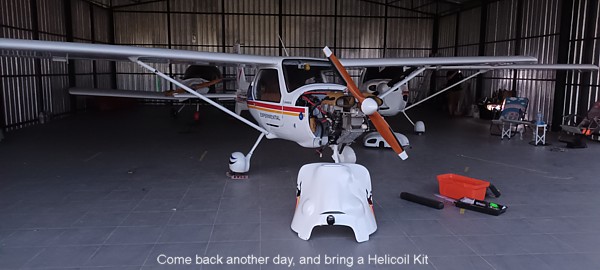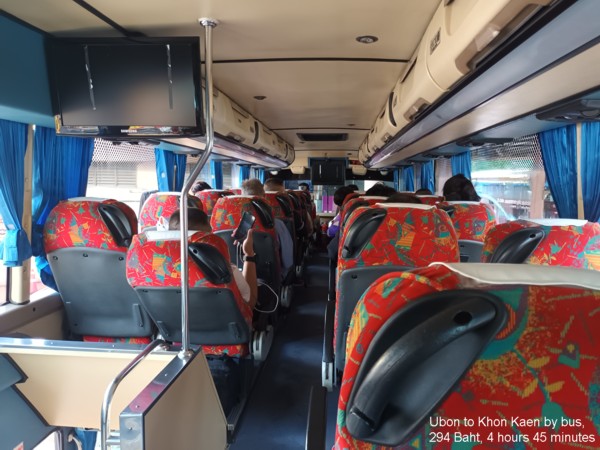 On Wednesday I caught a bus to Khon Kaen, had dinner with two friends from England, and then caught a Thai Air Asia flight to Chiang Mai.
At Khon Kaen Airport I lined up for the check in desk, then two chaps cut across when a check in became available followed by a queue of others... Very rude, and perhaps this is why I was given seat 1C in the A320.
Almost first off except for more queue breakers, (why when we had to take the same bus to the terminal?). I entered the terminal to find a huge queue to obtain Airport Taxi coupons, and outside there was a hoard of people waiting for the limited 'Airport Approved' taxis.
I took a walk, clear of the airport, and called a Grab car, less than half the cost of an airport taxi, and travel home quickly. I estimate that I saved at least two hours!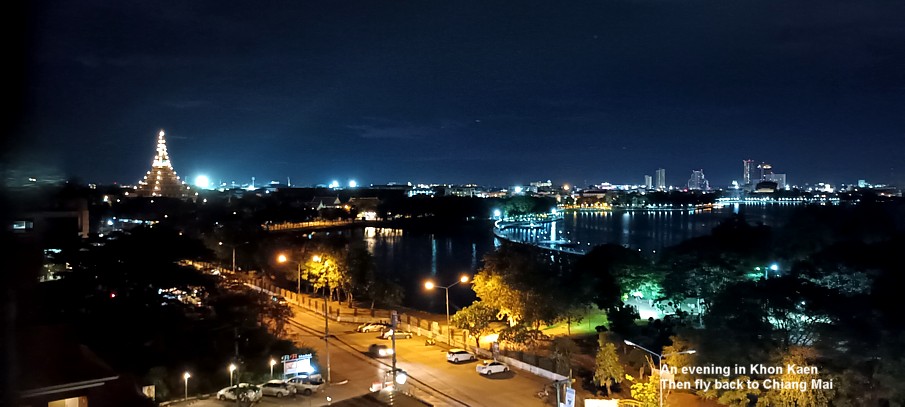 A lightning storm was just to the east, and dumped heavy rain at the time I was to leave.
The taxi drivers were waiting for the weather to clear, but a Grab driver turned up for me.


Ground Stuff
There hasn't been any opportunity for me to fly recently.
I returned from Ubon Ratchathani and involved myself in another Jabiru which refused to start.
Due to Covid many aircraft have been grounded for three years or so and they are not easy to awaken.
I suspect that there's a fuel flow problem in the local Jabiru. 'Managed to start and run the engine by pouring a teaspoon of petrol into the induction system and this prime instantly started the engine which continued to run happily after this point.
Several aeroplanes have developed bugs after sitting a while and so I intend to go through the fuel system and check for creatures making their homes in it.
The fuel system had been emptied before the aeroplane was laid up, perhaps leaving it open to a bug nesting in there.
If you use Mogas, emptying the fuel system before laying up an aeroplane is essential.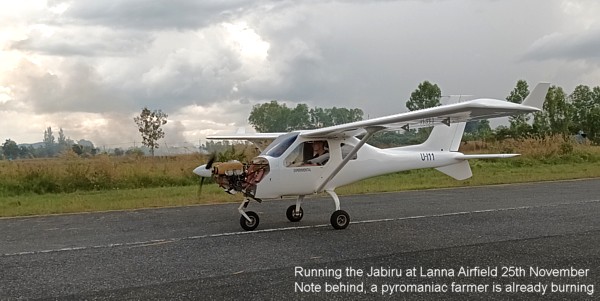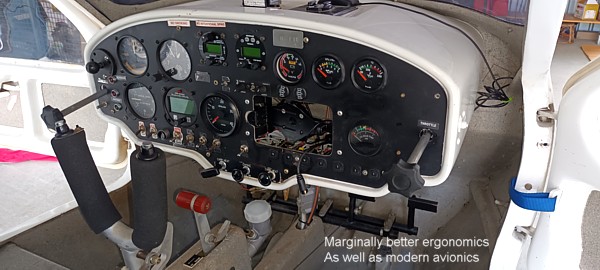 I flew in this Jabiru a few years ago, and now it's time to renew its acquaintance, owner and aircraft need to fly again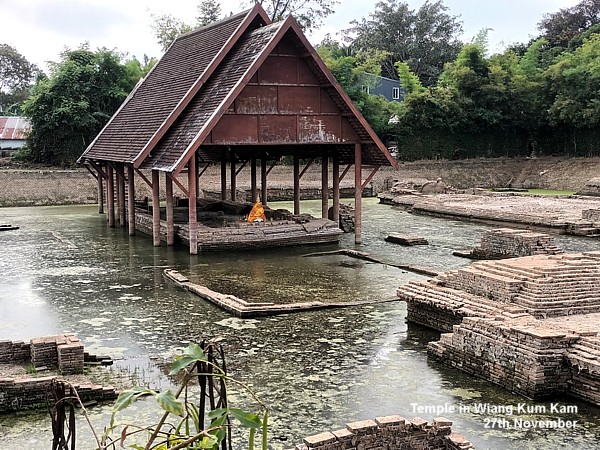 Since Khun Koi has loaned me a bicycle I can resume my exploration of Wiang Kum Kam
Several changes were noted on this ride, some buildings have gone, some new housing has been built.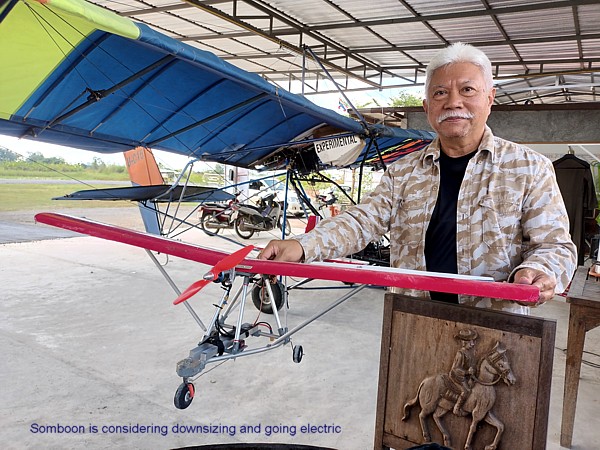 There's always something happening at Chiang Mai Air Sports airfield and so I am often there. I also visit the other two local airfields.
I have a licence validation which will only allow me to fly aeroplanes of one club, but unfortunately there is nothing to rent there at the moment. Several aeroplanes have recently been imported including an Ercoupe, but due process with CAAT certification and obtaining five year permits will take time.
I would like to get a validation for another club southeast of Bangkok, but this will also take time.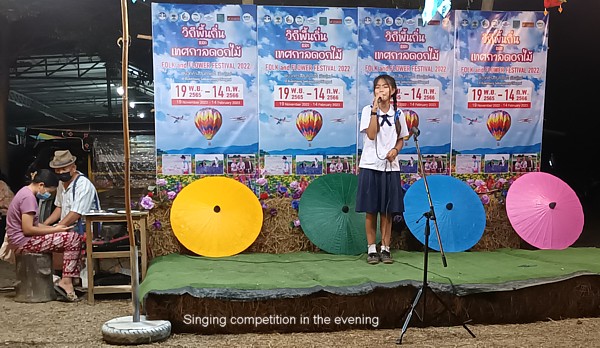 People in Thailand are used to singing and to finding enjoyment in life.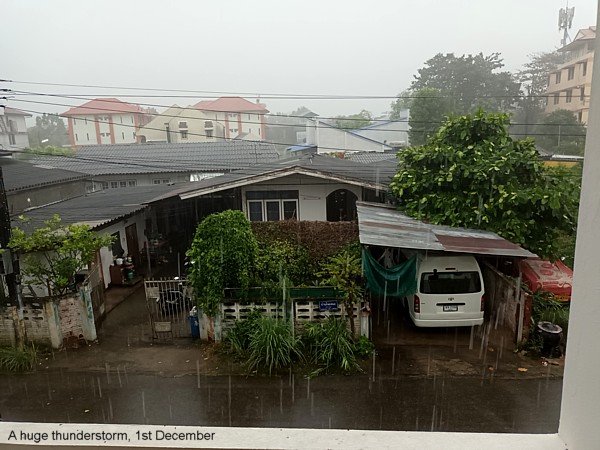 This storm, on the day before the Fly-In uprooted trees and put the power out in San Kamphaeng
I was suffering a bad cold and at the same time I ran out of milk among other things, I would not go out.
Fly-In and Conference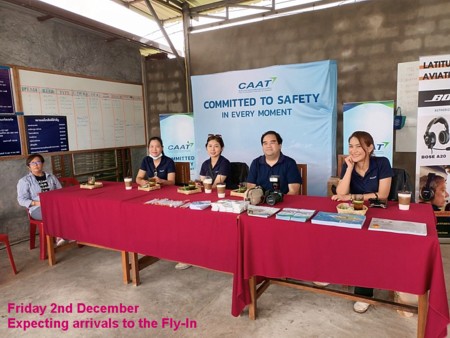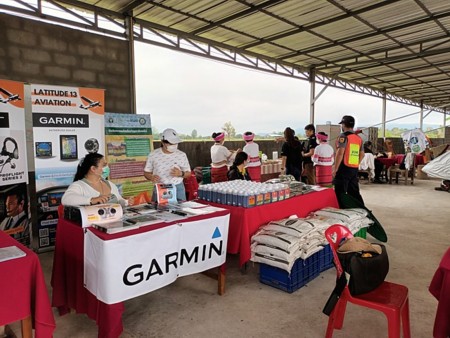 The morning began with low cloud and standing water.
The ground approach tracks to Chiang Mai Air Sports are rutted, wet, and slippery. The little Kia/Ford Aspire had to four by four its way over the rough rutted track to the airfield. It's perhaps worse in the dry as the hard lumps are even harder on the suspension. It's no different to approaching many a farm strip elsewhere in the World I suppose.
The signs to the event were blown down, I stopped and re-erected a couple of them. Inbound I took an alternative route which is longer, but has a marginally better surface... Unfortunately thorny bushes had been blown over in the path... Ouch ouch ouch, I had tried to budge them out of the way of my car.
Now I return to the rutty shorter route; I listen to the shocks squeeking up and down, protesting at the abuse they have to endure.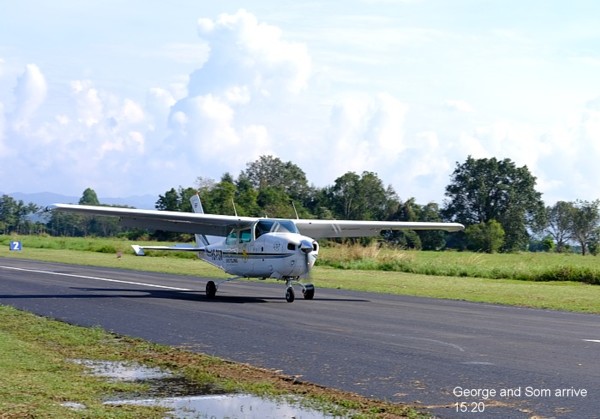 The Sun is powerful and it soon dispensed with the fog, raising it all into the towering cumulus clouds in clear air, typical of Northern Thailand.
Long may it rain, nights over Chiang Mai. Although unusual at this time of the year at least it prevents the farmers and other pyromaniacs from filling the clear air with smoke to the detriment of everybody's health.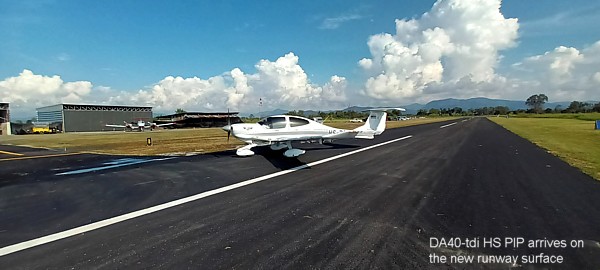 I've flown this a few years ago.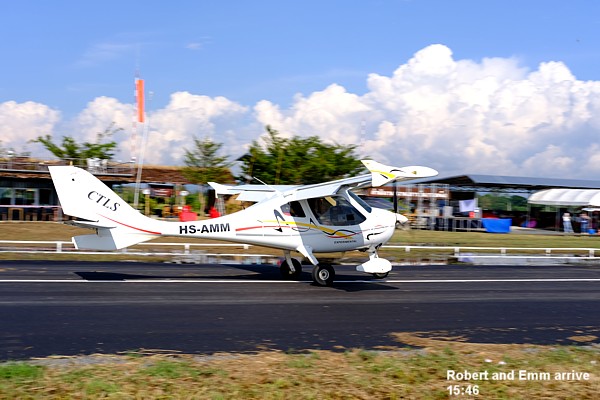 Good friends who operate Phuket Air Park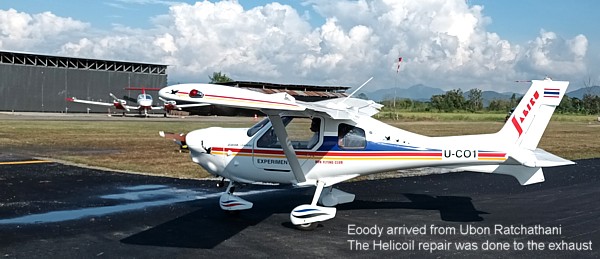 Good to see a safe arrival
The Conference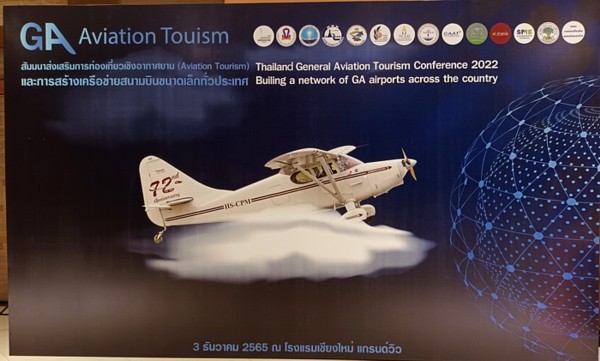 The conference was scheduled for 08:30 with people arriving to meet each other. Tea and coffee, sausage rolls and cakes were on offer with everyone being given a small plate.
There were several presentations with a tea/coffee break, and a buffet lunch downstairs (Thai people are never far away from food). After lunch people were given the opportunity to write their wish list on paper on easels. These to be answered.
Before lunch I complemented a speaker from the tourism side for his dynamism... The CAAT representative was uncomfortable as the business people on the tourist side told him how CAAT was preventing them from thriving with it's restrictions that do not allow GA to do business. They cited examples such as ballooning which is very successful in Bagan, and that helicopter tours are very successful in Bali. 'Why can't we be allowed to do these here?'
My concern is about the burning here. The law bans the burning of farm waste and stubble fields, but every year it is more prolific as farmers want more from their land, and they believe burning is the best thing.
The hospitals are under strain during these months as patients show up with respiratory ailments, and some blame their lung cancers on this.
Foreigners come to savour the beauty of the North only to be repelled by the smoke, escaping south or going home, never to visit again.
The big problem here is a document known as a five year permit which specifies who can fly a particular aeroplane; this can take a long time to get as police checks on the named pilots have to be done.
This is why my validation only allows me to fly aeroplanes operated by an single flying club. I can not fly aeroplanes privately owned or which are operated by other clubs. I can no longer fly Cessna 172 HS FTO as it's five year permit will not allow it.
Flying schools can not rent their aeroplanes to their students once their courses have been completed!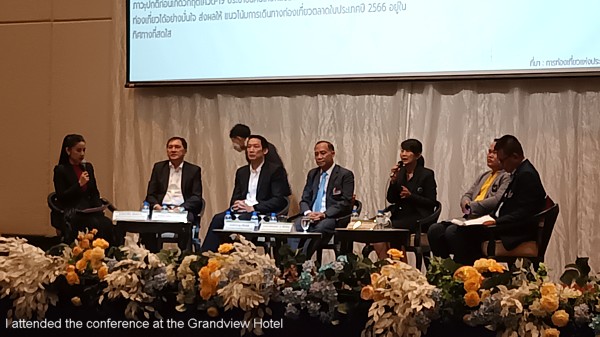 During the conference CAAT outlined how they were following EASA guidlines. EASA is another organisation that restricts aviation to the point many aviators in Britain are fervent Brexiteers.
We lost a lot of freedoms and privileges when Europeans, who for centuries were under the thumb of the Roman Catholic Church, imposed their culture of such restrictions on Britain that for the same centuries was a haven for those free minded thinkers and doers who had to escape oppression in religious Europe.
We have to realise that there are cultural effects on policies; these long ingrained cultures do not change very quickly.
I had a discussion with a CAAT representative, and I mentioned the UK CAA's ongoing consultations on regulatory changes following Brexit. How the UK wants to simplify licensing etc
Like being anti 'free trade', too much regulation does not always benefit safety, but it does affect viability in the aviation business.
The limit of course is grounding everything, this is the ultimate Safety, but of course this is totally disasterous for business and competitiveness in the global market.
So there's a sweet spot between total deregulation, a free for all, and total prevention, do not fly at all.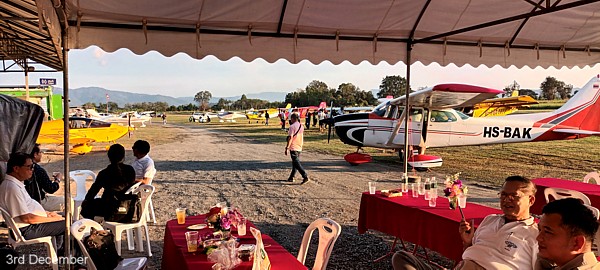 Let's Have Fun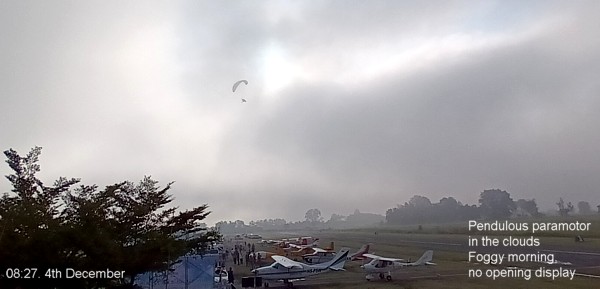 Ed was scheduled to do a passin his Malibu Jetprop... Cancelled.
For the Fly-In and Air Show they wanted me and a fellow Farang to handle the air ground radio communication
I have briefed the usual pilots who have done this on advisory radio communication, but on Friday and Saturday there was a senior flying instructor who took this role on.
CRM is not easy for Thai people who are used to respecting the status of each other, and their seniority due to age. They grow up with it; student's dare not ask their senior teachers questions in class in case the teacher loses face due to not knowing the answer.
Therefore I left it to the Thai to do the radio communication, and though I advised him that he may not 'clear' an aircraft, but instead use wording such as "***land at your discretion".
Saying "Clear for takeoff" and "Clear to land" means the radio operator is taking some responsibility rather than it being up to the pilot to determine the safety of the action. 'Could end up in court if something went wrong, "***clear to land" as a child takes a run on an active runway unseen by the person on the ground in a blind spot issuing the clearance.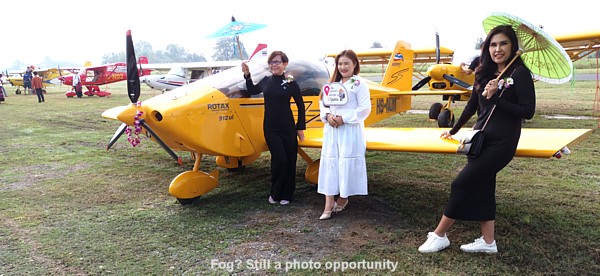 Frequenting the flight line frequently asked to take a picture, or to be in a picture.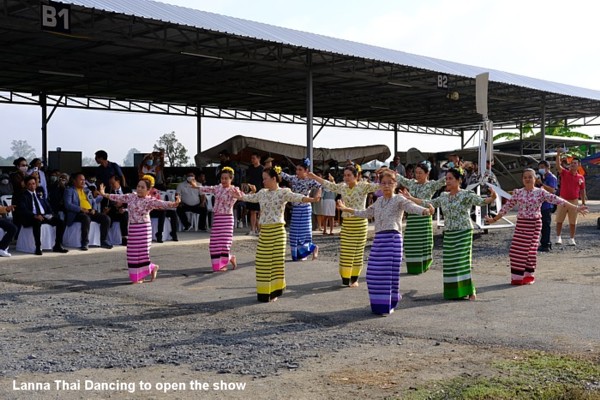 Culture is kept alive in Thailand.
Perhaps there should be Morris Dancing at English Fly-Ins?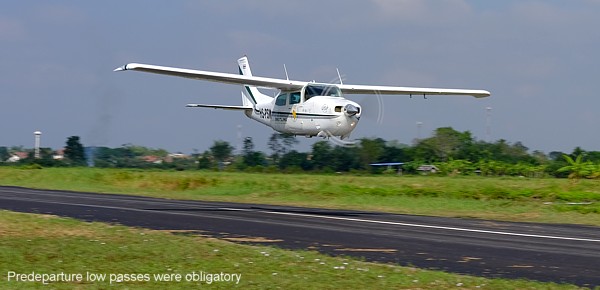 The weather turned superb in the afternoon and so many took the opportunity to fly off to places far afield in Thailand, from local Mae Hong Son and Pai, to Ubon Ratchathani, Tantawan, and Pattaya Eastern.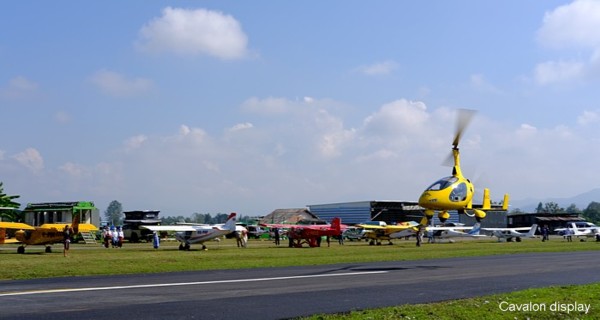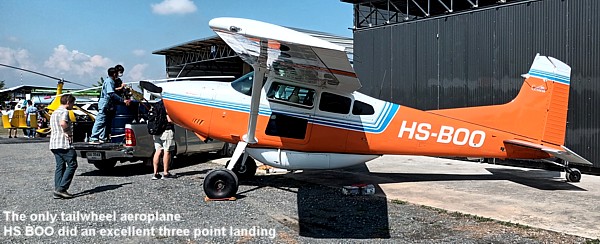 Alex loaded the 180 with plenty of fuel to go back to Pattaya Eastern.

My Fly-In finshed with me delivering Khun Mao's rental car back to Chiang Mai and then returning by Grab car to pick up my own car.
At the airfield I met an enthusiastic Dutch/Romanian/German couple who turned up after finding the other two airfields. They operate a flying club on the Dutch-German border.
I met them again later at the Wild Boar Pub on Loy Kroh after a twenty minute bicycle ride, had a couple of Beer Lao's and grilled fish.
I was up at 06:00 and in bed by 01:30 the next morning. A long day.


Heading down to Pattaya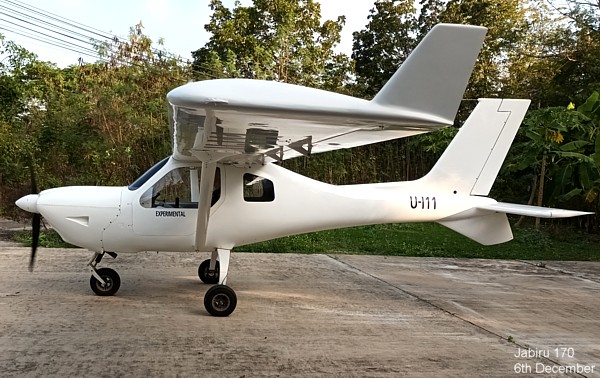 On the 6th December it was time to test fly the Jabiru after its long 'Covid' lay off.
We took off from Lanna and flew over to Mae On to do some stalls. This Jabiru has been fitted with vortex generators and so there is no longer a distinct stall rather the aeroplane sinks wings level at 45 KIAS clean, and 42 KIAS with full flap.
There followed a few circuits at Chiang Mai Air Sports where the runway has clear approaches.
8th December out of Lanna for more circuits at CMAS.
9th December, ditto at CMAS and then stop and goes back at Lanna where the trees right at the end of runway 27 make for a careful approach.
We came a bit close to the trees on one approach, it's a compromise between trusting the brakes and trying to get on the ground with the most distance remaining.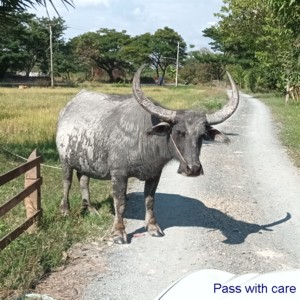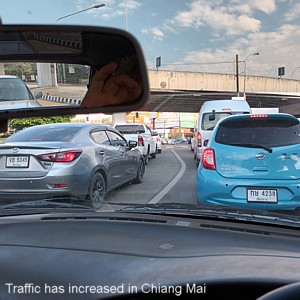 Traffic problems in Chiang Mai sometimes remind me of Vancouver, but I don't get worked up about them here.
Chiang Mai is an old city but there are many modern roads around with a few traffic lights.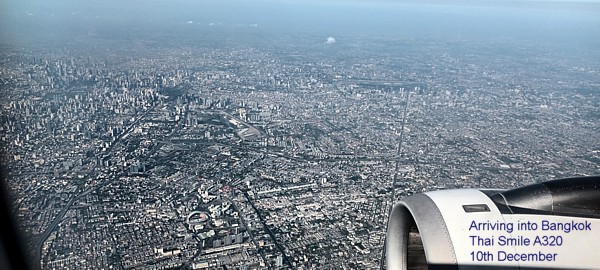 I flew Thai Smile to Suvarnabhum Airport and arrived in time to catch the 10:00am bus to Jomtiem, but it was full!
Paid 143 Baht for the next bus two hours later at 12:00.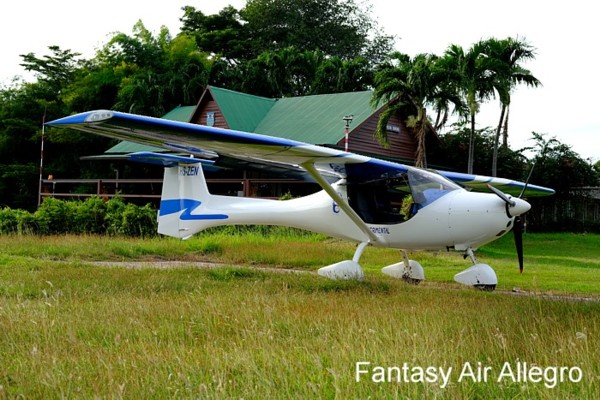 12:58 the next day I went up with Paul in his Allegro to test it as it had not flown for the Covid and paperwork delays.
This is another LSA aeroplane fitted with vortex generators to tame the stall, once again an aeroplane which sinks wings level after being fitted with VGs.
Later that afternoon we flew to Bang Phra to visit the Thai Flying Club.The Cessna 172 was out and about, and one of the Cessna 150s went for a flight.
The Cessna 182 I flew with Khun Mao in has been re-registered and painted overall controversial brown, the owner must like it...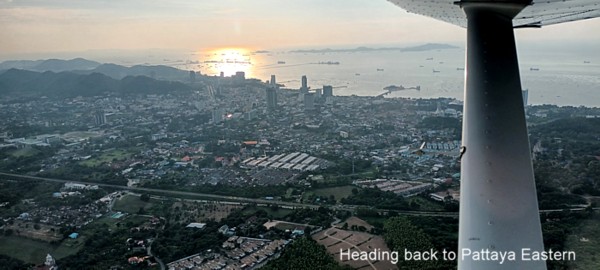 On the 13th Paul and I had lunch at a local nature restaurant which is next to the elephant trekking and show ground, it's also where we turn crosswind after departure and so I snapped an aerial picture of it..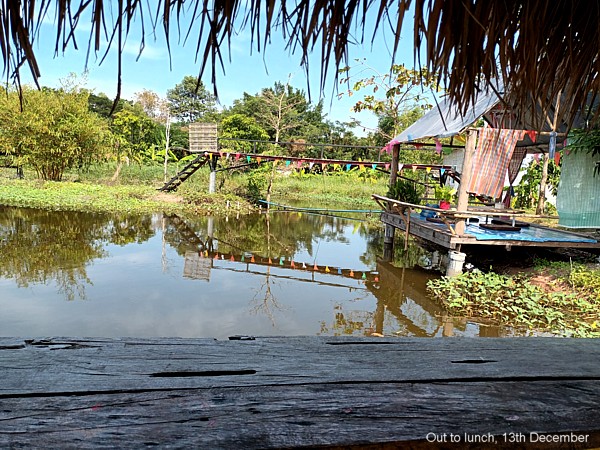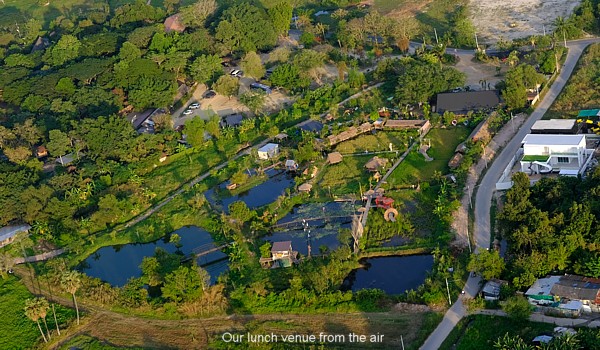 The airfield is behind us, and the elephant camp is in the left top corner.
There are many good places to eat in the local area.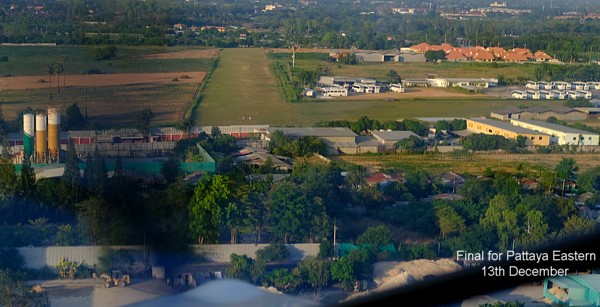 Obstacles are a feature of many airfields in Thailand... There's little one can do when someone else owns the land at the end of your runway.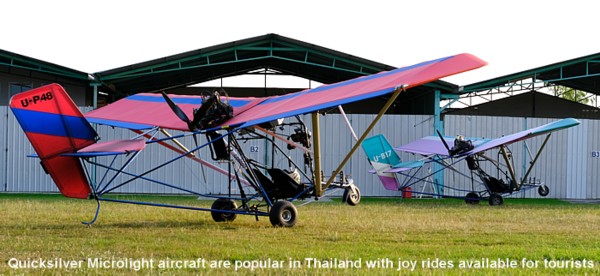 Tourists can take microlight and paramotor rides here and in the Chiang Mai area. These are very popular.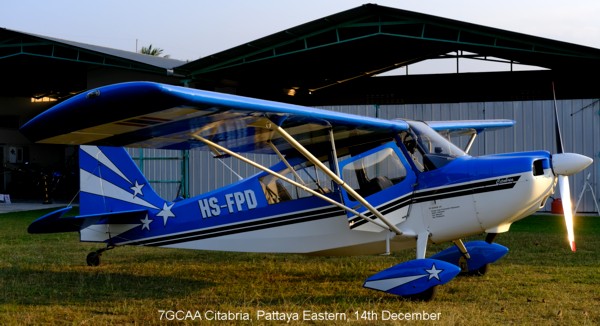 I'm hoping to get a second validation (2,000 Baht) to be able to rent this Citabria.
In other countries a Validation lets you fly any aeroplane on that country's register that you are qualified in.
In Thailand you need separate validations for each club at which you fly, and visitors may not fly privately owned aircraft.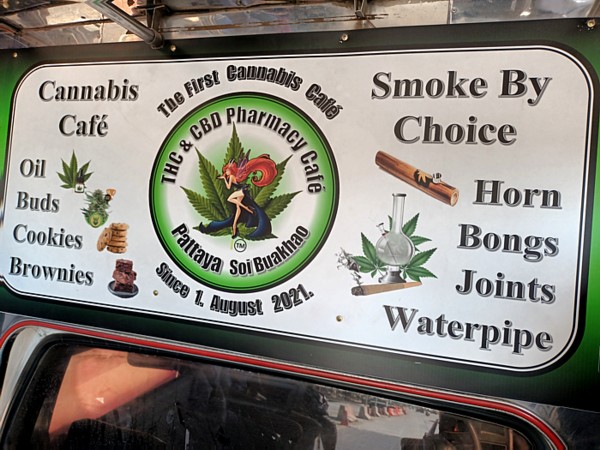 I find Cannabis use in Vancouver to be offensive, the smell seems to be everywhere there, and as a pilot one must avoid second hand smoke from users.
In Canada I understand the rule is 28 days between Cannabis use and flying, here the rule is 12 hours after using psychotropic drugs.
But, if the doctor detects Cannabis in your system when you go for a pilot medical you will lose your licence immediately.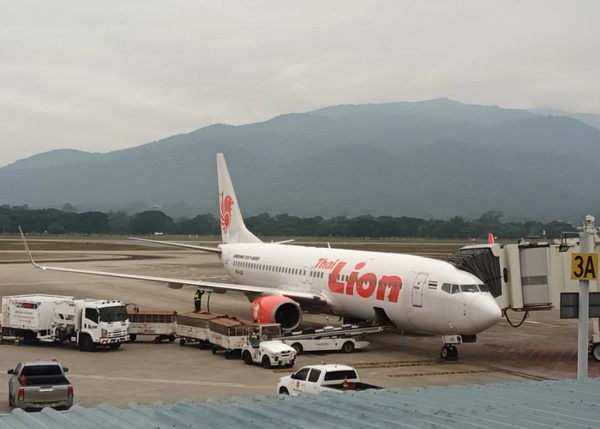 Yesterday I flew back from U Tapao to Chiang Mai on Thai Lion Air...
Today I lost sides... The side strip behind the driver's door fell off on the motorway, and then I went to the dentist who took the broken side off one of my molars, the whole tooth is to be removed tomorrow.
I went for one flight in the Jabiru this morning, I was resistant to going, and having gone I wasn't my best. Sometimes flying should be delayed.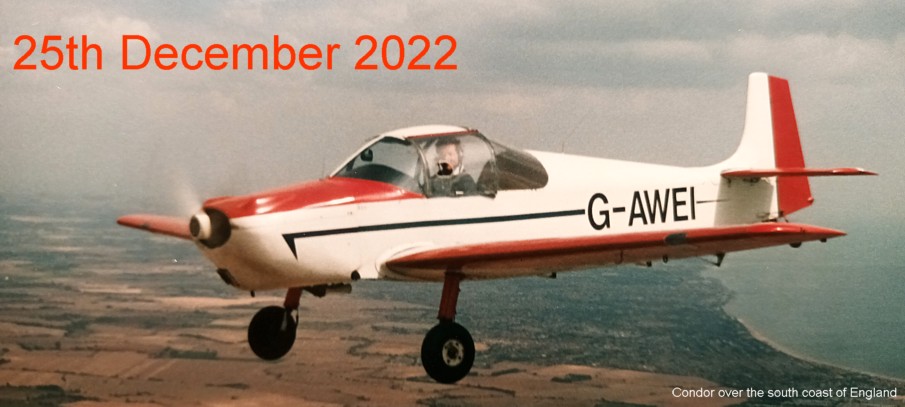 Merry Christmas
A Happy and Prosperous New Year
Here we are coming up to the end of the year, and rather than snowy places I am here in Thailand in a warm place.
Looking back at England and the chaos created by greedy unions at a time when everyone is suffering with inflation and the cost of living, it truly looks like there is little patriotism in some parts of the British population...
Meanwhile in Canada there's horrible weather.
It doesn't seem to be a very good time for many of my friends, but I hope you all find some pleasure during this season.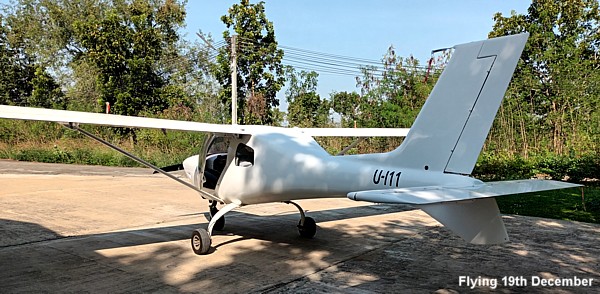 Here I went flying with Joachim in his Jabiru J170C... Not too pleased with my performance on the 19th, it wasn't optimal, but I suppose "we all have days like that".
Flew with Joachim again on the 20th, meaning to do some air exercises over Mae On and the Hot Springs, but the radio let us down.
After not being used for several years the tuning was all over the place as the frequencies would skip backwards and forwards as the tuning knob was turned. Getting the right frequency took patience and being prepared to stop when by accident the correct numbers showed up.
'Thought the contacts within the switch needed cleaning, but it turned out the switch was suffering plastic fatigue and breaking up inside.
There we were with local frequency 123.00 active, and Chiang Mai Approach on standby when just before switching I noticed the frequency had changed itself. The knob was now free turning without any detent feel, and the frequency would no go back to 129.60. Can't talk to Approach, can't go anywhere, so we did three circuits and called it a day.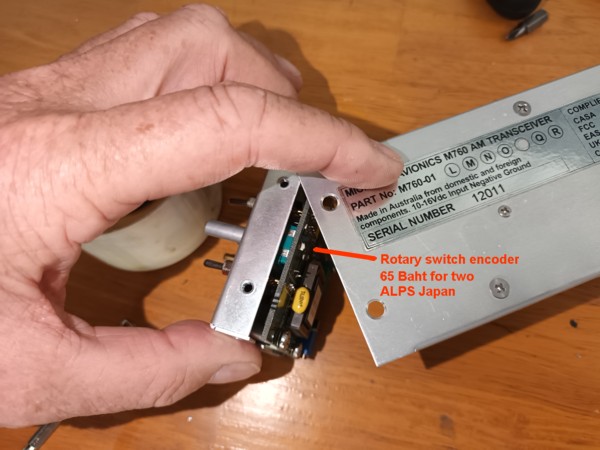 It's really annoying how browsers rotate this image to squash it when it shows correctly on my editor.
The options didn't look good, either send the radio back to Australia, or find an avionics technician here... 'Decided to investigate.
The tuning system is via a 'Rotary switch encoder' is this component is readily available online at £1.50p or $2 for two!
An electronic friend of Joachim has soldered in a new switch and I am told the radio works fine now. Sometimes it is worth opening the box.
'Will be back to flying on Wednesday.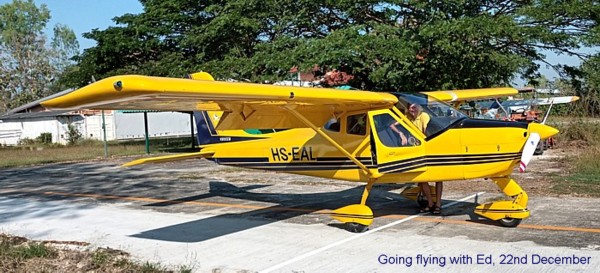 Back in 2007 I helped put three students through their Thai Private Pilot's Licenses, and as with a lot of my former students some come back to me for refresher training from time to time.
The last time I flew with Ed we did steep turns and stalls, emergency procedures, and practice forced landings to the ground at Phitsanulok (VTPP) in the Jetprop.
This time we did likewise in the Tecnam P92-JS in which Ed completed his original PPL training 15½ years ago. Rather than going far, we did our flying over Mae On district where we did power on climbing turn stalls among other exercises. The P92-JS is a very forgiving aeroplane with gentle wing drops from climbing turn and steep turn stalls.
We did a practice forced landing followed by a review of Precautionary Landing procedures.


An example of a Precautionary Landing when David and Valerie were caught out by bad weather and landed one of my Condors at Wisley.